---
Country of Origin : India
Secured & trusted checkout with:
Description
Introducing Zandu Tulsi Drops, the perfect solution for cough, cold & immunity. Say goodbye to sticky syrups filled with artificial ingredients and embrace the power of nature with the "Queen of Herb," Tulsi.
Zandu Tulsi Drops is a reliable and effective remedy that provides instant relief. They not only prevent infections but also promote healthy respiratory function, ensuring you can breathe easily. Experience the soothing comfort and bid farewell to coughs and colds while enjoying the added benefit of 2X immunity.
But that's not all! Our Tulsi Drops offer more than just respiratory support. They also contribute to liver and digestive health, fostering an overall sense of well-being.
Don't let coughs and colds disrupt your daily routine any longer. Instead of relying on syrup after syrup and enduring the hassles of an irritating throat and sleepless nights, choose Zandu Tulsi Drops for a natural and convenient solution. 
Take control of your health with Zandu Tulsi Drops, your trusted companion in the battle against pesky coughs and colds.

Item Form: Drop
Net Quantity: 35 ml
Key Benefits: Promotes Immunity, Prevents Viral Infections, Protects from Cough and Cold, Healthier Respiratory Functions
Number of Items: Pack of 1
Dosage: Take 5 to 10 drops of Tulsi Drops in Half a Glass of water, milk, and tea minimum twice a day or as directed by physicians.
Expire details: Best before 24 months.
Age Range: 5+

About Zandu Tulsi Drops
Tulsi is a well-known herb in the Indian system of medicine for its various health benefits. Based on timeless Ayurvedic principles, Zandu brings to you "Tulsi drops", a unique formulation with the combination of different species of Tulsi –Tulsi (Ocimum sanctum Linn.), Ramatulsi (Ocimum gratissimum Linn.) & Vantulsi (Ocimum basilicum Linn.), is known to have immunomodulatory, antiviral, hepatoprotective, antioxidant and antistress properties. Our Tulsi Drop helps in prevention from infections while improving immunity. Daily consumption of Tulsi Drops helps in maintaining healthy respiratory function, protects against infections & enhances immunity, thereby, promoting overall health & well-being.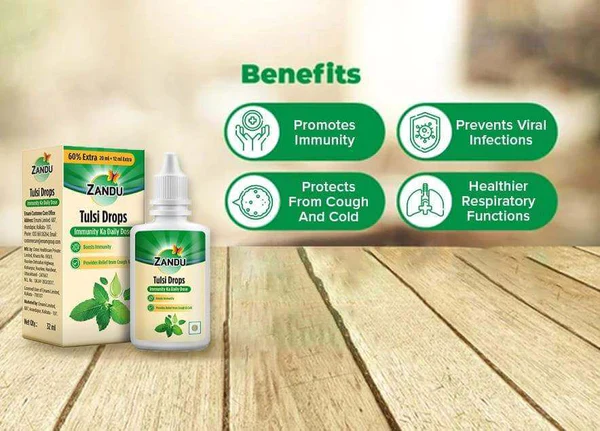 Benefits of Zandu Tulsi Drops
An Ayurvedic Tulsi Drop fits perfectly when looking for the best solution to say goodbye to your cough and cold. Here are the top benefits:


Promotes Immunity: It has the potential to strengthen your immune system, which is your body's defense mechanism against infections and various diseases. By boosting immunity, this drop supports your body's ability to fight illnesses and helps you to stay healthy.


Viral Infections: Tulsi Drop is designed to provide relief from viral infections. Viruses can cause ailments like the common catchy cold, flu, and other respiratory infections. It help to alleviate symptoms linked with all such viral infections.


Protects from Cough and Cold: Coughs and colds are common and can be bothersome and affect the daily life of almost everyone. Tulsi Drop is believed to have Camphene, cineole, and eugenol properties that can help protect you from coughs and colds, potentially reducing their harshness and duration. Regularly using these drops helps you avoid cough and cold in the long run.


Healthier Respiratory Function: Tulsi has been used for centuries as an ayurvedic medicine for respiratory disorders. The respiratory system plays an important role in the body by facilitating breathing and supplying oxygen. Tulsi Drops aim to support healthier respiratory function, allowing you to breathe more comfortably and improve overall respiratory health.
Zandu Tulsi contains natural herbs, which help to contribute to overall being. The Ayurvedic herb adds properties to it which treat infections, cough, and flu and provides various other benefits. It is made from pure extract of tulsi and carefully chosen species of Tulsi.
Tulsi drop is designed keeping today's hectic world in mind. By taking it with a routine schedule, you can get relief from multiple issues like cough and cold, maintain healthy respiratory function, and provide 2x immunity.


Pure Extract of Tulsi: The key ingredient in Tulsi Drops is a pure extract of tulsi. Tulsi, or basil leaves, is an Ayurvedic herb with various health benefits. The extract of tulsi is taken from the leaves of the plants.


Ram Tulsi: Another important ingredient in Tulsi Drop is Ram Tulsi – It is a specific variety of tulsi famous for its medical properties. Ram Tulsi has anti-inflammatory and other expectorant properties.
This species of tulsi in Zandu drop gives some therapeutic benefits.


Vantulsi & Excipients: Zandu drop also contains Vantulsi, which is another popular and effective ayurvedic species tulsi. The product focus on supporting mental well-being by including Van Tulsi.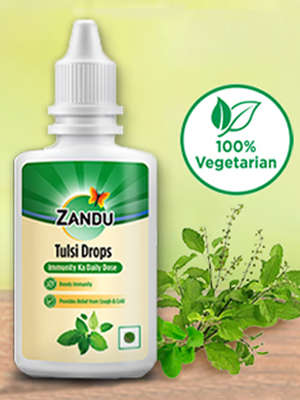 How to Use Zandu Tulsi Drops?
Take 5-10 drops of Zandu Tulsi Drops.
Mix the drops in half a glass (100ml) of water, milk.
You can take this medicine twice daily. However, it's recommended to consult your doctor to determine the right dosage for your health and lifestyle.
There are no special requirements or preparations needed before taking the drops.
Safe for individuals who are 5 years old or older.

For maximum benefits, use the drops regularly to improve overall health. Check the packaging for the expiration date and use it within 24 months from the packed date.
How to Store Zandu Tulsi Drops?
Zandu drop contains various famous Ayurvedic tulsi species; to maintain its efficiency, store the drops properly. Follow these steps
Keep in a cool and dry place.
Keep the bottle of Tulsi drops tightly closed to prevent air and moisture from getting in.
Avoid storing it in areas exposed to direct sunlight, as sunlight can affect the quality of the drops.
Keep it away from children's reach; it is meant for adults and children above 5 years old.
Make sure to inspect the packaging, if provided.
Check the expiry before using it.
Who Can Use Zandu Tulsi Drops?
Ayurvedic drop is one of the best solutions for anyone dealing with multiple infections, regular cough and cold, respiratory imbalance, headache, and struggling to boost immunity.

Adults and children can use this Ayurvedic solution for over 5 years. It is 100% safe and effective and can be used by anyone. To get the maximum benefit from the drop, use it daily.
Why Zandu Tulsi Drops?
Zandu Tulsi Drops are highly recommended for their remarkable health benefits derived from the versatile herb tulsi. Tulsi's properties contribute to its effectiveness, including its ability to modulate the immune system, combat viruses, protect the liver, act as an antioxidant, and alleviate stress. By incorporating Zandu Tulsi Drops into your daily routine, you can experience improved immunity and a reduced
risk of viral infections.

These drops are particularly beneficial in relieving symptoms associated with coughs, colds, and respiratory issues. Tulsi works by soothing irritated airways, reducing congestion, and promoting respiratory health. Regular usage of Zandu Tulsi Drops can offer a holistic approach to overall well-being, enhancing your immune system, protecting against viruses, and supporting respiratory health.
When you choose Zandu, you can trust that you're selecting from a brand with a long history of delivering reliable and authentic Ayurvedic products.
Product Safety Information
Safe and Secure Uses: Zandu ensures a secure user experience by being an ayurvedic tonic that is 100% natural. It is free from chemicals. It is suggested to use it per the instructions to avoid any side effects of this Ayurvedic supplement.
Natural and Vegetarian: It utilizes pure and authentic plant-derived ingredients and contains no non-vegetarian components.
No Artificial Colors: Zandu Tulsi Drop is free of artificial colors.It incorporates a natural extract of tulsi
Legal Disclaimer
The therapeutic uses and effective benefits of Tulsi Drop are based on the facts established by the age-old science of Ayurveda. Zandu Care has been a reputable and trusted brand for the last 100+ years that aims to present authentic and safe natural products and data.
Although, the effect of Tulsi Drops highly depends on the nature or Prakriti of the individual.
Therefore, the recommendations given in this article are in no way meant to be a substitute for the advice and remedies offered by the physician. This article is to be used only for informational purposes. The use of this product is at the sole discretion of the consumer. In case of any persisting side effects on account of the product, the consumer is requested to consult a physician immediately.
Additional Information
Best Before: 24 Months
Product Dimensions: 50 x 14 x 108 Millimeters
Manufacturer: Cotec Healthcare Ltd (Licensed user of Emami Limited), Cotec Healthcare Private LKImited, Khasra No. 593/1, Roorkee Dehradun highway, Krishanpur, Roorkee, Haridwar, Uttarakhand -247667.
Marketed or Packer by: Cotec Healthcare Private LKImited, Khasra No. 593/1, Roorkee Dehradun highway, Krishanpur, Roorkee, Haridwar, Uttarakhand -247667.
Country of Origin: India
Item Weight: 32 ml
Net Quantity: Pack of 1
Frequently Bought Together