---
Country of Origin : India
Secured & trusted checkout with:
Description
Looking for Papaya Leaf Juice or Tablets? Look no further now Zandu brings you Papaya leaf Extract tablets, a potent 100% natural remedy, rich in antioxidants such as Vitamin E, and Vitamin C along with immunomodulatory properties.
Zandu Papaya Leaf  Tablet is prepared with natural carica papaya leaf extracts and is rich in antioxidants such as Vitamin E, and Vitamin C along with immunomodulatory properties. Papaya leaf juice benefits are immense, but difficult sometimes to consume; hence we bring you Zandu papaya leaf extract tablets in easy-to-consume form. Papaya leaf extract also helps increase blood platelet count, while effectively managing symptoms associated with Dengue. 
The rich enzymes present in Papaya Leaf Extract help to improve digestion and bowel movements and to provide relief from gastric problems. Taste the goodness of Papaya Leaf in easy-to-consume tablet form. The leaves of Papaya have been considered to be a treasure in the Ayurvedic world for centuries due to the plethora of health benefits that they offer. Payaya leaves are believed by Ayurvedic practitioners to be a good source of various bioactive compounds such as phytochemicals, antioxidants, and enzymes that usually come with therapeutic effects.
Item Form:

 Tablet

Net Quantity:

 100 gm

Flavour:

 Unflavoured

Key Benefits:

 

Increases Blood platelet count, Boosts Immunity & Promotes skin & hair health
Number of Items:

 1

Dosage:

 Take one tablet, three times a day or use as directed by the physician. 

Expire details: Best before 24 months from the date of manufacture
Diet Type:

 Vegetarian

Age Range:

 Adult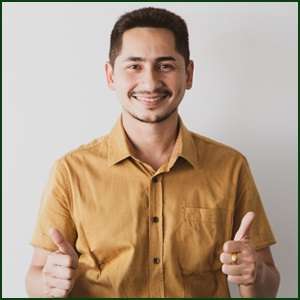 Uses & Benefits of Zandu Papaya Leaf Tablet (Extract)
Papaya leaf extract can be consumed in a variety of forms like papaya leaf extract tablets, papaya capsules as well as papaya extract syrup. Combining papaya medicine for platelets in any of these forms would retain the same benefits as the other forms. Let us look at the multifaceted benefits that zandu papaya leaf extract offers:
Increases Blood Platelets Count: The use of papaya leaves has been traditionally recognised for their potential to regulate blood platelet counts. These platelets are crucial components of blood which is responsible for clotting.

The components present in Papaya leaves, such as carpaine and papain, are considered to effectively contribute to this effect. By ensuring healthy platelet counts in the blood, papaya extract syrup or tablets help in preventing heavy bleeding and ensure efficient and proper maintenance of the mechanism of blood clotting.



Acts As An Immunity Booster: Papaya leaf medicine also retains immunity-boosting properties that are attributed to the existence of various antioxidants like flavonoids and Vitamin C. The existence of these helpful antioxidants neutralises the harmful free radicals in the body, which are responsible for cellular damage and making the immune system weak.

These tablets, by lowering oxidative stress, enhance the natural defence mechanism of the body, giving it more strength and resilience to prevent illness and infections.


Rich in Antioxidants: Although mentioned earlier about how the existence of antioxidants in papaya leaf extract proves beneficial to the body, it is also essential to point out that these antioxidants that restrict cell damage also support healthy ageing. Therefore, they contribute to the overall fitness and healthy living.

It is also essential to point out that the antioxidants present in it also work on harmful free radicals and enhance skin health.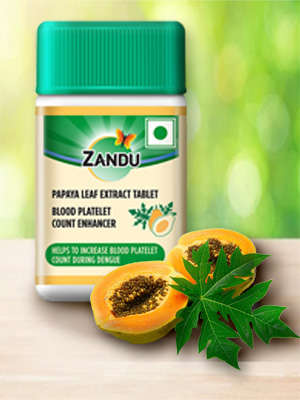 Direction of Use
The recommended dosage is one tablet thrice a day or as advised by your healthcare professional.
The papaya leaf extract must be consumed with fruit juice or water.
The total usage duration depends on the advice of the healthcare professional.
Make sure the lid is tightly closed after each use.
Check the expiry date or the best before the date mentioned on the label before consuming. The
best-before date of Zandu Papaya Leaf Extract Tablets is 24 months from the date of manufacture.
Make sure that you give a thorough reading of all the contents of the label before consumption.
Key Ingredients
The main ingredient of Zandu Ayurvedic Papaya Leaf Tablets is the leaves of the Carica papaya plant. This ingredient is well known
for the presence of beneficial compounds that offer a plethora of health benefits, including immune system support, regulating platelet count,
anti-inflammatory effects, detoxification, and boosting digestive health and skin health.
Who Can Use Ayurvedic Papaya Leaf Tablets?
Zandu Ayurvedic Papaya Leaf tablets can be used by adult individuals to increase their blood platelet count and enhance the functioning of the immune system, especially when affected by conditions like Dengue.
The dose recommended usually is one tablet thrice a day with a glass of water or fruit juice. People having other medical conditions must consult a certified Ayurvedic practitioner or healthcare professional before considering the consumption of the medicine.
Why Use Zandu Papaya Leaf Tablet?
Zandu Ayurvedic Papaya Leaf tablets are manufactured on the basis of advanced research facilities by Zandu Healthcare and under the
expert supervision of the trained R&D scientist of Zandu. The brand is well-recognized for offering helpful Ayurvedic solutions for over 100 years,
securing the customer's trust and recognition. All the Ayurvedic solutions are composed of 100% genuine Ayurvedic and natural ingredients without any preservatives.
Papaya leaf tablets are especially recommended for people with low platelet counts and low immunity. Zandu Papaya leaf tablets are formulated with authentic, powerful, 100% vegetarian ingredients ideal for individuals affected with Dengue fever. Apart from this, it also acts as a powerful health supplement that helps one to recover from Dengue.
Steps to Store Papaya Leaf Tablets
Special attention must be provided in storing medicines as it is crucial to keep the efficacy of the product intact. Some storage tips are given below to help you learn the proper method to store papaya leaf medicine:
Store the product in a dry and cool place at regular room temperature.
Make sure that you store the medicine away from the direct sunlight.
Keep the product out of children's reach.
Ensure you tighten the lid after every use to preserve the purity of the medicine.
The temperature of the place of storage must not exceed 50°C.
Additional Details
Best Before: 24 Months
Product Dimensions: 40 x 40 x 72 Millimeters
Manufacturer: Emami Limited., 033 66136264, 033 66136600 | Email: customercare@emamigroup.com
Marketedor Packer by: Emami Limited. Survey No. 61/2P/1-MASAT, Silvassa, Dadra & Nagar Haveli and Daman & Diu (U.T) - 396 230
Country of Origin: India
Net Quantity: 20 Tabs
Legal Disclaimer
It is essential to note that the product's effectiveness may differ on the basis of the unique body construction of the individual. The given
recommendations must not be assumed as a substitute for the remedies and guidance by a qualified healthcare professional.
The main aim of this article is to convey information only. The final decision regarding the use of the product solely depends on the customer. In case of any side effects, look for immediate medical assistance.
Frequently Bought Together