---
Country of Origin : India
Secured & trusted checkout with:
Description
Zandu Ayurvedic Cough Syrup is a unique blend of 16 Ayurvedic herbs that offer quick relief from persistent cough and irritation in the throat. It provides a natural remedy that not only suppresses the symptoms. The essential herbal ingredients in the syrup ensure long-term relief from frequent bouts of cough that tend to hamper your daily activity and quality of life.
The ingredients of Zandu Ayurvedic Cough Syrup are carefully chosen for underlying and treating the underlying causes of cough. It comes with a non-drowsy formula that will not make the consumer sleepy. The benefit of selecting an Ayurvedic cough syrup is that it embraces the body's innate healing ability and offers gentle relief allowing one to breathe freely and regain vitality and strength.
Item Form: Syrup
Net Quantity: 100 ml
Flavour: Unflavoured
Key Benefits: Relieves cough, boosts immunity, promotes respiratory health
Number of Items: 3
Dosage: 1-2 tablespoons 3-4 times a day, or as recommended by the healthcare professional
Expire details: Best before 12 months from the date of manufacture
Diet Type: Vegetarian
Age Range: Adult
About Zandu Ayurvedic Cough Syrup
Zandu Ayurvedic cough syrup is fortified with the power of 16 ayurvedic herbs to give quick and long lasting relief from all types of cough. Its unique non-drowsy formula gives you immediate relief without making you sleep.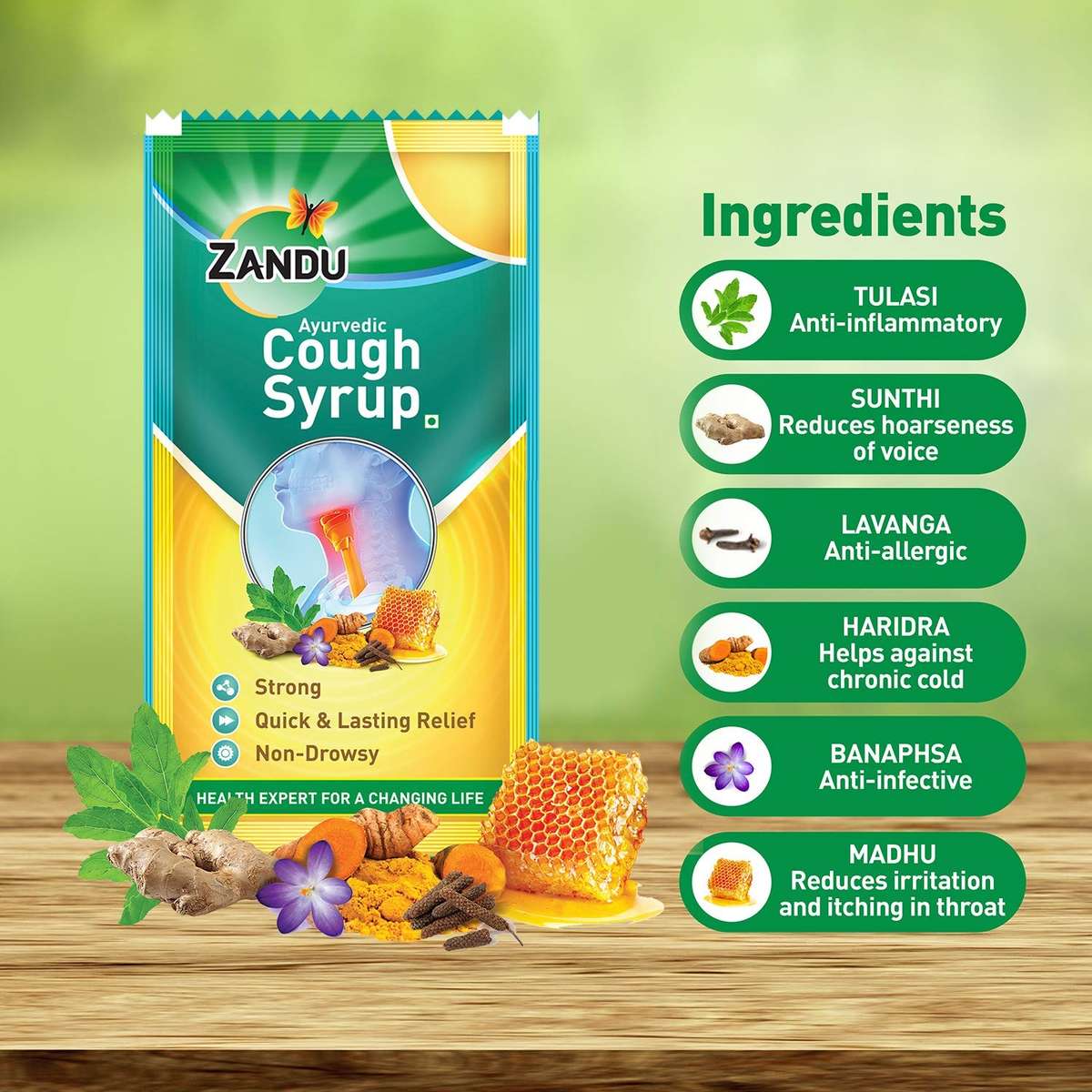 Benefits
Zandu Ayurvedic Cough Syrup offers various benefits for people with frequent cough
and throat irritation. Here are some mentionable benefits of consuming Zandu Ayurvedic Cough Syrup:


Relieves cough and cold: Zandu Ayurvedic Cough Syrup comes with essential ayurvedic ingredients that treat coughs and colds, such as tulsi. It reduces the intensity and frequency of cough and offers temporary relief to the body giving it time to recover.


Boosts immunity: One of the main reasons behind catching cough and cold is reduced body immunity. Ayurvedic cough syrup by Zandu has useful herbs like tulsi with immune-boosting properties. This helps to strengthen the immune system, which will assist in fighting off various respiratory infections and support the body's overall healing process.


Improves throat irritation: Zandu cough syrup entertains the presence of the ingredients like lavanga, honey, and tulsi, which soothes the throat. These ingredients have natural soothing properties and help relax an irritated throat, relieve discomfort reduce any cough-related irritation for quite a long time.


Promotes Respiratory Health: The cough syrup contains expectorant ingredients that help loosen and thin the mucus in the airways. This makes it easier to cough and expel and offers relief from chest congestion. Chest congestion is the main reason behind the difficulty in breathing. Therefore It also helps in promoting easier breathing and respiratory health.


Improves Hoarseness Of Voice: During cough and cold, the voice tends to get hoarse, which makes it challenging to enter into any conversation. Having a single dose of cough syrup will relax the throat by reducing the cough frequency and loosening the vocal cord. This gradually improves the hoarseness of voice and assists one in carrying out daily activities without interruption.
The key ingredients used in creating an antique blend ensuring instant relief from a rough cough are listed below, along with their benefits.


Sunthi: Commonly known as ginger, Sunthi is a herb that has been widely used for various health purposes since time immemorial. This includes relief from cough. Ginger has some natural soothing properties that help alleviate throat irritation and hoarseness of voice and reduce cough. It also has anti-inflammatory and antimicrobial properties that reduce inflammation in the respiratory tract, which contributes to frequent coughs. It strengthens the immune system and helps fight chest and throat infections.


Lavanga: Although lavanga is used as a spice in cooking to add flavour, it potentially relieves cough. This is because lavanga has natural analgesic properties that alleviate discomfort and pain associated with continuous coughing. It also serves as an expectorant, which helps in loosening and expelling mucus from the respiratory tract.

Lavanga or clove also offers a soothing effect on the throat, relieving irritation during excessive coughing. Last but not least, Lavange has traditionally been considered an antitussive that can help in suppressing cough.


Madhu: Madhu, commonly known as honey, is also known for reducing irritation and throat itching. This is because it offers a natural moisturising and lubricating effect due to its thick consistency.

This is especially helpful for dry coughs. Moreover, honey also comes with antimicrobial properties such as hydrogen peroxide and other compounds, which proves efficient in fighting against bacterial infections that may contribute to frequent coughs.


Tulsi: Tulsi, or Holy Basil, is a highly valued herb in the world of Ayurveda for its wide range of medicinal properties. These properties include expectorant, anti-inflammatory, and antimicrobial, which help clear the music from the respiratory tract, reduce inflammation and combat several bacterial infections in the respiratory tract.

Additionally, it also supports the immune system and strengthens it. Tulsi comes with a soothing effect on the throat that can offer potential relief from cough and throat irritation.


Haridra: Haridra is a popular spice that comes with a plethora of medicinal benefits. It is beneficial for cough as it contributes to improving overall respiratory health. It has anti-oxidant properties that help neutralise the harmful free radicals in the body and reduce oxidative stress that usually worsens the symptoms.

Moreover, it also reduces respiratory tract inflammation that contributes to coughing and
helps against chronic acid.
How to Use Zandu Cough Syrup
Take 1-2 tablespoons of Zandu Ayurvedic cough syrup 3-4 times a day or as per the recommendation of your healthcare professional.
Close the cap tightly after every use to prevent unnecessary spillage
Store at average room temperature and away from direct sunlight
Read the label carefully before use to learn all the essential safety precautions
Keep the syrup out of the reach of the children
The syrup can be consumed daily.
How to Store Zandu Ayurvedic Cough Syrup
Zandu Ayurvedic caught syrup can be stored at normal room temperature away from sunlight. Ensure the place is clean and dry, and infants can't reach the place. Tighten the cap after every use to ensure the efficacy of the product.
Who Can Use Zandu Ayurvedic Cough Syrup
Zandu Ayurvedic cough serum is formulated especially for consumption by adults. Therefore, anyone suffering from a cough and cold can consume the syrup 3-4 times a day to relieve intense bouts of cough. The syrup also offers comfort from throat irritation and hoarseness of voice.
The formulation of the syrup encompasses beneficial ayurvedic ingredients such as tulsi, sunthi, clove, and honey that have been used since time immemorial for treating cough and cold. Moreover, syrup has no side effects, and one can consider daily consumption. Ensure you follow the recommended dosage on the label and don't overdose.
Why Zandu Ayurvedic Cough Syrup?
Zandu Ayurvedic Cough Syrup offers a rich blend of all the top ayurvedic ingredients best known for relieving cough, cold and throat irritation. These ingredients include turmeric, honey, ginger, tulsi, and clove, among many more. It offers cough-relieving properties and strengthens the body's immune system.
Zandu is one of the oldest in the Indian Ayurvedic market and has been gaining customers' trust for over 100 years by providing genuine products. The product has no non-vegetarian ingredients, added colours, flavours and preservatives. The product is also gluten-free and is free from any side effects.
Additional Information
Best Before: 24 Months
Product Dimensions: 45 x 11 x 88 Millimeters
Manufacturer: Emami Limited., EMAMI LIMITED - Survey No. 61/2P/1-MASAT, Silvassa, D & NH (U.T)-396230
Marketed or Packer by: Emami Limited. Survey No. 61/2P/1-MASAT, Silvassa, D & NH (U.T)-396230
Country of Origin: India
Item Weight: 25 g
Net Quantity: 3
Frequently Bought Together