---
Country of Origin : India
Secured & trusted checkout with:
Description
Taking care of skin is important not only for how we look but also for how confident we feel. For thousands of years, Ayurveda has provided effective ways to keep skin healthy. Many of us prefer these natural methods because they don't contain chemicals and are safe to use. However, these natural solutions take a lot of time and effort, which can be hard to manage in today's busy world.
Zandu, with its 100-year history in Ayurveda, introduces Kumkumadi Taila – a blend of ancient Ayurvedic knowledge and modern convenience. This oil is designed to improve skin tone, reduce acne, etc. It's made from natural oils and herbs like Kumkum (saffron), Yastimadhu, Manjishtha, Shvetachandana, and Kamal. These ingredients work together to nourish and improve the health of your skin.
Scientifically proven*, Kumkumadi Taila enhances your skin's tone and helps reduce issues like dark circles, pigmentation, acne, blemishes, and pimples. Regular use of this oil also helps fade tan, reduces dullness, and gives your skin a healthy glow. The best part is that it's all natural and doesn't have any harmful chemicals like parabens or sulfates.
Include this Ayurvedic beauty elixir in your skincare routine and experience the joy of radiant, beautiful skin.
Item Form: Drop

Net Quantity:

 30 ml

Key Benefits:

 Improve Skin Tone, Helpful in Reducing Dark Circles & Pigmentation for Acne

Number of Items:

 

1
Dosage:

 2-6 drops/usage 

Material Type: Paraben Free
*Scientifically proven basis studies

About Kumkumadi Taila
With the plethora of skin products available in the market, it becomes difficult to select the right product that offers timeless benefits in a natural way, and it becomes even more challenging to verify their effectiveness and claims.

With Zandu products, you can be assured that you are opting for more than 100 years of quality and trust, backed by over 5000 years of Ayurvedic wisdom. We believe in wellness without compromise. Therefore, we develop products that combine Ayurvedic practices with modern science to bring you time-tested remedies in a convenient form.

With this in mind, Zandu presents Kukumadi Taila, an Ayurvedic concoction of herbs and oils that is free of chemicals, parabens and sulphate to take care of your skin naturally. This Kumkumadi oil is scientifically proven* to reduce acne, blemishes, dark circles and pigmentation while improving skin tone. You can also use Kumkumadi oil to reduce tan & dullness and improve skin glow. If you are on the lookout for a Kumkumadi tailam that can seamlessly fit into your skincare routine and offer long-lasting benefits, Zandu Kumkumadi Taila is your answer for glowing and radiant skin.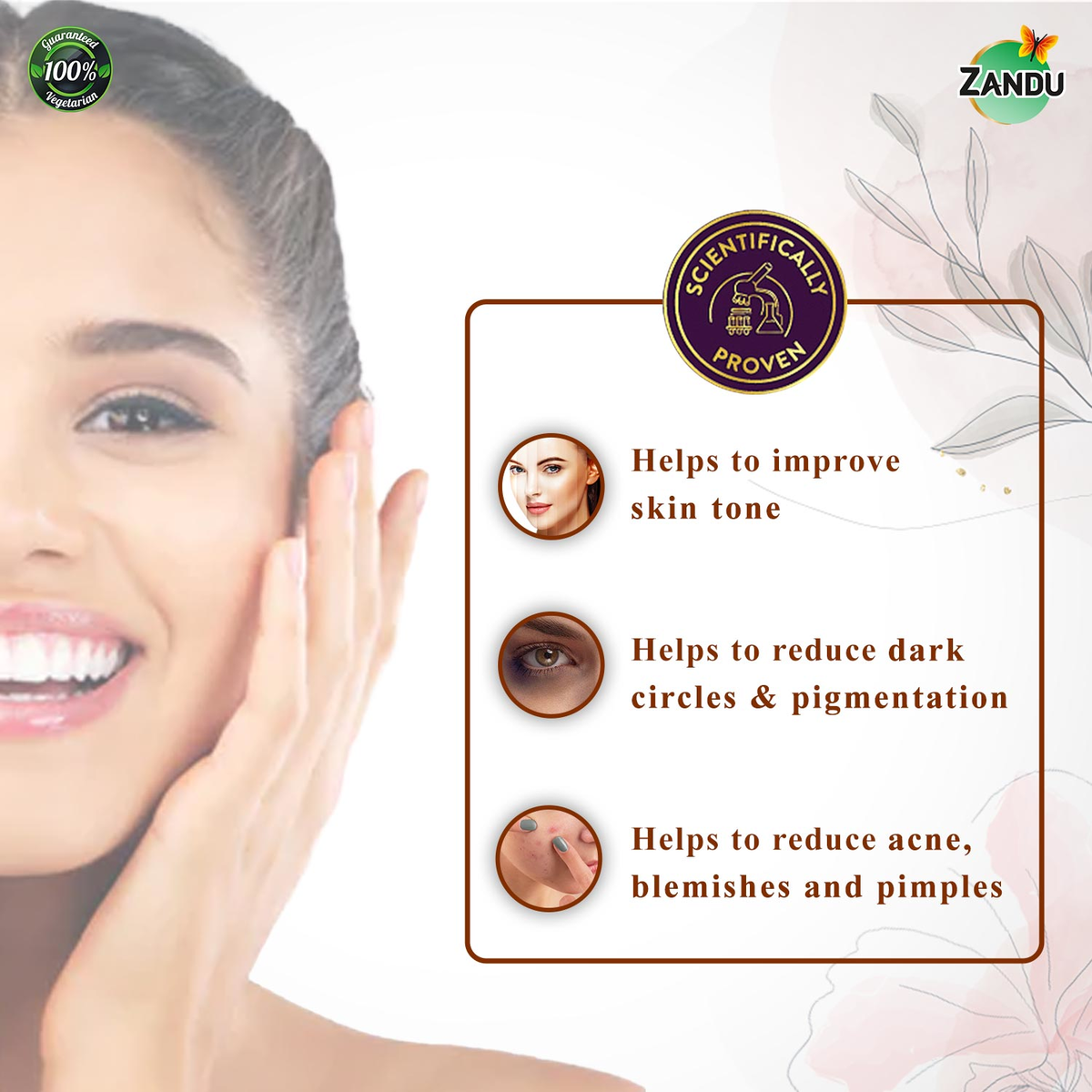 Benefits of Kumkumadi Taila (Oil)
Kumkumadi Taila is a solution for those looking for long-lasting skin benefits to help them get glowing skin. Choose this Ayurvedic formulation enriched with the goodness of natural oils and herbs to reap maximum benefits. Here are some of the important ones:


Improves Skin Tone: According to scientific studies, Kumkumadi Taila helps improve skin tone. Kumkum and Shvetachandana in this oil have been used in skincare since ancient times due to their ability to promote even skin tone and improve overall skin texture.
Helps reduce dark circles and pigmentation: This Kumkumadi oil is prepared from Ayurvedic oils and herbs that offer ageless skin benefits. It is Scientifically Proven* that Zandu Kumkumadi Oil helps reduce dark circles and pigmentation.
Helps reduce acne, blemishes and pimples: One of the most common skin problems that many of us experience is acne. Kumkuadi Taila, a blend of Keshar, Yastimadhu, Manjishtha, Shvetachandana, Kamal, and other natural oils and herbs, is scientifically proven* to reduce acne along with blemishes and pimples.
Helps to improve skin glow: Compounds present in Keshar helps reduce the pigment called melanin, thus acts an effective skin-lightening agent, giving a youthful skin glow. Other ingredients such as Manjishtha and Shvetachandana have good skin protecting and maintaining properties and enhance skin lustre. Using this kumkumadi facial oil regularly will give you glowing, younger-looking skin.
Useful in reducing tan and dullness: Skin tan is very common among Indians because of the scorching sun and our lifestyle. Keshar can protect the skin from harmful UV rays due to its anti-sun effect on the skin and thus reduces tan and dullness.
Helps to provide nourishment to the skin: This kumkumadi tailam is known as an Ayurvedic beauty elixir because it improves overall skin health and rejuvenates the skin over time. The combination of Ayurvedic oils and over 21 potent herbs makes it a perfect solution to nourish your skin naturally.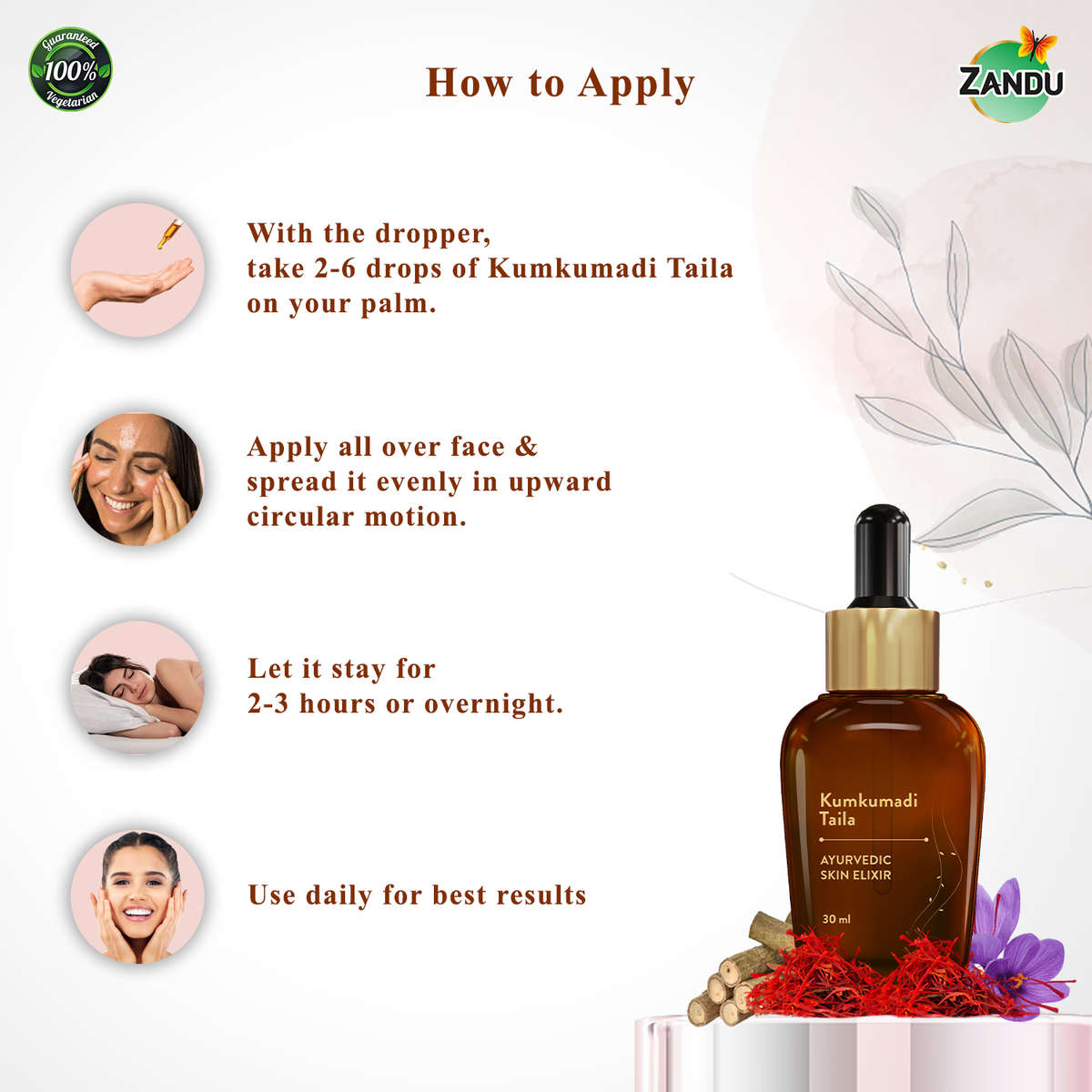 Steps to Use
Taila is designed keeping today's hectic world in mind. Its regular application enhances skin tone and nourishes your skin.

Follow these simple steps to incorporate this Kumkumadi oil in your everyday beauty regime:


1. With the help of the dropper, take 2-6 drops of Kumkumadi Taila on your palm.
2. Apply over your face, neck, and affected skin. Spread it evenly in an upward circular motion and let it stay for 2-3 hours or overnight.
3. Use daily for best results.


Safety Information:
Always read the label carefully for instructions and understand the benefits of Zandu Kumkumadi Taila.
Use Zandu Kumkumadi Taila as per the recommended dosage.
Always verify the best before date mentioned on the pack before application.
Key Ingredients
Kumkumadi Taila is an authentic Ayurvedic formulation prepared from natural oils and over 26 potent herbs. Regular use of this oil helps your skin appear youthful.

The main ingredients used in this oil are:


Keshar: Kumkum or Keshar is an Ayurvedic herb that has been used since the olden days to improve skin health. It helps prevent acne and blemishes, treat wounds and skin problems, and give a youthful glow by making the skin look fresh and bright.
Saffron has anti-sun effects that can protect the skin from harmful UV rays and thus help reduce tan and dullness. Compounds present in Saffron helps to reduce the pigment called melanin; thus, it acts as an effective skin-lightening agent. Being rich in antioxidants, Keshar has an anti-ageing effect when used regularly.
Yastimadhu: Yashtimadhu is also called Liquorice or sweet root since it is sweet in taste. It is a herb that people have used for thousands of years for various skin issues. Because of its anti-bacterial and anti-microbial properties, Yashtimadhu helps prevent skin infections. It also helps reduce pigmentation and protects skin against oxidative stress.
Manjishtha: Manjishtha is well known for its versatile action. Because of its anti-bacterial, anti-inflammatory and antioxidant properties, it has been used to treat acne since ancient times. It also helps reduce blemishes and treat various skin problems. The root is used to remove pimples and discolouration, and its regular use improves the lustre and glow of the skin.
Shvetachandana: According to Ayurvedic texts, Shvetachandana or Sandalwood has many medicinal uses and is being used extensively to improve overall skin health. It may help with scars, wrinkles, inflammation, and acne, promote skin tone and wound healing.
Kamal: Kamal is an important medicinal plant widely used in Ayurveda to treat various disorders. It contains an anti-ageing agent and is beneficial in reducing acne, blemishes, and wrinkles. Its regular use promotes younger-looking skin.

Moreover, each 100 ml is prepared from:

Kumkuma / Keshar (Crocus sativus Linn.) Stigma, Shvetachandana (Santalum album Linn.) Heart Wood, Ushira (Vetiveria zizanioides (Linn.) Nash) Root, Vata jata (Ficus bengalensis Linn) Root, Kamal keshar (Nelumbo nucifera Gaertn.) Stamen, Utpala (Nymphea stelleta Willd.) Flower, Daruharidra (Berberis aristata DC.) Stem/Root wood, Padmaka (Prunus cerasoides D. Don) Heart Wood, Bilva (Aegle marmelos Corr.) Root/Bark, Agnimantha (Clerodendrum phlomidis Linn.) Root/Bark, Gambhari (Gmelina arborea Roxb.) Root/Bark, Shyonaka (Oroxylum indicum Vent.) Root/Bark, Patala (Stereospermum suaveolens DC.) Root/Bark, Shalaparni (Desmodium gangeticum DC.) Whole Plant, Prisniparni (Uraria picta Desv.) Whole Plant, Brihati (Solanum anguivi Lam.) Whole Plant, Gokshura (Tribulus terrestris Linn.) whole Plant, Kantakari (Solanum surattense Burm. f.) Whole Plant, Asvattha (Ficus religiosa Linn.) Stem Bark, each 2.00 g, Manjishta (Rubia cordifolia Linn.) Stem, Yashtimadhu (Glycyrrhiza glabra Linn.) Root, Laksha (Laccifera lacca) Executed, each 2.60 g, Dugdha 100 ml, Tila Taila (Sesamum indicum Linn.) Oil, Q,S to 100 ml, For Kalk dravya : Madhuka (Madhuca indica J.F. Gmel.) Flower 0.60 g.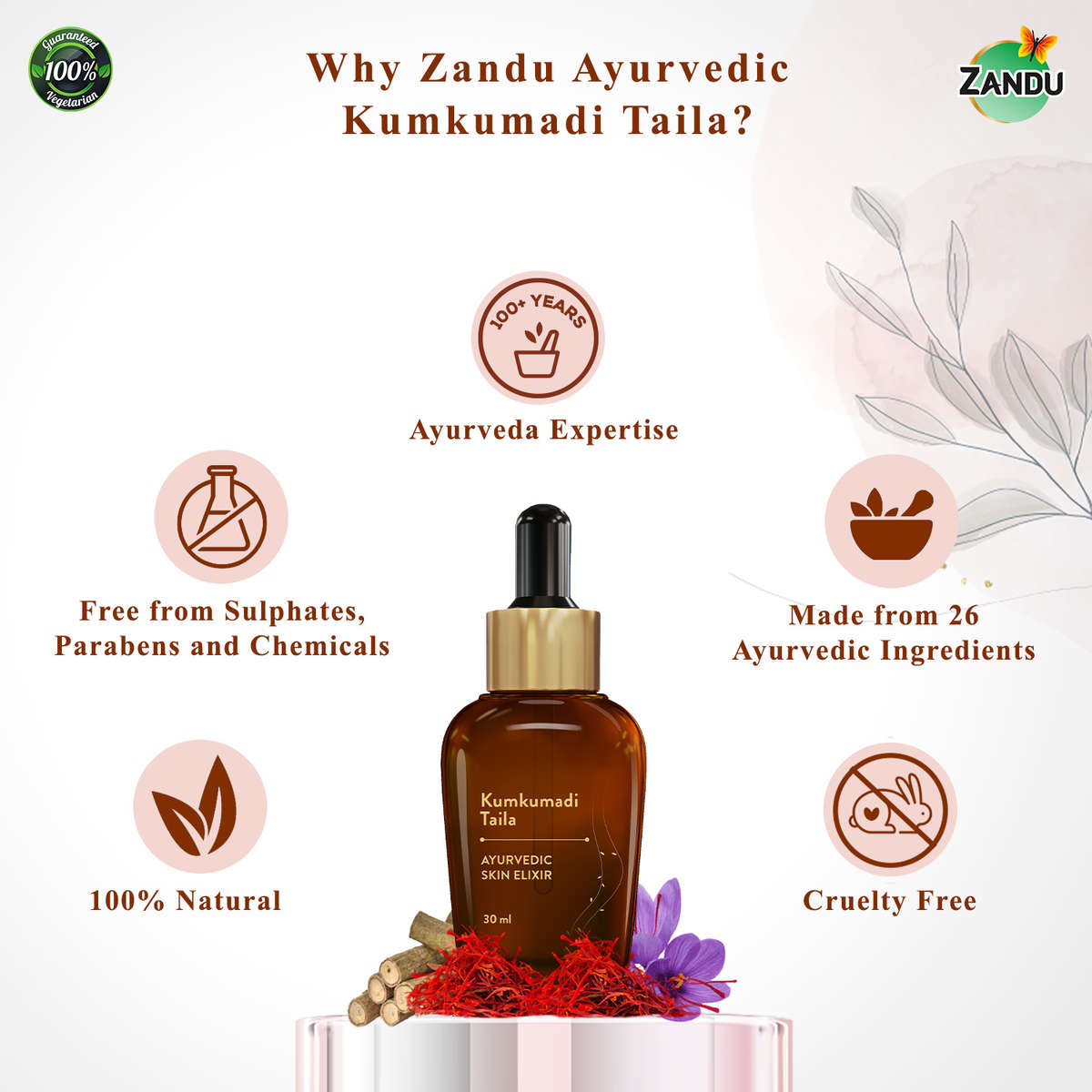 What Zandu Kumkumadi Taila special?
Safe to Use: Zandu Kumkumadi Taila is an authentic and natural Ayurvedic oil. It is free from chemicals, parabens or sulphates. When applied as per the directions given, this Ayurvedic oil is safe to use without any known side effects.

A promise of convenience - There is no time to prepare and traditionally use medicines or home remedies in the modern world. Therefore, Zanducare aims at providing you with easy-to-use Zandu Kumkumadi Taila. This Ayurvedic formulation helps to give you the best skin benefits without causing any inconvenience.

We follow Minimal Processing: Ayurvedic formulations are expected to lose potency if handled appropriately. Therefore, they cannot be processed beyond a certain point. This is why we follow minimal processing to keep their potency intact.


Natural and Ayurvedic - The ingredients used in the composition of Zandu Kumkumadi Taila are pure, authentic, natural and plant-based. Non-vegetarian ingredients are not used in any form.

No Artificial Colours & Added Flavours: No artificial colours or added flavours have been used while formulating Zandu Kumkumadi Taila. All ingredients are natural and responsibly sourced.

Quality and reliability: Every Zandu product is backed by the promise of quality and reliability from one of India's most trusted names in Ayurveda - Emami Ltd, the house of iconic products, which has been used for generations.
Time-tested and proven healthcare solutions
Blend of ancient wisdom with modern technology.
Backed by easily accessible trustworthy information
Boast of nation-wide availability
Comply with specifications and methodology in Ayurvedic scriptures
Additional Information
Best Before: 24 Months
Item Weight ‏ : ‎ 15 g
Product Dimensions: ‎ 3.6 x 3.6 x 9 cm; 15 Grams
Manufacturer: Emami Limited., Uma Ayurvedics Pvt. Ltd. Kachaura - 204211, Dist: Hathras (UP)
Marketedor Packer by: Uma Ayurvedics Pvt. Ltd. Kachaura - 204211, Dist: Hathras (UP)
Country of Origin: India
Net Quantity: 30.0 millilitre
Frequently Bought Together