---
Country of Origin : India
Secured & trusted checkout with:
Description
Zandu Ayurvedic Knee Pain Relief Patch, a natural and effective solution for soothing knee discomfort. Crafted with a blend of Ayurvedic herbs renowned for their analgesic and anti-inflammatory properties, this patch provides targeted relief to alleviate knee pain. Simply apply the patch to the affected area and let the herbal ingredients work their magic.

Zandu patch contains Ayurvedic ingredients, herbs, extracts and oils like Gandhapura Patra Taila, Peppermint Satva, Camphor, Shallaki Guggul (Boswellia Serrata), Eucalyptus Oil and Katuvira.

Designed to support joint health, reduce inflammation, and promote flexibility, our Knee Pain Relief Patch offers a convenient and drug-free option for managing knee pain. Experience the power of Ayurveda in a practical patch format, providing soothing comfort and supporting your active lifestyle. Say goodbye to knee pain and embrace the relief you deserve with our Ayurvedic Knee Pain Relief Patch.

Item Form:

 Patch

Used for:

 

Knee or Muscles

Number of Items:

 5 Patches



Expire details:

 

Best before 36 months

 

from the date of manufacture

Diet Type:

 

Vegetarian
Age Range:

 5+

About Zandu Ayurvedic Knee Pain Relief Patch
Knee pain can cause major discomfort in our active, busy lives. People often opt for painkillers to relieve knee pain but do not realize the adverse implications of side effects. Another way to alleviate knee pain is to apply topical medications like ointments, sprays, or creams directly on the knees. These are safer than painkillers but have drawbacks, such as requiring regular re-application and leaving a strong smell and stain on clothing.

At Zandu, we understand these aspects of knee pain relief and have devised a perfect solution in the form of a Relief Patch. These patches are prepared by blending time-tested Ayurvedic benefits with modern scientific manufacturing processes. Each patch contains Ayurvedic ingredients like Gandhapura Patra Taila, Peppermint Satva, Camphor, Katuvira, Shallaki Guggul (Boswellia Serrata) and Eucalyptus Oil to provide relief for up to 8 hours.

These knee pain relief patches are non-smelly and non-messy, leave no stains on clothing, and can be applied directly on your knees or other affected area. By bypassing the digestive system, these patches prevent side effects associated with popping pills. Since these patches are applied directly to the affected area, they can deliver a higher dosage of extracts and oils to reap maximum benefits.

They are small enough to carry to your office, gym, or while travelling on vacation and can be applied to the affected area at any time within seconds. These pain patches provide relief against minor aches and pains of muscles, knee and elbow joints, Osteoarthritis, sprains, strains and are also effective against backaches, stiff neck, and sore shoulders. Zandu Knee Pain Relief Patches are ideal for people looking to continue their active lifestyles without any interruptions.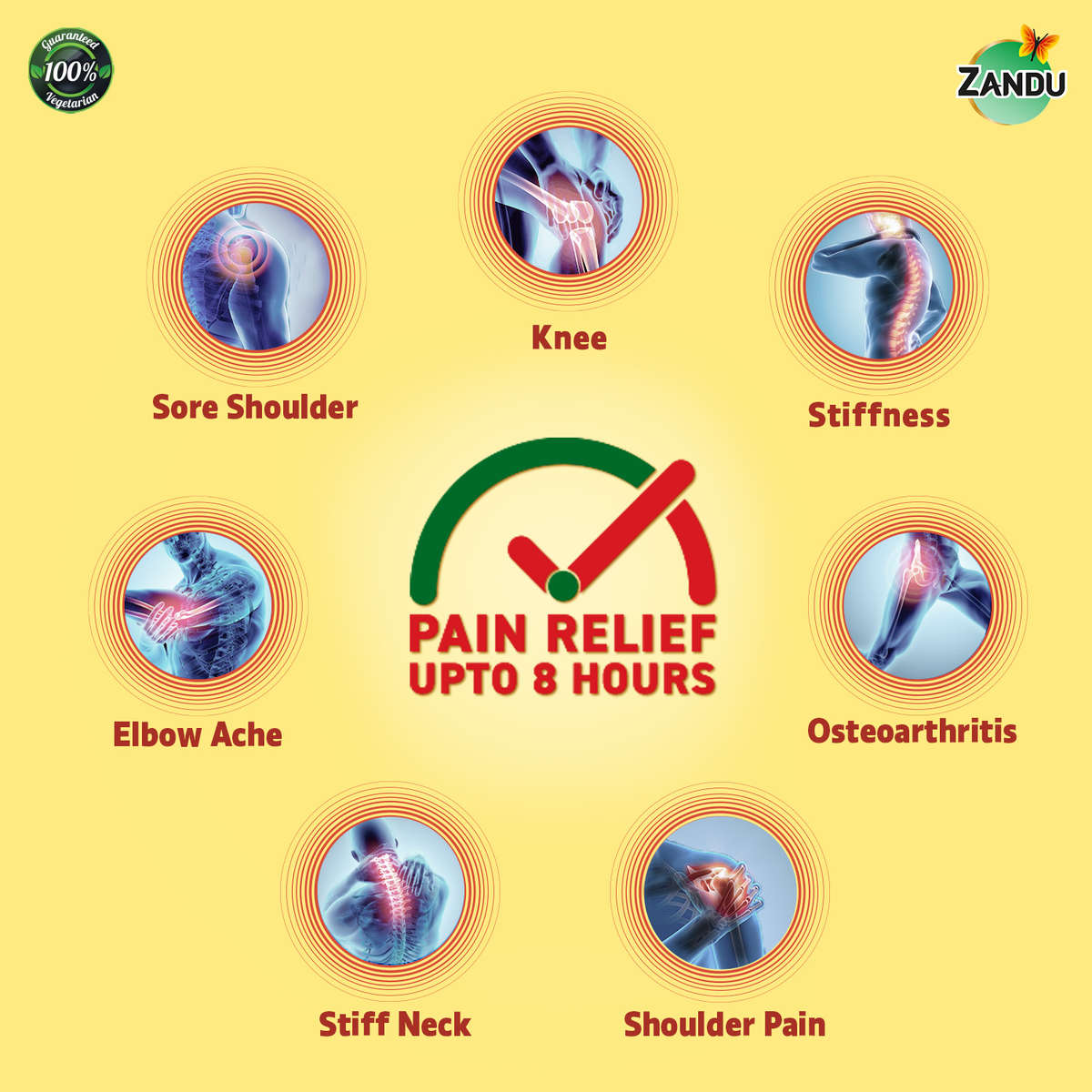 Benefits of Ayurvedic Knee Pain Relief Patch
Knee Pain Relief Patch is a transdermal patch that is non-smelly, non-messy and can be applied anywhere you are and at any time, thanks to its convenient design. It can relieve knee pain, stiffness or sprains for up to 8 hours. Here are some of the benefits of these patches:


Knee pain and stiffness: Gandharpura Patra Taila, Peppermint Satva and Shallaki are used in pain patches because of their ability to relieve pain. Using pain relief patches help offer relief from pain and stiffness caused to the knees due to injury or improper posture.
Pain & inflammation associated with Osteoarthritis: Many studies indicate the use of Shallaki Guggul in managing Osteoarthritic pain & inflammation due to its anti-inflammatory and analgesic properties. Using Zandu Knee Pain Relief Patch regularly can relieve pain and inflammation caused due to Osteoarthritis.
Muscle pain: This pain patch reduces swelling caused by bruises or injury.
Sprains: This Ayurvedic patch provides relief against knee sprains caused due to strenuous activities.
Neck and shoulders: These patches can work to relieve you from a stiff neck or sore shoulders. They also soothe neck muscles and treat common neck pain while helping loosen stiff neck/ shoulders caused due to long sedentary hours.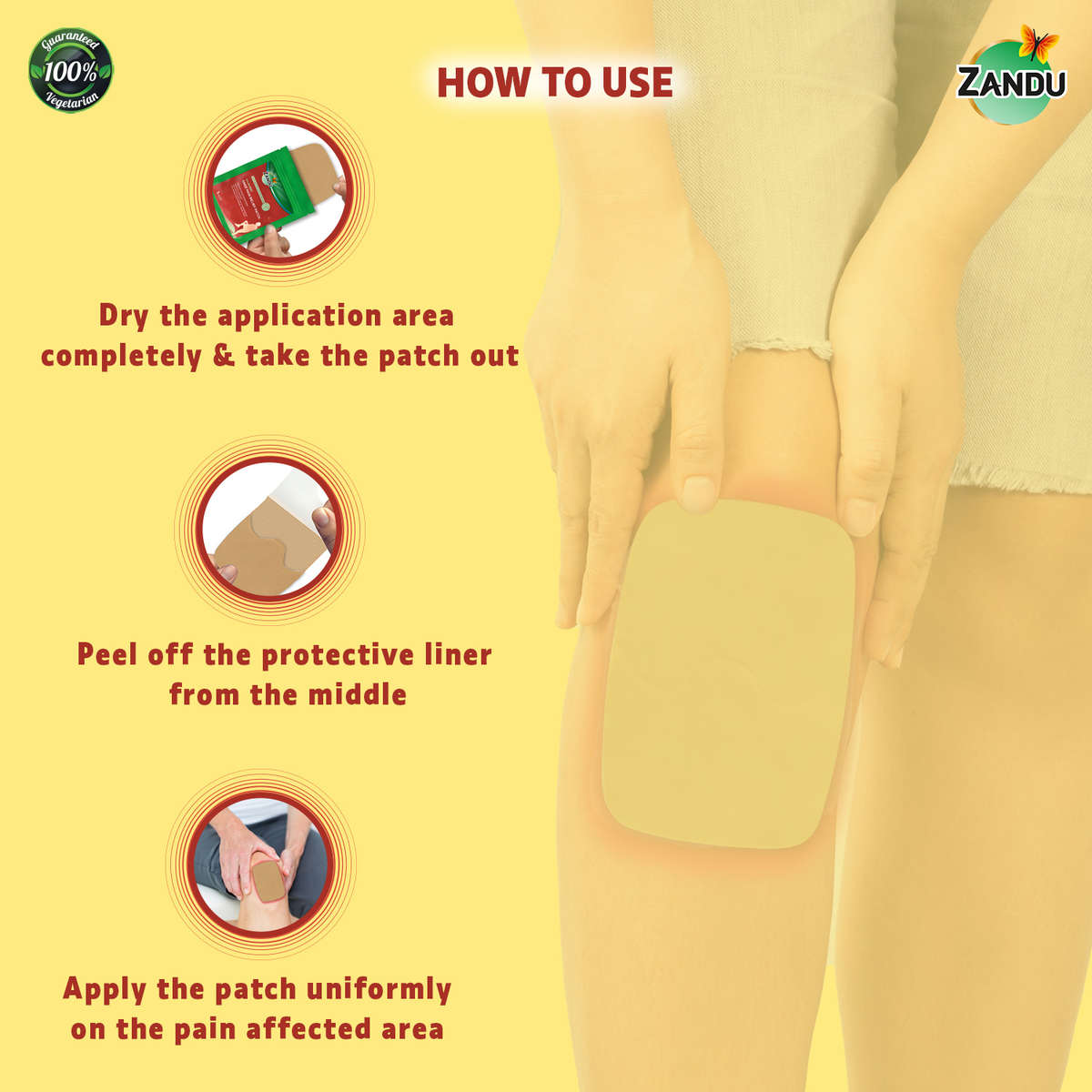 How to Apply Zandu Ayurvedic Knee Pain Relief Patch?
Zandu Ayurvedic Knee Pain Relief Patch can work while you are at home, at the office, in the gym or somewhere out. Unlike ointments, sprays and creams, these patches do not require re-application after a few hours. With a self-adhesive design, these patches can be applied quickly and easily and leave no residue or do not cause itching.

Application Process:
1. Dry the application area completely. Open the pouch and remove the patch.
2. Peel off the protective liner from the cuts in the middle to expose the adhesive area.
3. Apply the patch uniformly on the pain-affected area for not more than 8 hours.
4. If applied on hair, use hot water for easy peel off.
5. Apply immediately upon removal from the protective pack.

Safety Information:
Always use a fresh patch and apply it for 8 hours a day for best results. You can use two patches daily. If the patch irritates the skin, remove it immediately. Never keep this knee pain relief patch on while asleep at night.
Warning: DO not use on eyes, face, open wounds or infected skin.
Pregnant women need to consult with their doctor before usage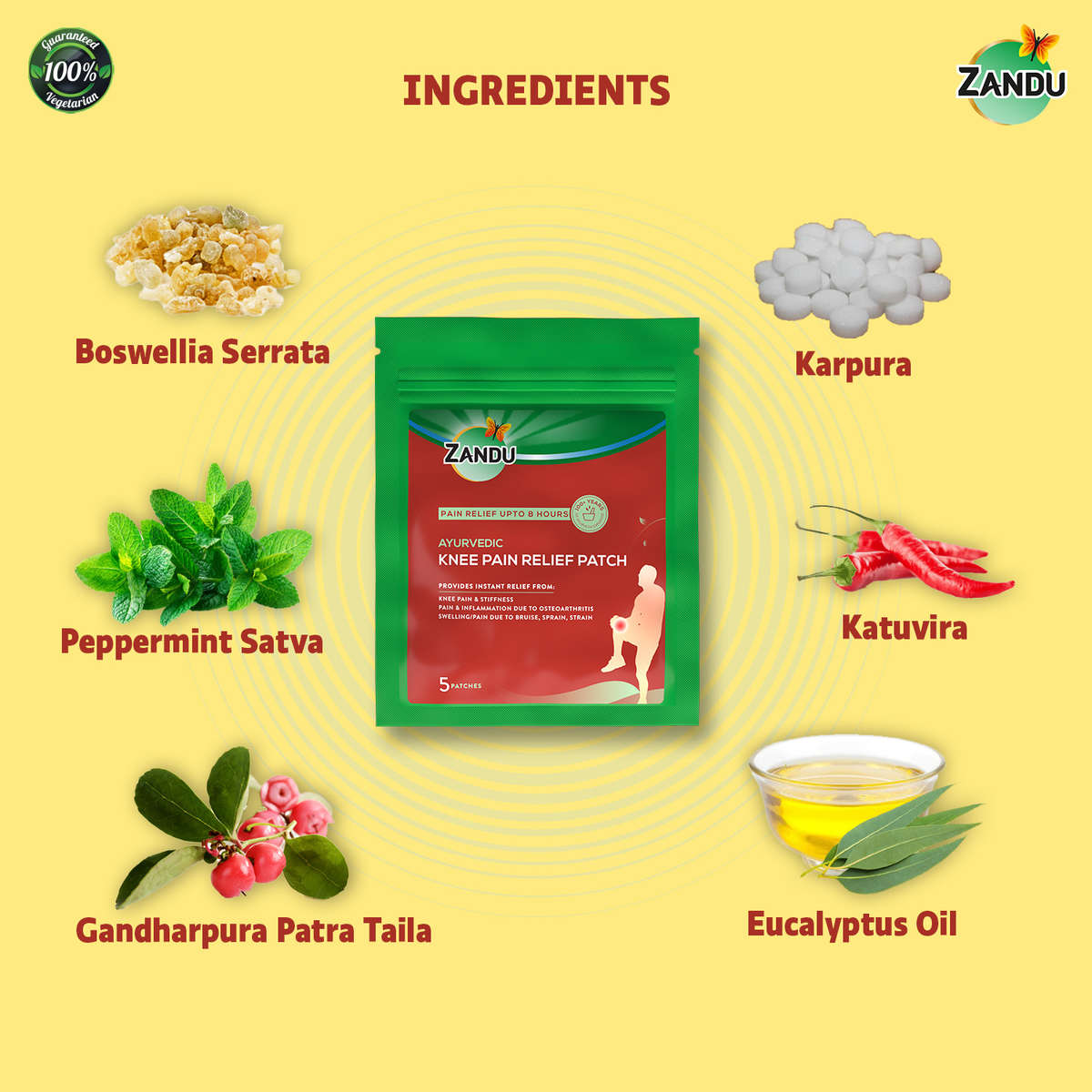 Ingredients Information
Ayurvedic Knee Pain Relief Patch is a transdermal, non-smelly and non-messy solution for aches and pain. This patch is prepared from natural extracts and oils that are 100% vegetarian and packs thousands of years of Ayurvedic wisdom into a convenient package.


Gandhapura Patra Taila: Also known as Oil of Wintergreen, Gandhapura Patra Taila is an Ayurvedic pain reliever. It inhibits the sensation of pain on your knee without side effects associated with oral pain killers. One of the main components naturally occurring in this oil is Methyl salicylate, which can reduce pain.
Peppermint Satva: Peppermint is known to have a high menthol content and is used for joint pain relief.
Camphor: Camphor can be readily absorbed by the body through the skin and produces a feeling of cooling similar to that of Menthol. It acts as a mild local anaesthetic and antimicrobial substance.
Shallaki Guggul (Boswellia Serrata): Ayurveda has extensively used Shallaki in the management of painful joint problems. It is beneficial for Osteoarthritis patients and can provide joint pain relief due to its analgesic property. This gum resin can also reduce pain and swelling of the knees in patients with Osteoarthritis and improve knee flexing.
Eucalyptus Oil: Oil from the eucalyptus tree can ease joint pain, reduce pain and inflammation associated with back pain and aid recovery of joint or muscle injury.
Katuvira: Also known as Capsicum annum, Katuvira is a natural painkiller and powerful local pain reliever due to its strong counter irritant & analgesic properties.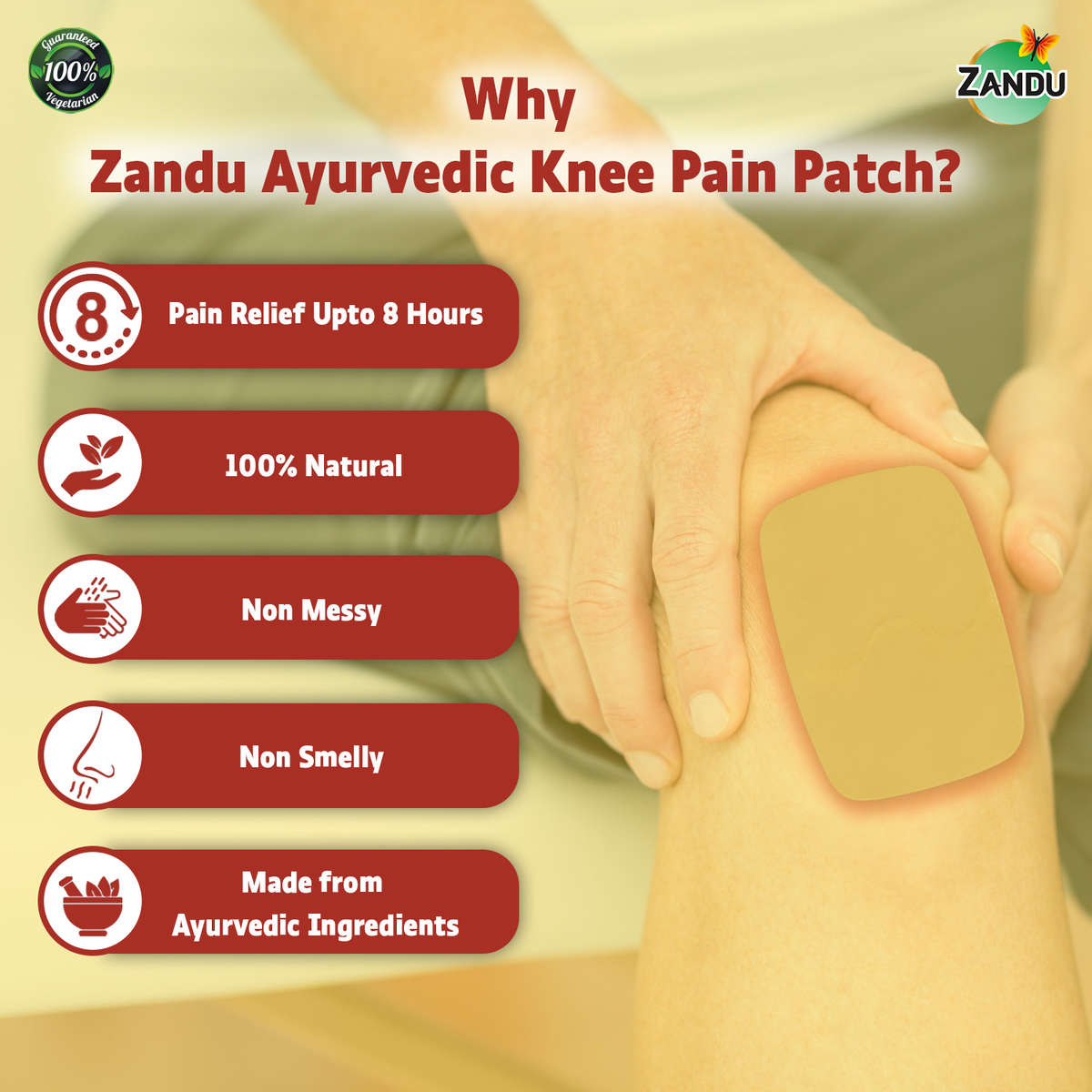 What Makes Zandu Ayurvedic Knee Pain Relief Patch Special?
Active up to 8 hours: After applying the Zandu Ayurvedic Knee Pain Relief patch, the medicine releases through the skin into the applied area within a few minutes. The release continues for up to 8 hours in a controlled manner, giving instant and long-lasting relief.

Safe to use: Zandu Ayurvedic Knee Pain Relief Patches are made with natural ingredients that have been in use for thousands of years. These self-adhesive medicated patches are free of any chemicals, paraben or sulphates. They bypass the digestive system and prevent any side effects or digestive issues caused by oral painkillers. These patches can deliver a higher dose of Ayurvedic herbs as they are only applied locally to the problem area.

A promise of convenience: When it comes to pain relief, topical medications like sprays, ointments and creams are a fussy option that can leave stains on clothes, are smelly and require re-application after a few hours. Our range of Ayurvedic patches is a convenient alternative that can provide sustained relief for up to 8 hours with no smell or stains and can be applied & removed easily.


Natural and Ayurvedic: These patches are composed of Ayurvedic oils and extracts. They are 100% authentic, vegetarian and natural, and do not contain any non-vegetarian ingredients

Quality and reliability: At Zandu, every product promises authenticity and quality. It is backed by one of the most trusted and recognized names in Ayurveda - Emami Ltd., which is home to iconic products that have been in use all over India for generations.
Time-tested and proven healthcare solutions.
Blend of ancient wisdom with modern technology.
Backed by easily accessible trustworthy information.
Boast of nation-wide availability
Comply with specifications and methodology in Ayurvedic scriptures
Additional Information
Best Before: 36 Months
Product Dimensions: 9 x 0.5 x 6 Centimeters
Manufacturer: Emami Limited., RS 56B/1, Hubli Karwar Road, Chalamatti, Kalaghatgi TK, Dharwad, Dist - 581204, Karnataka, India.
Marketedor Packer by: Emami Limited., RS 56B/1, Hubli Karwar Road, Chalamatti, Kalaghatgi TK, Dharwad, Dist - 581204, Karnataka, India.
Country of Origin: India
Net Quantity: 5 pack
Frequently Bought Together