---
Country of Origin : India
Secured & trusted checkout with:
Description
Zandu Ashwagandha is formulated with the finest quality standardized Ashwagandha. Ashwagandha commonly known as Asgandha, is a small shrub found in drier parts of India, the Middle East and regions of Africa. As per Ayurveda, the roots, leaves and seeds have been used for medicinal purposes for centuries.

Zandu Ashwagandha capsule is a safe supplement and delivers the same natural properties of Ashwagandha in a convenient and easy-to-consume form to ensure that you consume the correct amount of the herb in every intake. Zandu Ashwagandha capsule helps to boost your immunity, manage stress levels naturally and improve mental performance.
We believe that the practice of ancient Ayurveda is essential, especially in today's fast-paced world. It is easy to fall for untested remedies and misinformation with so much exposure to unverified information.
Fad diets and lifestyle trends keep coming and going. In such a scenario, relying on time-tested solutions backed by centuries of Ayurvedic wisdom is prudent. With Zandu Ashwagandha capsules, get 2x* boosted immunity and better stress resistance naturally and effectively. (*Scientifically proven basis Laboratory N.K. Cell Activity.)
Item Form: Capsule
Net Quantity: 60 Capsules
Key Benefits: Immunity Booster, Reduces Stress, Improves Mental Performance
Number of Items: 1
Dosage: 1 or 2 capsules two times a day or as instructed by the physician
Expire details: Best before 24 months
Age Range: 18+

About Zandu Ashwagandha Capsules with 2X* Immunity
Zandu Ashwagandha Capsule is an Ayurvedic Immunity Booster supplement made from natural extracts of Ashwagandha to help keep your body and mind active despite the hectic daily schedule. This Immunity booster capsule delivers the same natural properties of Ashwagandha now in a convenient and easy to consume form. Regular consumption of this immunity booster capsules, Zandu Ashwagandha helps to restore your energy, improve mind performance and to increase immunity. Take care of your health and to be ready for the hectic lifestyle, try Zandu Ashwagandha capsules now!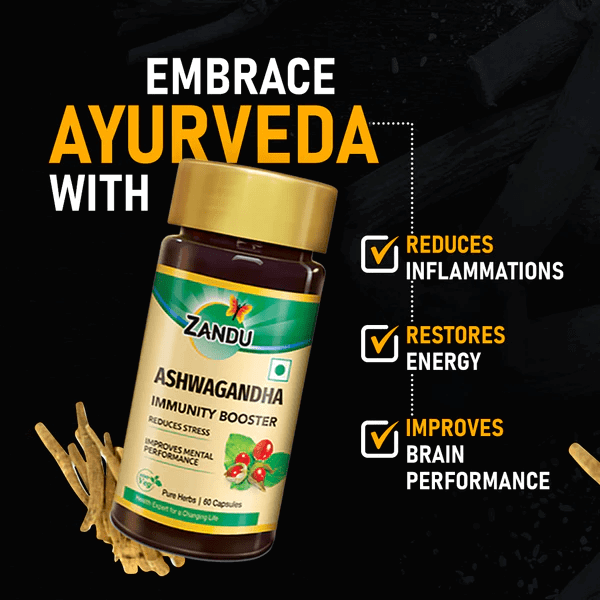 Benefits of Zandu Ashwagandha Capsules
Zandu Ashwagandha capsules stand apart from other Ashwagandha tablets due to the strong foundation of Zandu's 110-year-old Ayurvedic heritage and legacy. These capsules harness the adaptogenic properties of Ashwagandha, which are known to alleviate stress and enhance immunity. The remarkable benefits include the following:


Reduce stress and anxiety: Zandu Ashwagandha is renowned for its stress-reducing properties, making it highly recognised. It falls into the category of adaptogens, substances that aid the body in coping with stress. It is believed to assist the adrenal glands, which play a role in the body's response to stress. Ashwagandha capsules have the potential to diminish stress and anxiety, foster relaxation, and enhance overall well-being.


Energy and vitality: Zandu Ashwagandha is a popular herb in Ayurveda for boosting vigour and energy. It is thought to improve general strength, endurance, and stamina. When taken regularly, Ashwagandha pills might help fight weariness and encourage a feeling of renewal.


Cognitive function: Popular Ayurvedic rasayana Ashwagandha is a member of the medhyarasayana subclass of rasayanas. Medhya is the Sanskrit word for intelligence.
Ashwagandha may improve mental acuity and memory. Traditional uses of Ashwagandha include supporting memory and cognitive function. It could enhance mental activity and concentration and have a neuroprotective impact. According to specific research, Ashwagandha may improve general cognition, attention, and information processing.


Immune system support: In Ayurveda, Ashwagandha is regarded as an immunological modulator. It could assist the body's natural defence systems and aid in immune system vigour. Regularly using ashwagandha capsules may help support the body's immune system and boost its resistance to infections.


Hormonal balance: The herb ashwagandha is said to balance hormones. It could assist in controlling cortisol levels, which is advantageous for reducing stress and fostering hormonal equilibrium. Ashwagandha may help both men's and women's reproductive health.


Sleep and relaxation: Ashwagandha is often used to help with relaxation and sleep. It could lessen insomnia, enhance sleep quality, and promote mental peace. Taking ashwagandha capsules before bedtime may help you get a good night's sleep.
Zandu Ashwagandha Capsules Ingredients
Ashwagandha Ayurveda extract is one of this product's main ingredients. Withania somnifera, known as Ashwagandha, is a popular plant in Ayurvedic medicine. A common version of this plant is Ashwagandha capsules, which provide several health advantages.


Ashwagandha: Ashwagandha medicine plays a role in stabilising stress hormones within the body and can effectively manage mood swings. It is a renowned herb known for enhancing cognitive function. If you are seeking Ashwagandha tablets or capsules, look no further, as Zandu offers Ashwagandha capsules that contain natural extracts of the herb. These capsules provide a natural boost to keep your mind active and enhance performance. Zandu Ashwagandha capsules also contribute to overall body protection while boosting immunity.

It is important to note that while Ashwagandha extract is generally considered safe for most individuals, it may interact with certain medications or have contraindications for specific health conditions. It is always recommended to consult with a healthcare professional before starting any new supplement or herbal regimen to ensure its safety and appropriateness for your individual needs.
How to Use Zandu Ashwagandha Capsules?
To ensure proper utilisation of Zandu Ashwagandha Capsules, it is essential to follow these instructions: Take 1-2 capsules of Zandu Ashwagandha before going to bed, along with a glass of lukewarm or regular water. It is essential to swallow the capsules whole without chewing or crushing them.

Please note that you should wait at least 2 hours after your last meal before consuming the Zandu Ashwagandha Capsules. To maximise the effectiveness of the capsules, it is recommended to maintain a healthy lifestyle.
How to Store Zandu Ashwagandha Capsules?
Proper storage is crucial to preserve the potency, purity, and health benefits of these capsules, which are formulated with authentic Ayurvedic ingredients. Zandu Ashwagandha Capsules are designed to be convenient and easily storable. They can be safely stored at room temperature, away from direct sunlight. It is important to securely close the bottle lid after each use to maintain the integrity of the capsule's contents.


Who Can Use Zandu Ashwagandha Capsules?
Individuals who are looking to boost their energy levels and reduce fatigue.
Athletes and individuals involved in physical activities who want to improve their physical performance and endurance.
Those seeking to enhance cognitive function, including memory, focus, and mental agility.
Individuals strive to manage stress and build resilience against various stressors effectively.
Peopleseek to support their immune systems for overall well-being and vitality.
Why Use Zandu Ashwagandha Capsules?
Zandu Ashwagandha Capsules are renowned for their exceptional natural properties, effectively combat chronic fatigue and promote energy, vitality, and vigour in the body.

Ashwagandha, also known as an "adaptogenic" or "royal" herb, aids in stress reduction and helps the body adapt to changes. It rejuvenates various body systems, including the immune, reproductive, and endocrine systems.

Regularly consuming this remarkable herb in its purest form keeps stress and anxiety at bay, enhances energy levels, and improves cognitive function. Zandu presents Zandu Ashwagandha Capsules from Ayurvedic Pure Herbs to cater to your daily health
needs.


Zandu Ashwagandha Capsules encapsulate the same natural properties as Ashwagandha in a convenient and easily consumable form. By trying Zandu Ashwagandha Capsules, you can experience a natural and herbal boost in energy and stamina. The product is manufactured in advanced Ayurvedic research facilities under the meticulous supervision of our trained R&D scientists at Zandu Healthcare. Furthermore, it is formulated with responsibly sourced, potent pure, authentic, and 100% vegetarian ingredients like Ashwagandha extract.
Manufactured in the advanced ayurvedic research facilities of Zandu healthcare, under the careful supervision of our trained R&D scientists.
Made with responsibly sourced, powerful ingredients, which are Natural and 100% Vegetarian.
Product Safety Information
Natural Composition: Each capsule of Zandu Ashwagandha Capsules contains 100% natural extracts of a single herb, ensuring its pure and unadulterated composition. There are no added flavours, sugars, or preservatives.
Safe and Secure: Zandu Ashwagandha Capsules prioritise safety and purity as an Ayurvedic formulation. It is free from toxins, gelatin, chemicals, sulfates, or parabens. According to the recommended instructions, these Ayurvedic capsules are considered safe, with no known side effects.
Natural and Vegetarian: Zandu Ashwagandha Capsules exclusively use natural and vegetarian plant ingredients. There are no non-vegetarian ingredients incorporated in any form.
Legal Disclaimer:
The therapeutic uses and benefits of Zandu Ashwagandha Capsules are deeply rooted in the principles of Ayurveda, an ancient science. Zanducare is dedicated to providing genuine and reliable products and information. However, it is important to note that the effectiveness of these products may vary depending on an individual's unique body constitution or Prakriti.


Therefore, the recommendations presented in this article should not be regarded as a substitute for the guidance and remedies provided by a qualified physician. This article is intended for informational purposes only. The decision to use this product lies solely with the consumer. If any persistent side effects occur from using the product, it is strongly advised to seek immediate medical advice from a physician.

Additional Information
Best Before: 24 Months
Product Dimensions: 54.5 x 1.9 x 9.3 Centimeters
Manufacturer: Emami Limited., EMAMI LIMITED - Survey No. 61/2P/1-MASAT, Silvassa, D & NH (U.T)-396230
Marketed or Packer by: Emami Limited. Survey No. 61/2P/1-MASAT, Silvassa, D & NH (U.T)-396230
Country of Origin: India
Item Weight: 165 g
Net Quantity: 60 count
Frequently Bought Together