---
Country of Origin : India
Secured & trusted checkout with:
Description
Zandu Vigorex Gold comes with a unique blend of eight powerful Ayurvedic herbs and minerals, such as Shilajit, Ashwagandha, Safed Musli, among many more. It is an Ayurvedic vitaliser available in capsules and helps relieve stress, enhance stamina, and boost energy to secure a sense of vigour and passion in your marital life.
In today's fast-paced world, stress and anxiety are taking a toll on an individual's mental health. This, however, negatively affects their sexual life leaving them unhappy and frustrated. Sexual satisfaction is crucial to living a happy and fulfilled life.
Ayurveda, the ancient system of medicine, has always offered a holistic approach to enhancing sexual wellness. Especially Ayurvedic formulations using beneficial ingredients like Shilajit, Ashwagandha, and Safed Musli, primarily known for improving strength and sexual wellness, offer the best solutions.
Item Form: Capsules
Net Quantity: 20 capsules
Flavour: Unflavored
Key Benefits: Enhances stamina, relieves stress
Number of Items: 1 Pack
Dosage: 1 capsule twice a day, preferably with milk or as directed by the healthcare professional.
Expire details: Best before 36 months from the date of manufacture
Diet Type: Vegetarian
Age Range: Adult

About Zandu Vigorex Gold Capsules
Vigorex is an Ayurvedic solution to various day to day problems like lack of energy, stamina, power, Increased stress and fatigue. Zandu Vigorex is a herbal formulation designed to promote general well being and physical health. It contains 8 Ayurvedic herbs and mineral like pure Shilajit, Ashwagandha, Shatavari, Gold Bhasma etc. which are known for their varied benefits including reduced stress, increased vitality, vigour, rejuvination and power. The formulation is 100% natural, organic and herbal and hence does not have any side effects.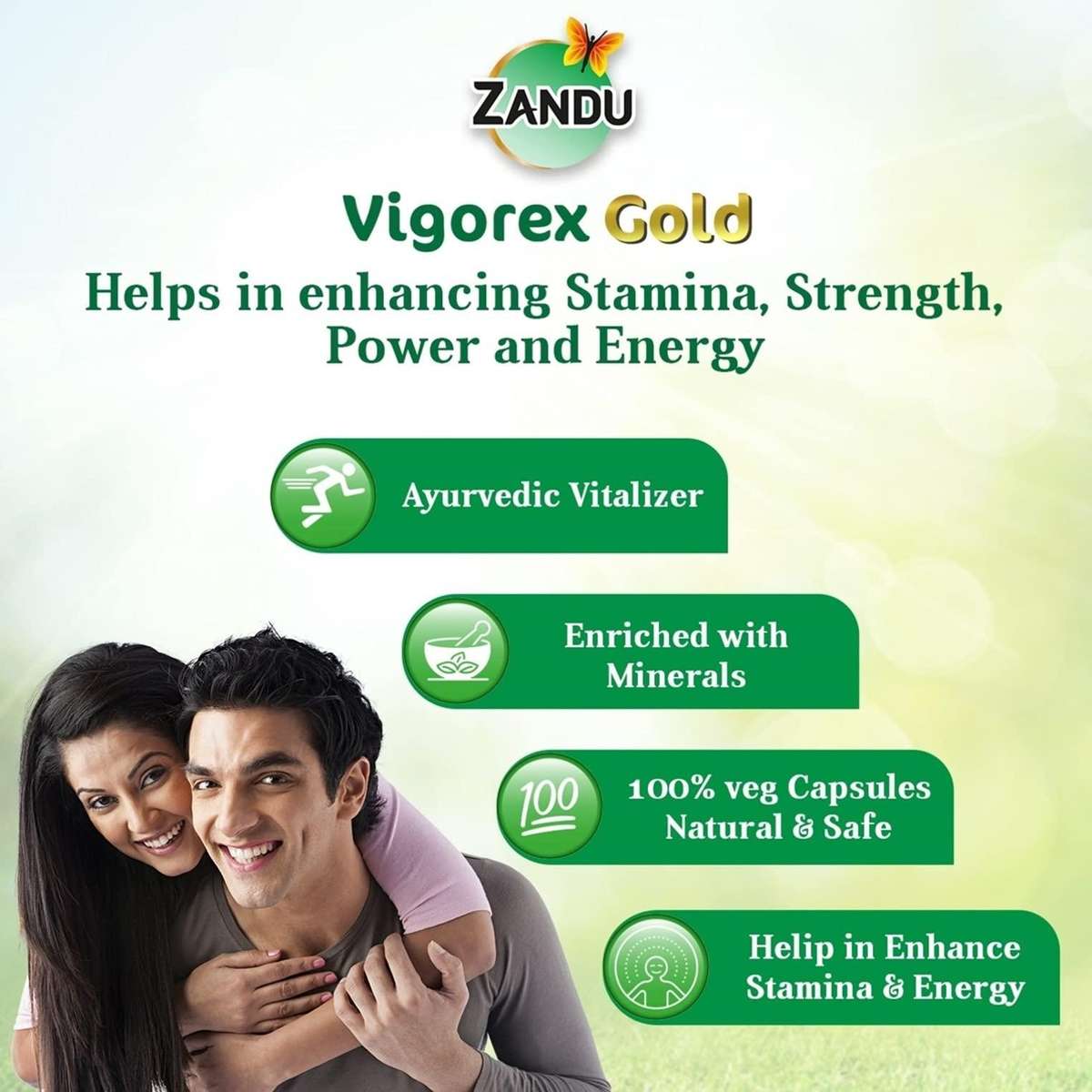 Zandu Vigorex Gold Benefits
Vigorex Gold formulated with the top ayurvedic ingredients and herbs like Ashwagandha, Shilajit, Safed Musli offers a lot of positive impacts on sexual health as well as overall wellness. Some mentionable benefits that Vigorex Gold capsules offer are mentioned below in detail:


Enhanced sexual performance: The key ingredients used in the formulation of the capsule help improve sexual performance. Ingredients like Shilajit, Ashwagandha, Shatavari, and Gokshur support healthy blood flow in the body and especially to the genital area. This boosts the libido, which leads to enhanced stamina, strength and endurance during penetration.


Manages stress & anxiety: Zandu Vigorex Gold is also helpful for reducing stress and anxiety issues that tend to negatively impact a quality sex life. Most of the ingredients involved in the supplement formulation possess adaptogenic properties. It helps the body cope with stress by reducing stress and anxiety levels. This indirectly supports sexual wellness as an enjoyable sexual experience requires a relaxed and stress-free mind.


Increased stamina & energy levels: The capsules also increase the energy levels in the body. The energising properties of the ayurvedic ingredients, especially Gokshura and Yashad Bhasma, lower fatigue and works on lethargy to make you feel active all the time.

It also enhances physical stamina and boosts energy levels by supporting a healthy evel of blood flow. The increased level of energy makes the sexual experience more pleasurable and long-lasting.


Boosts immune system: Zandu Vogirex Gold protects the body and the damage of cells due to oxidative stress caused by free radicals. The reduction in the damage of free radicals ensures a healthy immune system. It also regulates and balances the immune system functions and promotes the production of antibodies, and boosts the body's defence against pathogens. The capsule's immuno-modulating effects ensure an individual's overall well-being, thereby increasing sexual performance.


Relieves pains & aches: Pain and aches, unfortunately, become a part of daily existence with ageing. This may hamper a passionate and vigorous sexual experience. The supplement relieves pains and aches in the body and helps one to feel more confident and healthy. It increases the level of a natural substance present in the brain.
Key Ingredients of Zandu Vigorex Gold
The key ingredients used for the manufacture of Zandu Vigorex Gold capsules are listed below, along with the health benefits that they specifically offer:
Ashwagandha: Ashwagandha is a popular Ayurvedic herb that contains adaptogenic properties and offers innumerable benefits concerning the sexual wellness of individuals. The benefits include enhanced libido, stamina, energy, fertility, and reduced stress levels concerning sexual performance. Additionally, it also ensures a healthy testosterone level which boosts sexual desire leading to better sexual performance.


Kaunch Beej: Commonly known as Velvet Bean, Kaunch Beej is a common herb used in Ayurvedic medicines for its positive effects on sexual wellness. The herb helps improve erectile function, maintains a hormonal balance, reduces stress, and increases the quality of sperm and reduces stress.


Shatavari: Shatavari is primarily known for its positive impact on the reproductive health of both men and women. The aphrodisiac properties of the herb enhance sexual desire and arousal. The herb also has hormone-regulating properties, especially in women, which balances estrogen levels and supports hormone equilibrium and reproductive health. It promotes sexual wellness by making a calm and relaxing environment appropriate for intimacy.


Safed Musli: This medicinal herb has been used in Ayurveda for its sexual health benefits. Most importantly, it entertains aphrodisiac properties that stimulate sexual desire by enhancing libido. It also increases the testosterone levels in the body, a hormone that plays a crucial role in regulating sexual desire. This proves helpful in boosting overall sexual performance. Moreover, the herb improves sperm count and fertility in men.
How to Use Zandu Vigorex Gold Capsules
Take 1 capsule two times a day with milk or as directed by your healthcare professional.
Make sure that you replace the cap tightly after use
Read the label thoroughly before use
Ensure that the medicine can't be reached out by children under any circumstances.
Store the pack in a relaxed and dry place away from direct sunlight
Do not exceed the daily recommended dosage
Refrain from tobacco and alcohol while taking the course.
Store Information
Zandu Vigorex Gold capsules don't have storage complications. All you need to do is just find a clean, dry place away from the sun's direct heat. Consider storing at room temperature. Tighten the bottle lid after use to keep the product's efficacy intact.
Who can use Zandu Vigorex Gold Capsules?
Zandu Vigorex Gold capsules can be sued by adult men looking forward to boosting their energy levels and enhancing vitality and vigour during sexual functions. The capsule offers the goodness of beneficial ayurvedic medicines and herbs like Ashwagandha, Shatavari, Gokshur, Safed Musli, and Shilajit, to name a few.


These are primarily known for boosting energy levels, stamina, and vitality, managing stress levels in the body and reducing lethargy. Moreover, the capsule doesn't cause any side effects, which makes it safe for daily consumption. Ensure you follow the recommended dosage by your healthcare professional or as advised on the label.
Why Use Zandu Vigorex Gold?
Zandu Vigorex capsules are carefully manufactured with pacific ingredients that offer a positive impact on the sexual wellness of individuals. Each capsule contains authentic extracts of various useful herbs that are known for their strength-enhancing properties. Combining the goodness of all the ingredients that enhance sexual performance, Zandu Vigorex Gold offers the key to a fulfilled and satisfactory married life.
Moreover, the product doesn't entertain using non-vegetarian ingredients or added flavours and artificial colours. Zandu has been offering its customers with authentic Ayurvedic remedies for over 100 years and has secured one of the oldest places in the market. Being a trusted
name in the oeuvre of Indian Ayurveda, Zandu assures all its products free of side effects and supports healthy living.
Additional Information
Best Before: 36 Months
Product Dimensions: 8.5 x 1.5 x 11.6 Centimeters
Manufacturer: Emami Limited., EMAMI LIMITED - Survey No. 61/2P/1-MASAT, Silvassa, D & NH (U.T)-396230
Marketed or Packer by: Emami Limited. Survey No. 61/2P/1-MASAT, Silvassa, D & NH (U.T)-396230
Country of Origin: India
Item Weight: 9 g
Net Quantity: 20 Caps
Frequently Bought Together