---
Country of Origin : India
Secured & trusted checkout with:
Description
Ayurveda has been a part of our health journey for ages. For over 5000 years, we have developed our collective Ayurvedic knowledge to take advantage of the benefits available in the natural world around us. Traditionally, herbs, spices, and plants were carefully processed and prepared at home for individual consumption, but this was a time and effort-intensive exercise. Today, we cannot sustainably devote such time and effort regularly at a personal level. But, thanks to modern manufacturing and packaging practices, finding reliable Ayurvedic solutions for your health goals is as easy as it has ever been. Zandu brings you Organic Amla tablets that blend centuries of time-tested wisdom with modern-day convenience. These tablets are known to be a guaranteed* immunity builder, can delay your body's ageing process, support heart health, help regulate digestion, and aid eye health.
*Results may vary from person to person.

About Organic Amla from the house of Zandu
Why introduce anything to the body that is highly processed or artificial? It deserves natural ingredients that are pure and free of adulteration. With that in mind, we formulate our products using natural sources at Zandu. According to Ayurveda, the universe and our body is composed out of five natural elements (panchamahabhutas): space, fire, wind, water, and earth. Everything we consume must be directly sourced or made of these elements.

With Organic Amla tablets from the house of Zandu, you are getting precisely that; pure and natural tablets that are 100% organic. This Ayurvedic supplement contains pure Amla extract powder. Amla has various positive health benefits for your body. It boosts your immunity, delays ageing, and improves heart & eye health. These tablets contain zero preservatives, no added sugar, salt, colours, flavours or chemicals and are 100% vegetarian. Known as the guaranteed* immunity builder and an effective anti-ageing solution, these 100% Organic Amla tablets are a perfect health partner for your wellness journey. If you are on the lookout for Ayurvedic products that can easily fit into your life, these tablets are your answer to a long and happy life.

* Results may vary from person to person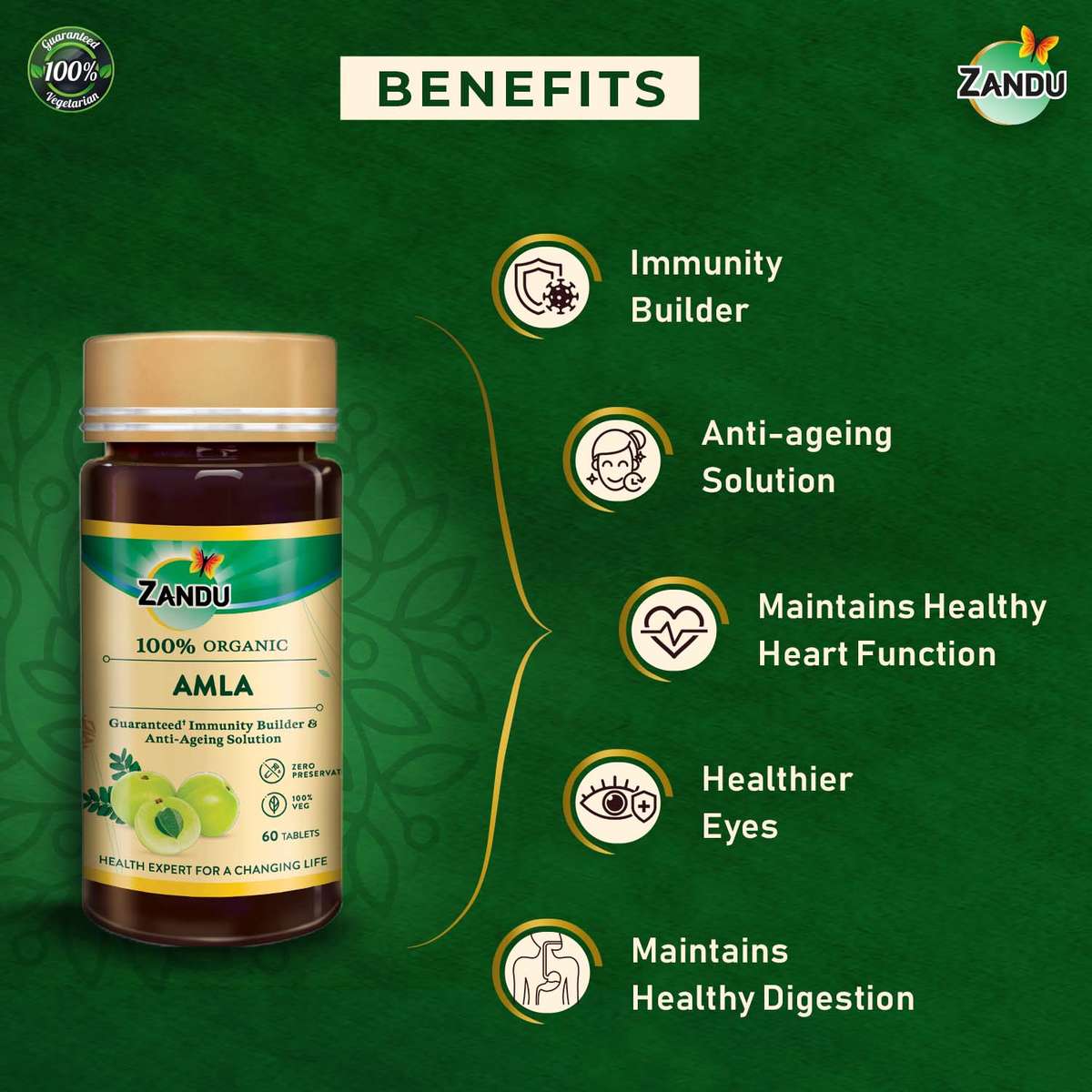 Uses and Benefits of Organic Amla
Organic Amla tablets by Zandu are formulated from natural Amla extract. These
Ayurvedic supplements combine the time-tested wisdom of Ayurveda with modern
packaging technology to bring you a plethora of health benefits in a convenient form.
They are 100% natural and organic and can positively impact your health when consumed regularly.

Here are some of the benefits of 100% Organic Amla:
Immunity builder: Amla is a rejuvenator and an excellent source of Vitamin C; hence it helps to boost immunity, metabolism and prevents infections, including cold and cough.
Anti-ageing solution: Amla has been used for centuries as an effective anti-ageing solution. It promotes skin health, reduces premature ageing, dark spots, and wrinkles, and gives your skin a healthy glow.
Maintains healthy Heart function: Amla supports the healthy function of the Heart and promotes various aspects of Heart health.
Healthier eyes: Amla is a good source of Vitamin C and is known to improve eye health.
Maintains healthy digestion: Amla is a good source of fibre, which helps you improve your digestion and relieves gastrointestinal issues.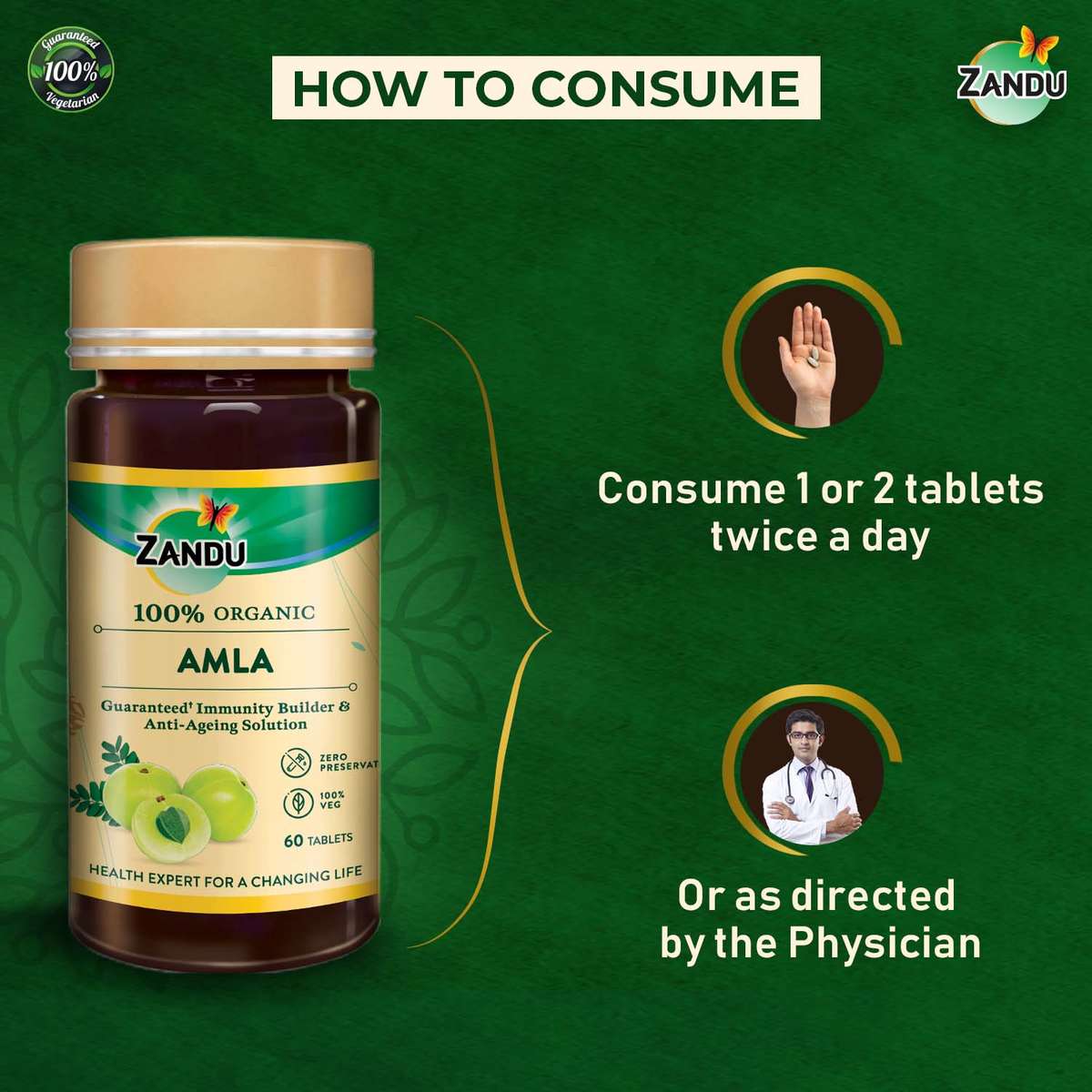 How To Consume Organic Amla Tablets by Zandu?
When consuming Organic Amla tablets, always make sure that you have read the
instructions on the packaging carefully and are consuming them in recommended
doses. These tablets are really easy to consume and can be integrated into your
wellness regime without any change. Consume 1 or 2 tablets twice a day with
warm or regular water. You may also speak to your physician for an intake plan
of these Amla tablets, which suits your lifestyle and body type.

Safety information:
Always read the label carefully for instructions and to understand the health benefits of Organic Amla tablets.
Keep away from the reach of children.
Take Organic Amla tablets in the recommended dosage or as directed by the physician.
Always verify the best before date mentioned on the pack before consumption.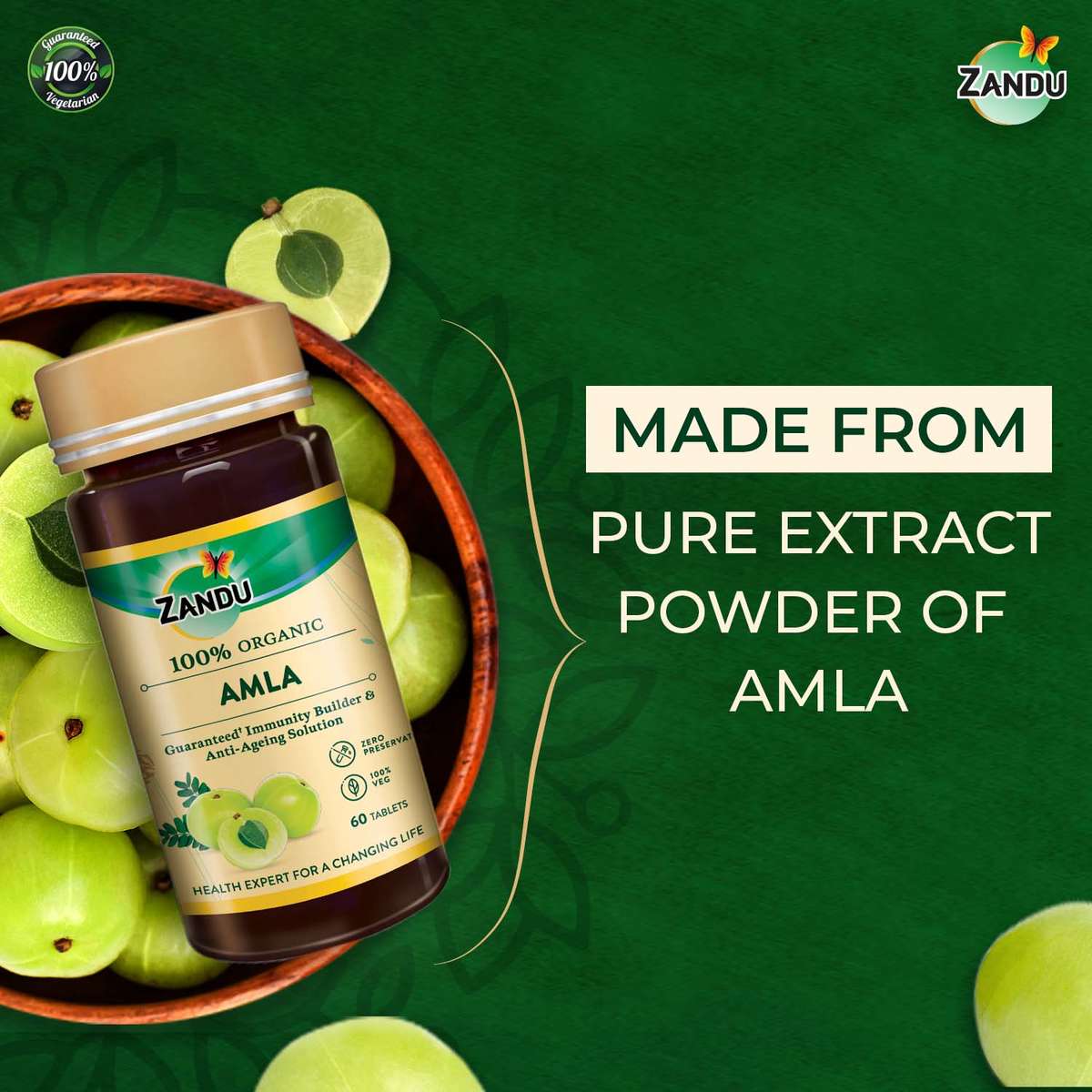 Storage Information
Natural Ayurvedic herbs and preparations must be stored carefully to retain their
quality, potency and health benefits. Organic Amla tablets are completely natural
and do not contain any preservatives. They have been created in a way that they are
easy to handle and convenient to store. They must be stored at room temperature,
away from direct sunlight. Always close the bottle lid tightly after every use to
maintain its efficacy intact.

Significance of Amla
Amla, also known as Amalaki or Indian Gooseberry, is a power-packed ingredient. It
has antioxidant properties that prevent premature ageing and supports skin and
hair health. Being rich in Vitamin C, it is known to help fight against various
infections while improving immunity. It is also known to help you maintain digestion,
support heart health and improve your eyesight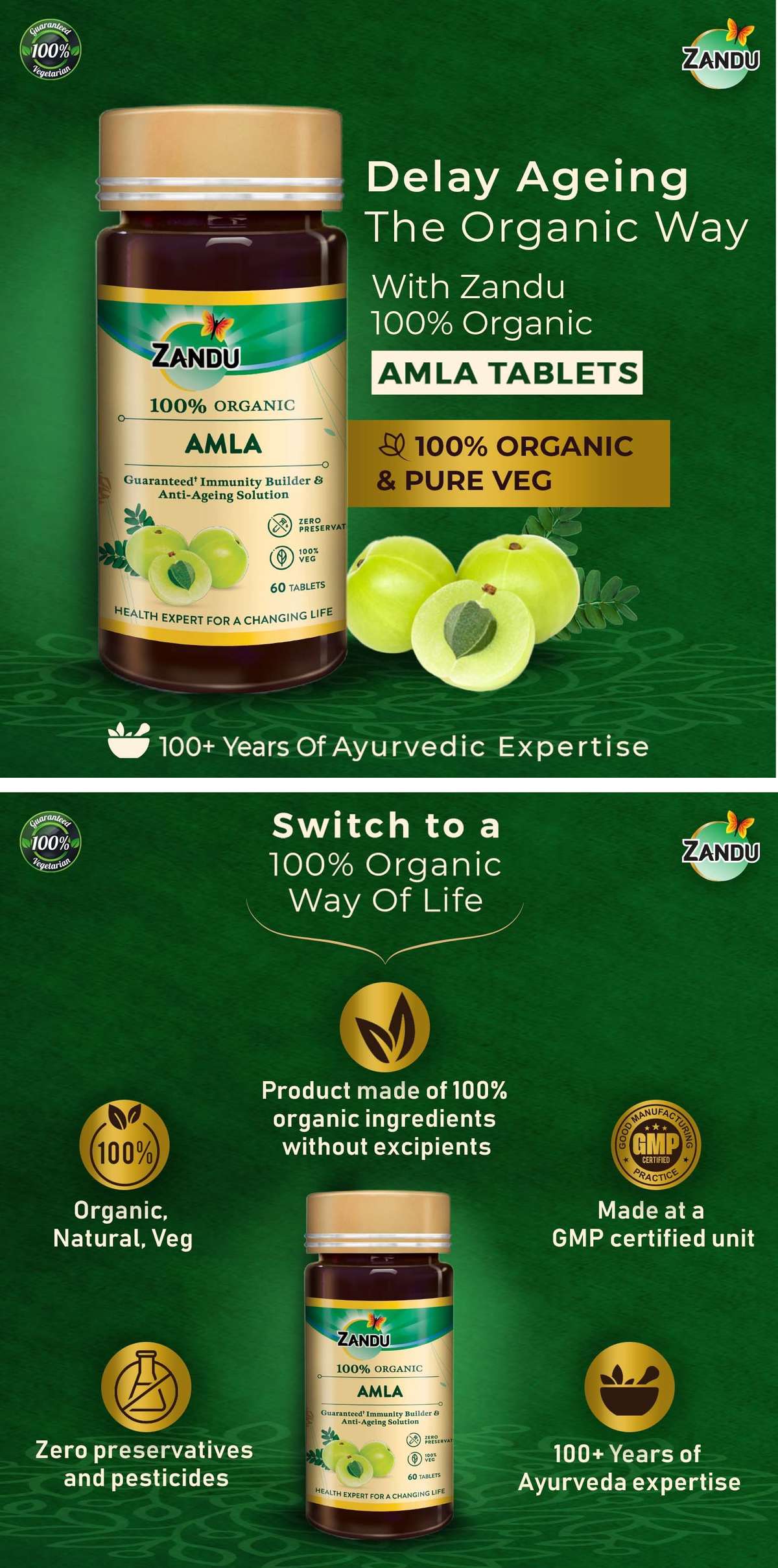 What Makes Our 100 % Organic Amla Special?
100% Organic and 100% Pure: According to Ayurveda, our body is made of five natural elements- space, air, fire, water, earth; hence, the supplements we use should also be natural and organic to treat the body holistically. Zandu presents 100% organic Amla tablets that are pure, 100% vegetarian and natural with zero preservatives.

Safe to Use: Organic Amla by Zandu is authentic, chemical-free and natural, with zero preservatives. It is safe to consume it in the recommended dosage or as directed by the physician. It is natural and shows no known side effects when consumed in proportion.

A Promise of Convenience: There is no time to prepare and traditionally consume
medicines or Ayurvedic herbs in the modern world. Therefore, Zandu aims at providing you with easy-to-consume Amla tablets that are 100% organic. This Ayurvedic formulation helps to give you the best health benefits without causing any inconvenience.

We follow Minimal Processing: Ayurvedic medicines are expected to lose their potency if not appropriately handled. Therefore, they cannot be processed beyond a certain point. This is why we follow minimal processing to keep their potency intact.

Natural: All ingredients used in the Organic Amla composition are pure, authentic, and natural. Animal-based extracts are not used in any form.

No artificial colours & added flavours: No artificial colours or added flavours have been used while formulating these Organic Amla Tablets. All ingredients are natural and responsibly sourced.

GMP certified: We strictly follow Good Manufacturing Practice (GMP) to ensure that our products are consistently produced and meet all required quality standards.

Quality & Reliability: Every Zandu product is backed by the promise of quality and reliability from one of India's most trusted names in Ayurveda - Emami Ltd, the house of iconic products, which has been used for generations.
Time-tested and proven healthcare solutions
Blend of ancient wisdom with modern technology
Backed by easily accessible trustworthy information
Boast of nation-wide availability
Comply with specifications and methodology in Ayurvedic scriptures
Frequently Asked Questions - Organic Amla Tablets
How does Organic Amla help the body?
Organic Amla tablets prepared with organic Amla are known to be an effective anti-ageing solution. They are also considered as a guaranteed immunity builder*. Other health benefits include improving your eye health, supporting heart health and helping with digestion.
*Results may vary from person to person
What is the recommended dose for these tablets?
Ayurveda teaches that everything must be done in moderation. These tablets are meant to be taken as recommended. Take 1-2 Organic Amla tablets twice a day or as directed by the physician.
What are the side effects of Amla?
When consumed in moderation, these tablets are known to have no adverse side effects. As per Ayurveda, everything must be done in moderation. Do follow the recommendations on the packaging or consult with your physician regarding the correct dosage.
Are these Amla tablets adulterated?
Organic Amla tablets are completely natural. Every tablet is packed with 100% organic and natural extracts of Amla and does not contain added sugar, salt, colours, flavours, preservatives, or chemicals.
Can Amla expire?
Natural substances come with a shelf life and will lose potency and effectiveness over time. These Ayurvedic supplements are completely natural and do not contain any preservatives. Hence, they must be consumed in a specified time. Follow the recommendations on the label and consume the tablets before the expiration date mentioned on the pack.
---
Frequently Bought Together