---
Country of Origin : India
Secured & trusted checkout with:
Description
Zandu Detox Juice is formulated with the finest quality of Godhum (Wheatgrass) plant and Amalaki (Amla) fruit. Ingredients are blended, pasteurized and packed in the form of juice that is quick and easy to consume on the go or at work. It is helpful in detoxification and blood purification. It delays the ageing process, promotes skin, hair and bone health, boosts your energy and immunity, maintains healthy sugar levels and improves digestion. The pandemic has seen a lot of people taking their health seriously with booster juices. Our range of Wellness Juices is designed to fill the gap in the market for effective Ayurvedic formulations from a trusted and established source. Zandu Detox Juice, with Wheatgrass and Amla, is a body detoxification drink that supports overall health for your physical and mental wellbeing. Zandu Detox Juice is a long-term wellness partner for a happy and healthy life. With this Ayurvedic detox juice, celebrate true wellness with zero compromises on taste or convenience.
About Zandu Detox Juice- A Natural detox drink
When it comes to staying fit and healthy, convenience is the key. Our wellness juices fit seamlessly into your life and wellness journey without any hassle. These juices are made from natural ingredients and are 100% vegetarian without additives like sugar, salt, artificial flavours and colours. Zandu Detox Juice is a specially formulated body cleansing drink that supports detoxification and blood purification. It also helps to delay the ageing process, improves your energy, boosts immunity and helps in maintaining healthy sugar levels. This wellness juice delivers the same natural properties of the ingredients in an easy-to-consume form. Regular consumption of healthy detox drinks such as Zandu Detox Juice can improve an individual's overall physical and mental health, which in turn helps them lead a more fulfilling work and personal life.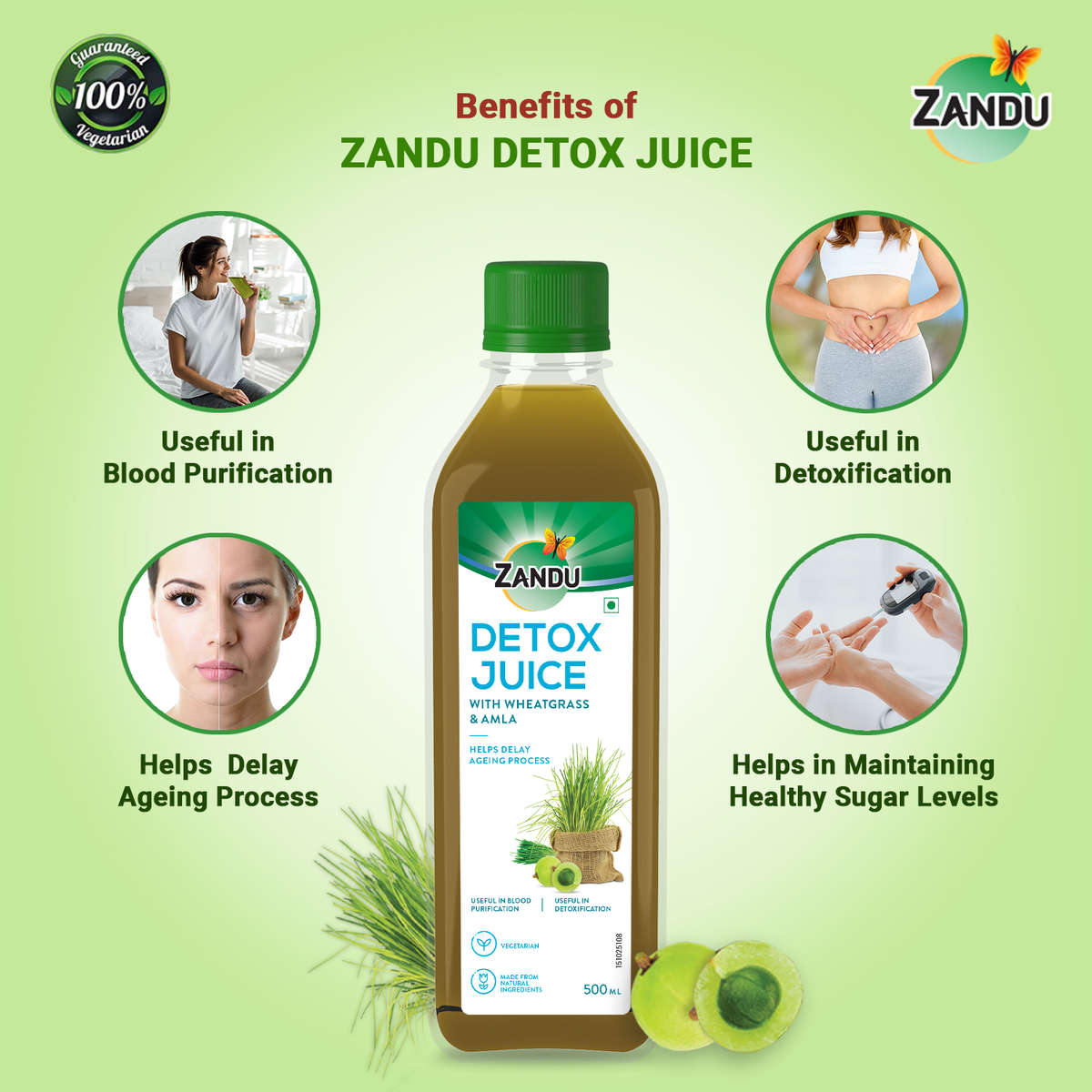 Benefits of Zandu Detox Juice- A Body Detoxification Drink
Today's fast-paced world demands convenient solutions that are easy to use and fit into your life seamlessly. Zandu Detox Juice is a natural detox drink with Wheatgrass and Amla, and is beneficial for those who seek physical and mental wellbeing without the hassle. Choose Zandu Detox Juice for your daily health needs, enriched with the goodness of pure and natural ingredients. Here are some of the benefits of Zandu Detox Juice:
Detoxifies: It helps eliminate impurities and toxins that negatively affect the body.
Antioxidant: Wheatgrass is a good source of antioxidants, due to which it helps in scavenging free radicals and thus, helps in preventing cell damage.
Boosts immunity: It helps improve the immunity of your body to fight against
infections.
Boosts energy: It helps improve energy levels to facilitate an active and fulfilling life.
Maintains healthy sugar level: Consuming Zandu Detox Juice helps regulate
sugar levels in a natural way.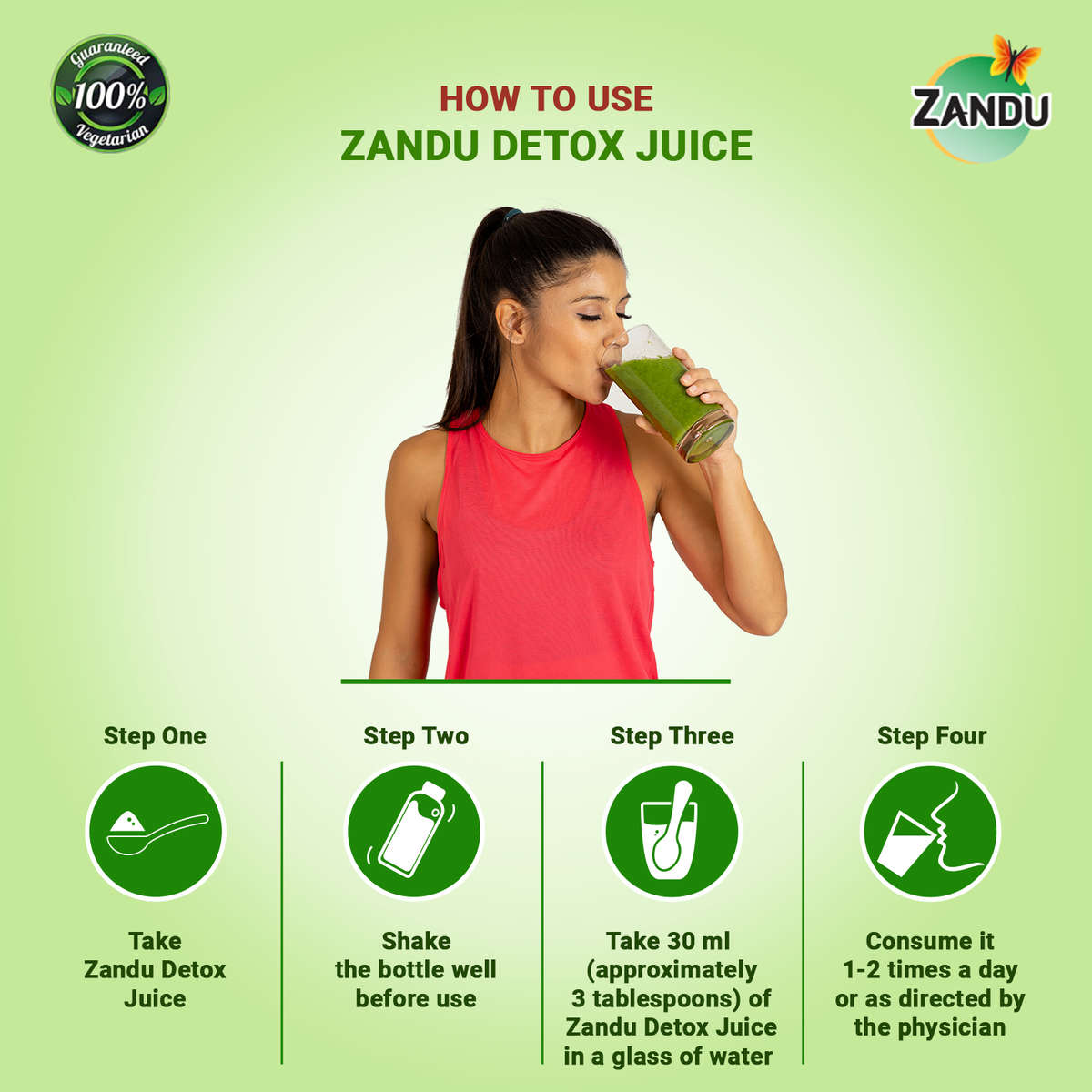 Uses of Body Detoxification Juice by the house of Zandu
Ayurvedic herbs come with multiple health benefits and a variety of uses. With active
ingredients like Wheatgrass and Amla, Zandu Detox Juice can be used to support
your health in many ways. It can improve overall health and could be used in the case of various conditions and ailments. Let's take a look at some of the health-related uses of Zandu Detox Juice:

Maintains healthy digestion: Amla is well known to improve digestion and alleviate
gastrointestinal issues.

Purifies blood: Ingredients of Zandu detox Juice helps in maintaining liver and kidney functions and are helpful in blood purification.

Delays the ageing process: Regular use of Zandu Detox Juice helps to slow down the ageing process of the body, leading to a long and fulfilling lifestyle.

Promotes skin, hair and bone health: Zandu Detox Juice promotes healthy skin, hair
and maintains bone health.

Overall wellbeing: Amla is an excellent source of Vitamin C (ascorbic acid); hence it
helps boost immunity, metabolism and prevents infections like common cold and
cough.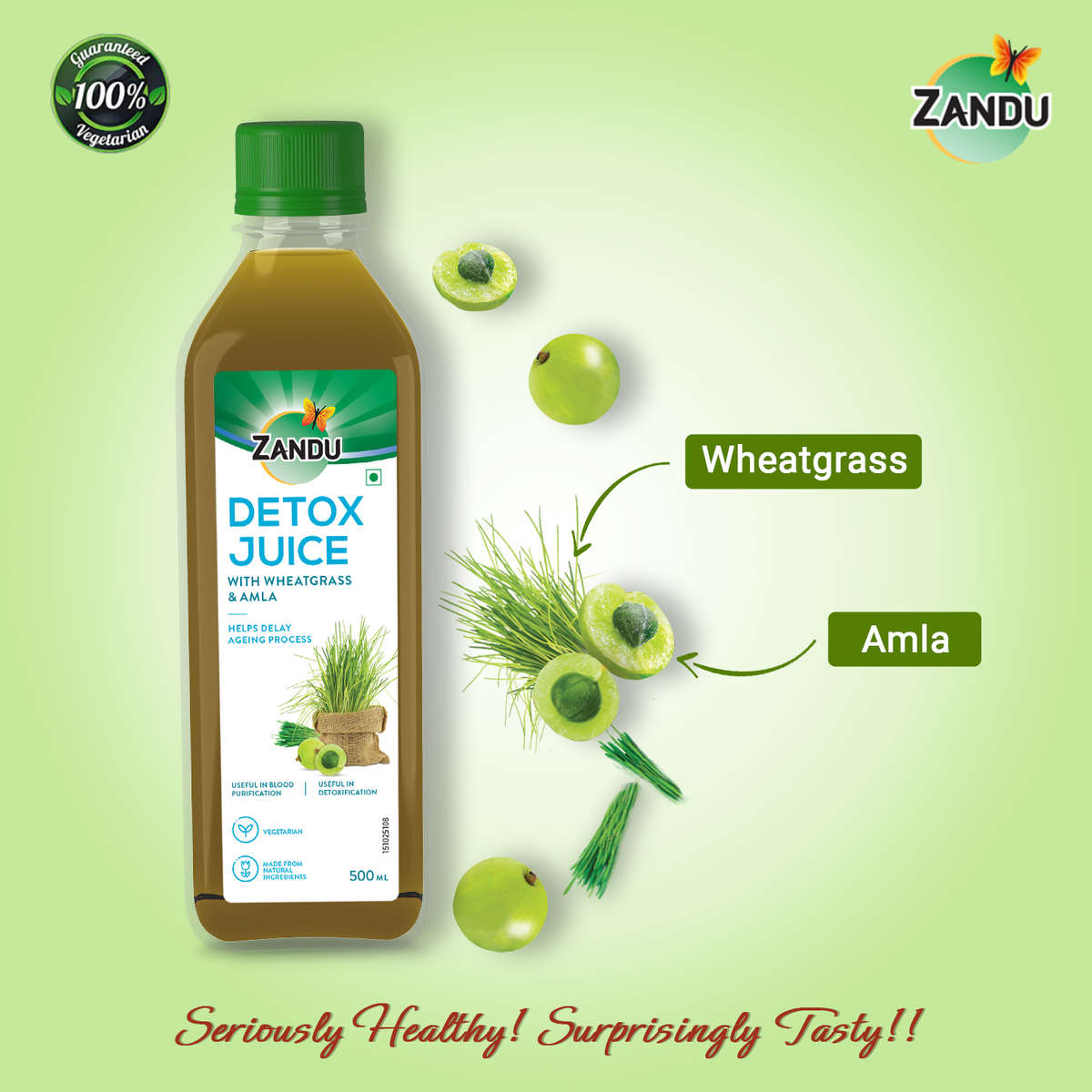 Storage Information for Zandu Detox Juice
Ayurvedic products can lose their potency over time if stored improperly. Store Zandu Detox Juice at room temperature, keeping it away from direct sunlight. Once opened, refrigerate and consume within 30 days. Best before 24 months from the manufacturing date. Always check the date mentioned on the pack
before consumption.

Ingredients Information

Zandu Detox Juice is prepared with Wheatgrass and Amla, which have natural
healing and immunity-boosting properties. It contains natural ingredients, which are
100% vegetarian.
Wheatgrass - It has antioxidant, immunomodulatory, diuretic, and anti-ageing
properties.
Amla - It has antioxidant properties that prevent premature ageing and supports
skin and hair health. It is rich in Vitamin C, known to help in improving immunity and
fighting against infections.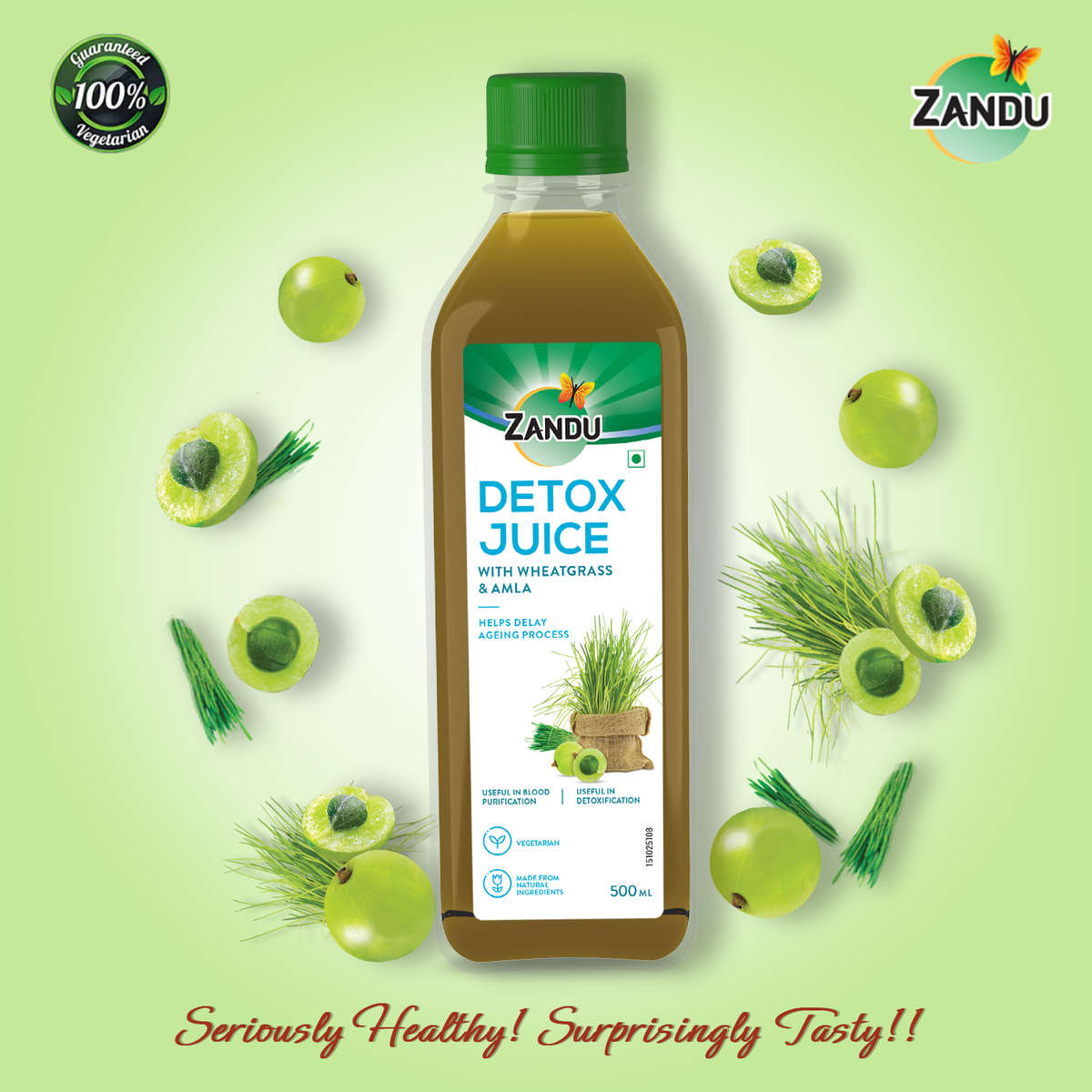 What makes Zandu Detox Juice special?
Safe to Use: Zandu Detox Juice is authentic, chemical-free, natural, free from added sugar and salt. It is safe to consume in the recommended dosage or as prescribed by the physician.
A Promise of Convenience: There is no time to prepare and traditionally consume medicine in the modern world. Therefore, Zanducare aims at providing you with easy-to-consume Zandu Detox Juice. This wellness juice helps to give you the best health benefits without causing any inconvenience.
We follow Minimal Processing: Ayurvedic medicines are expected to lose their potency if not appropriately handled. Therefore, they cannot be processed beyond a certain point. This is why we follow minimal processing to keep their potency intact.
Natural and vegetarian: All ingredients used in the composition of Zandu Detox Juice are pure, authentic, natural and plant-based. Animal-based extracts are not used in any form.
No artificial colours & added flavours: No artificial colours or added flavours have been infused while formulating Zandu Detox Juice. All ingredients are natural and responsibly sourced.
Quality & Reliability: Every Zandu product is backed by the promise of quality and reliability from India's most trusted name in Ayurveda - Emami Ltd, the house of iconic products, which has been used for generations.
Time-tested and proven healthcare solutions
Blend of ancient wisdom with modern technology
Backed by easily accessible trustworthy information
Boast of nation-wide availability
Comply with specifications and methodology as per the FSSAI guidelines.
Frequently Asked Questions around Detox Juice
What is the recommended dose?
Ayurvedic supplements are meant to be taken as prescribed and consistently, for the best results. Mix 30 ml (approximately 3 tablespoons) in a glass of water. You can consume this body detoxification drink 1-2 times a day at your convenience or consult your physician.
How does this product make you feel?
With a variety of health benefits, Detox Juice ensures that you live an active and fulfilled life. It purifies your blood, detoxifies your body and helps delay the ageing process.
How is Detox Juice produced?
Our Wellness Juices range is manufactured under the careful supervision of our trained personnel after careful and thorough research and development. Juice is blended with all other additives. The blended juice is pasteurized and packed.
Is Detox Juice adulterated?
Every sip of our Detox juice comes in all-natural form without added sugar, salt, flavours, and colours.
Is Detox Juice a processed supplement?
Ayurvedic herbs cannot be processed beyond a certain point. This is why we follow minimal processing to keep their potency intact.
What are the side effects of Detox Juice?
Ingredients of our Detox juice are being used for ages for various health benefits; thus, it is safe in recommended doses and as prescribed by a physician.
Where do the ingredients for this product come from?
Our ingredients come from nature itself. Ayurvedic herbs are based on natural substances found and used around us for centuries. This Detox Juice is made from the Wheatgrass plant and Amla fruit.
Can Detox Juice expire?
All-natural substances have a limited shelf life, after which they lose potency and degrade. Our Wellness Juices are meant for consumption within 24 months from the date of manufacture. Once opened, please refrigerate the pack and consume within 30 days. Always follow the instructions on the label.
When can I consume Detox Juice?
Due to its convenient form, this juice can be consumed easily and on the go, any time of the day. We recommend to take 30 ml (approximately 3 tablespoons) in a glass of water and consume it 1-2 times a day.
---
Frequently Bought Together