Aloe Vera + 5 Herbs Health Juice (1L)
---
Description
Zandu brings you a new range of tasty health juices that helps you maintain a healthy lifestyle. Aloe Vera is an Ayurvedic herb known for its multiple health benefits. Zandu Aloe Vera + 5 Herbs Health Juice contains Aloevera along with 5 selected Ayurvedic herbs - Lavanga, Sunthi, Yavanai, Marica and Khajur to bring you a juice that takes care of your overall health. This juice helps to improve immunity, support digestive health and promote good skin. Regular use enhances liver function as well. Zandu Aloe Vera + 5 Herbs Health Juice is natural, safe and does not contain added sugar, synthetic colours or flavours.
How to Use
Step 1: Shake the bottle before use
Step 2: Take 30ml (3 tablespoons) Zandu Aloe Vera + 5 Herbs Health juice.
Step 3: Mix it in a glass of water
Step 4: Drink whole glass of juice
Step 5: Consume 1-2 times a day or as directed by a physician.
Best before 12 months from manufacturing.
About Zandu Aloe Vera + 5 Herbs Health Juice
Zandu Aloe vera Juice is enriched with the goodness of 5 natural ingredients like Lavanga, Sunthi, Yavanai, Marica and Khajur in addition to Aloe vera to improve immunity, manage digestive issues and promote skin & hair health. Aloe vera juice is also known to be beneficial for liver health. It being rich in vitamins, minerals and other elements, regular consumption of Aloe vera juice helps promote overall health.
Uses and Benefits of Aloe Vera Juice:
Boosts immunity
Maintains digestive health
Improves skin & hair health
Supports liver functions
Provides nutrition
Storage Information for Zandu Aloe Vera + 5 Herbs Health Juice
Store in a cool and dry place. Keep away from direct Sunlight. Once opened refrigerate and consume within 15 days. Close the cap tightly after every use.
Ingredients Information
Lavanga- Appetizer, strengthens digestive system, protects liver and improves gut health.
Sunthi- Good for digestion and helps in easing cold and cough
Yavani-Aids in digestion, abdominal distension and improves liver health
Marica-Helps to improve taste and supports digestion.
Khajur-Provides Nutrition and promotes skin health.
Aloe vera- Supports digestion, maintains liver health and improves immunity
Aloe vera is one of the ingredients that is known to all of us from a very long time. It can help in strengthening your digestive system while promoting skin, hair and liver health. Aloe vera also plays a crucial role in boosting overall health by building your immunity.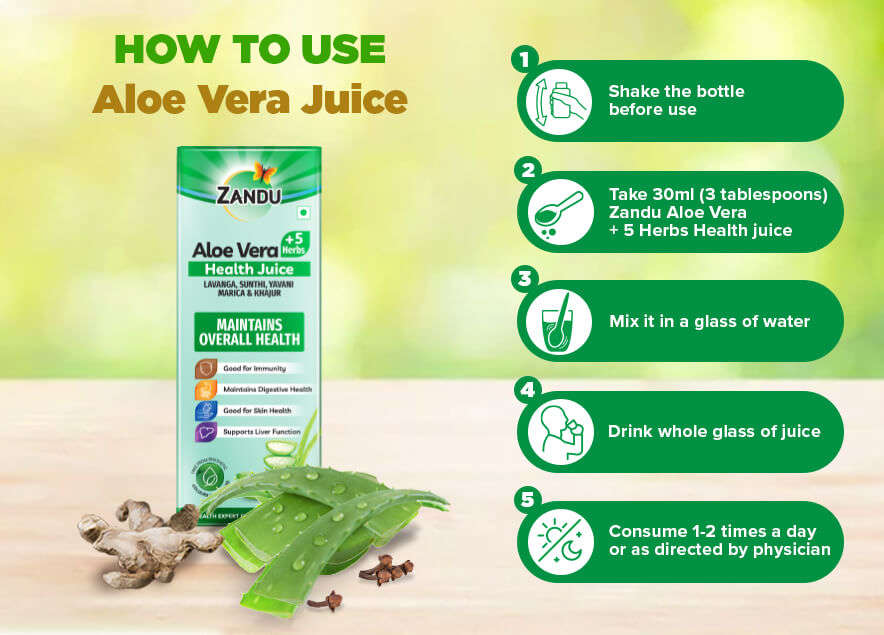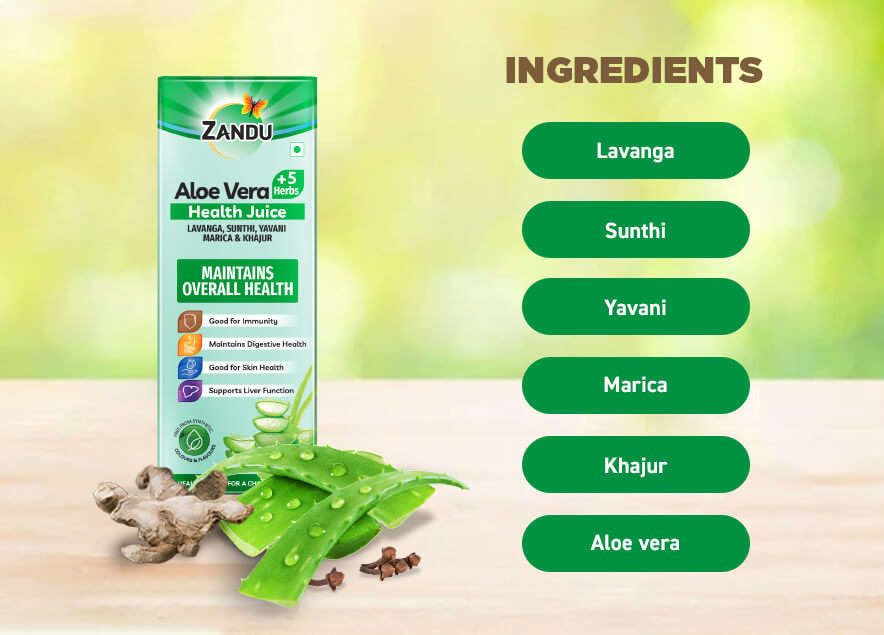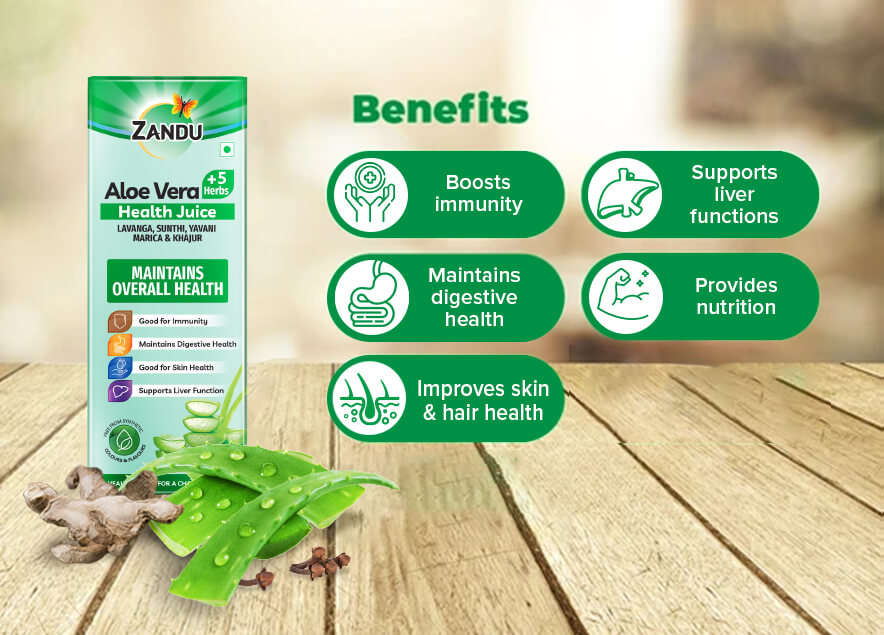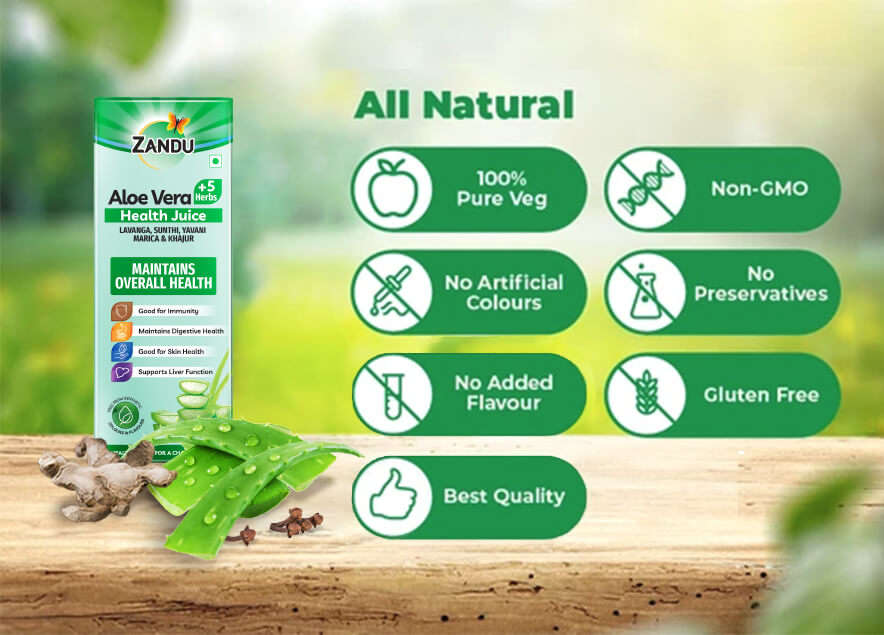 Frequently Asked Questions around Zandu Aloe Vera Juice
What are the benefits of drinking Aloe vera juice?
Aloe vera juice helps relieve different kinds of stomach problems like indigestion, constipation, abdominal distention etc Aloe vera juice is also good for improving immunity and supporting overall health.
Is it good to drink Aloe Vera Juice every day?
Yes, drinking Aloevera juice every day is good for health. It is a good source of nutrients and antioxidants. It helps to improve digestion, immunity, liver and skin health. Aloe vera juice also helps maintain good digestive health, improve immunity and overall all wellbeing.
What are the side effects of drinking Aloe vera juice?
Zandu Aloe vera juice contains all natural ingredients. It is considered to be safe when taken as per the prescribed dose. However, a person allergic to any of the ingredients should take it under supervision.
Does drinking Aloe vera Juice help you lose weight?
Zandu Aloevera juice contains Aloe vera as the main ingredient along with Lavanga, Sunthi, Yavanai, Marica and Khajur. Scientific studies/ literature survey shows that Aloe vera, Sunthi, marich may help in weight management. However, we have not conducted a weight management study on the product.
Other Zandu Ayurvedic Pure Herbs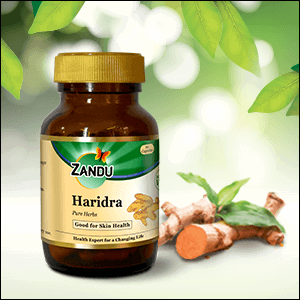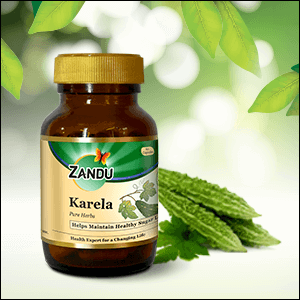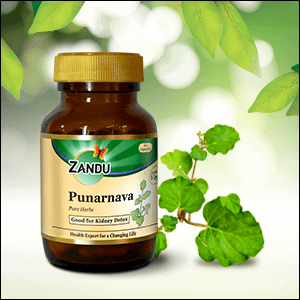 Recommended Single Herbs