---
Country of Origin : India
Secured & trusted checkout with:
Description
In today's world, where we need to give our 100% on both the professional and personal front, we tend to neglect the most crucial thing, our health. This changing and demanding lifestyle has led to poor diet and zero exercise, resulting in toxins and impurities building up in our bodies and further hampering our skin health and wellbeing. In such a scenario, we need a natural solution to take care of our health holistically, cleanse all the impurities from the body and derive nourishment in the best possible manner. Our range of healthy infusions meet this brief perfectly and is crafted to offer a power-packed dose of Ayurvedic goodness in your daily life. Zandu Cleanse & Detox Herbal Infusion is an exquisite blend of eight powerful Ayurvedic herbs such as Haridra, Amlaki, Yashtimadhu, and other ingredients specially designed to nourish your skin and help you detoxify. Consuming this detox tea regularly can give you glowing skin while eliminating toxins and impurities from your body. It also maintains healthy liver & kidney function and boosts overall health. This caffeine-free blend of detox herbals does not contain preservatives, artificial flavours & colours and suits the needs of every consumer. With this 100% vegetarian, all-natural infusion, we have combined the Ayurvedic wisdom with modern-day convenience to ensure that it fits easily into your dynamic and ever-changing daily routine. With this tasty cup of Zandu Cleanse & Detox Herbal Infusion, give your skin a healthy glow & detoxify your body naturally.

About Zandu Cleanse & Detox Herbal Infusion- A blend of detox herbals
Teatime is an important time of the day. It is the time where everyone gathers to chat, de-stress and rejuvenate. By incorporating healthy beverages during this time, we can also bring in nutrition and healing to celebrate true wellness and keep health issues at bay. At Zandu, we have created a range of tasty and refreshing infusions delivering effective Ayurvedic benefits, offering a perfect value-addition to your teatime routine. Zandu Cleanse & Detox Herbal Infusion is prepared from expertly selected ingredients such as Haridra, Amlaki, Yashtimadhu and many others to offer ageless health benefits. This infusion is one of its kind formulations that not only enhances your skin glow but also help cleanse impurities. Equipped with eight power-packed herbs, this herbal infusion is a great way to boost your overall health while supporting liver & kidney functions. Inspired by Ayurvedic scriptures, this infusion delivers time-tested benefits backed by modern science. Each dip bag of this herbal detox infusion is prepared from all-natural ingredients that do not contain preservatives,
artificial colours, or flavours. It is designed keeping today's hectic world in mind and can be easily integrated into your daily schedule without compromising on taste, thanks to its zero bitterness. These travel-friendly sachets are 100% vegetarian, caffeine-free and have no known side effects when consumed as per the recommended dose. Zandu Cleanse & Detox Herbal Infusion is a unique blend of selected herbs that adds glow to your skin and cleanse your body from within with every sip!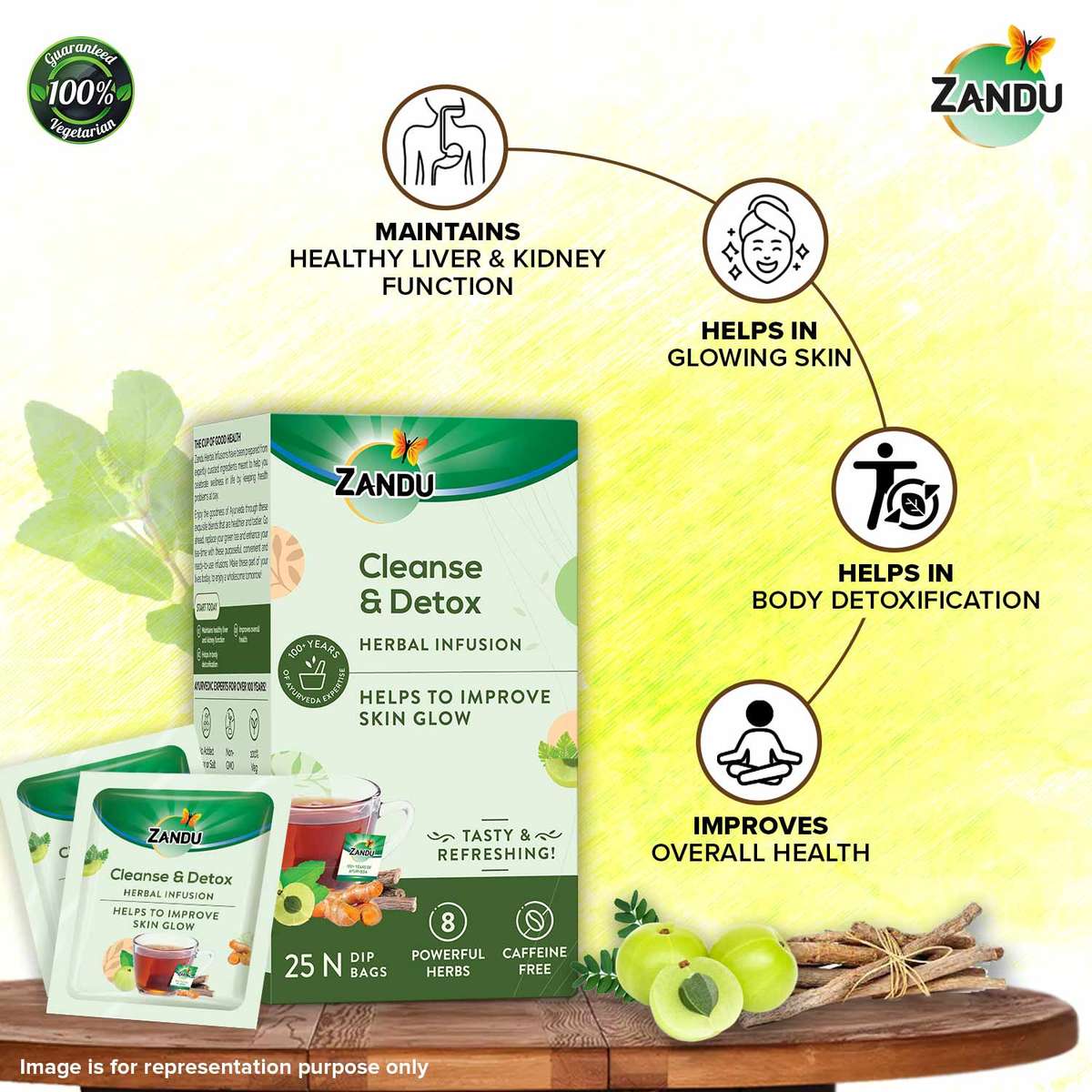 Benefits of Zandu Cleanse & Detox Herbal Infusion
Today's modern world needs natural solutions that can add value to our lives in an easy, hassle-free and reliable way. Enriched with the goodness of natural Ayurvedic ingredients, this herbal infusion meets these requirements perfectly and brings you the time-tested benefits of Ayurveda in a convenient package.
Here are some of the benefits of Cleanse & Detox Herbal Infusion:
Helps to improve skin glow : With the power of eight
Ayurvedic herbs, this herbal infusion supports skin health and enhances skin glow. Amla, Haldi and yashtimadhu, the core ingredients of this infusion, have been valued since ancient times and used in skincare due to their anti-inflammatory and antioxidant properties. Various studies indicate the use of Amla for a healthy glowing complexion because of its rich vitamin C content. Consuming Zandu Cleanse & Detox Herbal Infusion regularly helps to add glow to your skin naturally.
Supports body detoxification : As the name suggests,
this herbal infusion helps detoxify the body by removing impurities and toxins while cleansing your system. The ingredients of this Ayurvedic infusion have been used as a detoxifier for a long time. Consuming this herbal tea 3-4 times a day helps get rid of the impurities naturally.
Maintains healthy liver and kidney function : The blend of Amla, Yashtimadhu and Haldi helps maintain smooth functioning of the liver and kidney. Because of the antioxidant and anti-inflammatory properties, consuming this
infusion regularly helps reduce oxidative stress and support liver and kidney health.
Improves overall health : This Ayurvedic infusion combines Haridra (Haldi), Yashtimadhu, Amlaki (Amla) and many other herbs that boost overall health and improve wellbeing. The blend of these powerful ingredients and herbs enhances the product's overall benefits, making it a perfect solution for long-lasting health benefits.
How to Consume Zandu Cleanse & Detox Herbal Infusion?
This tasty and refreshing herbal infusion is a power-packed formulation that delivers effective health benefits with ease. It is designed to be travel-friendly so that you can have it anytime, anywhere without any inconvenience.

Follow simple steps to prepare this infusion and get glowing skin naturally!
Step 1 - Place 1 Cleanse & Detox Herbal Infusion dip bag in 1 cup (100 ml) of boiling water
Step 2 - Infuse your herbal tea for 2-3 minutes
Step 3 - Do not add milk. You may sweeten with honey if preferred.
Drink Zandu Cleanse & Detox Herbal Infusion 3 - 4 times every day for maximum health benefits.

Safety Information:
● Read the label to understand the uses and benefits of Zandu Cleanse & Detox Herbal Infusion
● Always consume infusions in recommended doses only
● Always check the date on the pack before consumption
● Always store as per recommendation on the pack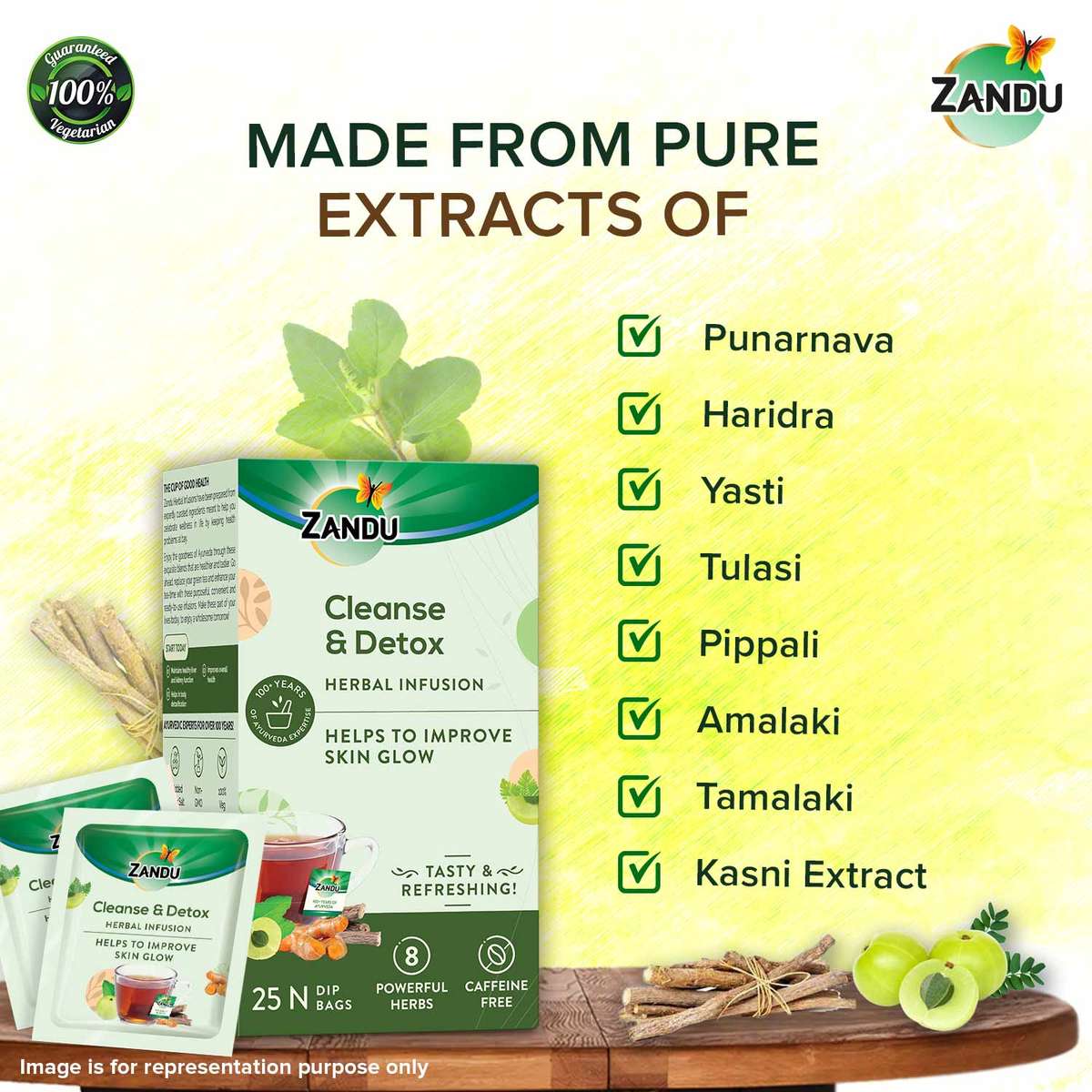 Ingredients Information
Zandu Cleanse & Detox Herbal Infusion is a blend of eight carefully chosen powerful herbs that offer age-old Ayurvedic benefits in a convenient way.
The core ingredients used to prepare this infusion are:

Amlaki - Amla, also known as Amalaki or Indian Gooseberry, is a power-packed ingredient. Ayurvedic experts have long revered it as a superfood that can contribute to a glowing complexion. It has antioxidant properties that prevent premature ageing and supports skin health. Being rich in Vitamin C, it helps improve immunity while fighting against various infections.


Haridra - Haridra or Haldi is a valuable Ayurvedic herb known for its versatile action. Haridra has been described as a Rasayana (rejuvenator) in the ancient Ayurvedic text and is widely prescribed in Ayurvedic medicine. Curcumin, the main
active compound of turmeric, has a protective effect against oxidative stress, thus supporting liver function. It possesses various beneficial properties such as antioxidant, anti-allergic, anti-inflammatory, antiseptic, blood cleansing etc., and thus boosts overall health when consumed regularly.

Yashtimadhu - Yashtimadhu is also known as Liquorice or sweet root because of its sweet taste. This herb has been used for thousands of years for the plethora of benefits it offers. It possesses anti-bacterial, antioxidant, and anti-microbial properties, thus helping prevent skin infections, improve skin complexion, and enhance skin glow. It also helps reduce oxidative stress and supports detoxification.

How to Store Zandu Cleanse & Detox Herbal Infusion?
This infusion is an Ayurvedic formulation and must be stored carefully to obtain long-lasting benefits. Keep these infusion sachets in their original packaging in a cool and dry place and do not refrigerate. Make sure to store it at room temperature, away from sunlight, dust and moisture.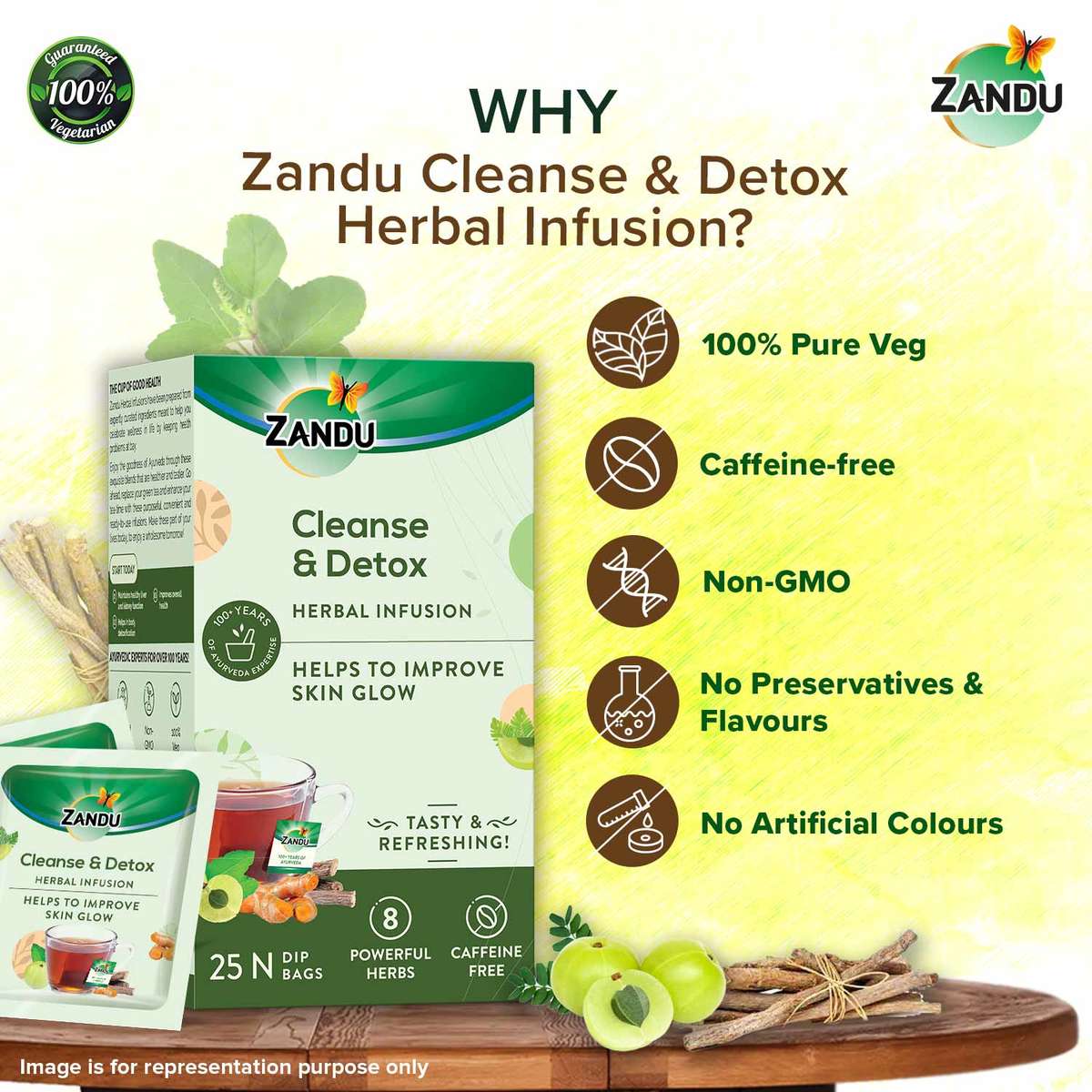 What Makes Zandu Cleanse & Detox Herbal Infusion Special?
Safe to Use : Zandu Cleanse & Detox Herbal Infusion is a 100% vegetarian, all-natural, non-GMO formulation. It is caffeine-free and has no preservatives, added salt or sugar. This infusion is safe to use without any side effects when consumed as per the recommended dosage.
A Promise of Convenience : There is no time to prepare and traditionally consume medicines and home remedies in the modern world. Therefore, Zanducare aims at providing you with the easy-to-consume Zandu Cleanse & Detox Herbal Infusion. This infusion helps to give you the best health benefits without causing any inconvenience.
We follow Minimal Processing : Ayurvedic medicines are expected to lose potency if not appropriately handled. Therefore, they cannot be processed beyond a certain point. This is why we follow minimal processing to keep their potency intact.
Natural and 100% vegetarian : All ingredients used in the composition of Zandu Cleanse & Detox Herbal Infusion are pure, authentic, natural and plant-based. Non-vegetarian ingredients are not used in any form.
No artificial colours or flavours : No artificial colours or flavours have been used while formulating Zandu Cleanse & Detox Herbal Infusion. All ingredients are natural and responsibly sourced.
GMP certified : We strictly follow Good Manufacturing Practice (GMP) to ensure that our products are consistently produced and meet all required quality standards.
Quality & Reliability
Every Zandu product is backed by the promise of quality and
reliability from one of India's most trusted names in Ayurveda - Emami Ltd, the house of iconic products, which has been used for generations.


Time-tested and proven healthcare solutions
Blend of ancient wisdom with modern technology
Backed by easily accessible trustworthy information
Boast of nation-wide availability
Comply with specifications and methodology in Ayurvedic scriptures
---
Frequently Bought Together