---
Country of Origin : India
Secured & trusted checkout with:
Description
Zandu Triphala capsules are a unique ayurvedic formulation containing three powerful crucial ingredients that enhance gut health and boost immunity and digestive health. It also helps deal with conditions such as constipation and ease the symptoms.
As nearly seventy per cent of the immune system is taken care of by the gut, maintaining a healthy gut is crucial to ensure overall well-being. Triphala is a traditional herbal formulation known for its remarkable benefits in maintaining digestive health.
The formulation is derived from a combination of 3 herbs - Amalaki, Bibhitaki, and Haritaki all of which contains unique properties/compositions to support digestion. They offer a powerful remedy for various digestive concerns concerning constipation and bowel movements.
By offering Triphala in capsule format, Zandu ensures a convenient consumption of the supplement. Apart from relieving digestive-related issues, Triphala also contains essential anti-oxidants that improve skin, eyes, and hair health.
Item Form: Capsules
Net Quantity: 90 capsules
Flavour: Unflavored
Key Benefits: Improves digestive health, bowel wellness and boosts immunity.
Number of Items: 1
Dosage: 1-2 capsules twice a day or as recommended by the healthcare professional
Expire details: Best before 24 months from the date of manufacture
Diet Type: Vegetarian
Age Range: Adult

About Zandu Triphala Capsules
Triphala Capsule is an Ayurvedic medicine that provides solutions for all problems related to constipation while helping to improve gut health and support bowel wellness. Triphala contains Haritaki, Amlaki and Bibhitaki that aid in maintaining digestive functions. Daily consumption of Triphala helps to boost immunity, improve digestion and promote gut health. To help you look after your daily health needs and to enhance your gut health in a natural way, we bring you Zandu Triphala Capsules!
Benefits of Zandu Triphala Capsules
Triphala capsules offer a natural solution for alleviating digestion and gut promotes issues and promoting overall health and well-being. Some mentionable health benefits one can secure by considering the consumption of the capsules are as follows:
Regulates bowel movements: Triphala is widely renowned for its ability to regulate bowel movements. It serves as a gentle laxative that helps in relieving both chronic and occasional constipation. The three-fruit combination synergistically promotes smooth bowel movements by stimulating the intention and enhancing peristalsis. Peristalsis refers to the muscular constructions that push waste through the digestive tract, which ensures a healthier digestive system.


Relieves digestive discomfort: Triphala also soothes the digestive system and alleviates digestive discomforts like gas, bloating, and indigestion. The natural digestive properties present in Triphala assist in balancing the production of digestive enzymes and juices, thereby reducing discomfort after meals.


Supports gut health: The potent mixture of three ayurvedic ingredients also serves as a probiotic, offering adequate nourishment to beneficial gut bacteria. These bacterias provide a crucial role in the proper digestion and absorption of nutrients. Therefore by ensuring the presence of a balanced microbe, Triphala supports optimal gut health.

Detoxifies the body: Triphala is widely known in the oeuvre of ayurvedic medicine for its detoxifying properties. The body must eliminate toxins to promote overall cleansing and purification. By supporting liver function, which is the body's primary detoxification organ, Triphala helps eliminate harmful products from the body. It also enhances the functioning of the kidney. By aiding the detoxification process, it proves efficient for maintaining a healthy internal environment.


Comes with anti-inflammatory properties: The presence of anti-inflammatory properties in Triphala also helps prevent inflammation in the gastrointestinal tract, which is often responsible for various digestive disorders like inflammatory bowel disease (IBD). Triphala soothes the digestive tract, reduces the symptoms of digestive issues, and promotes healing.


Supports the immune system: Triphala retains positive effects on the immune system as it contains Amalaki, which is high in content of vitamin C. Vitamin C is known for its immunity-boosting properties, and thus considering its daily intake can enhance the body's defence against various diseases and infections.


Maintains eye health: Since amalaki is one of the key ingredients in Triphala, it is renowned for its beneficial effects on the eye. Amalaki is perceived to strengthen the tissues present in the eye and improve vision. It also reduces the risk of development of any eye disorders.


Antioxidant and anti-ageing effects: All three fruits in Triphala - Amalaki, Bibhitaki, and Haritaki are rich in antioxidants that help combat free radicals. These free radicals are unstable molecules that cause cell damage and contribute to ageing and several diseases. The antioxidants present in Triphala neutralise the free rascals and promote the overall well-being of an individual.
Key Ingredients Of Zandu Triphala Capsules
Bibhitaki: Bibhitaki is also an essential ingredient in Triphala and alleviates digestive disorders. It stimulates bowel regularity and enhances the absorption of nutrition in the body. The ingredient has traditionally been used to mitigate digestive disorders such as dysentery, irritable bowel syndrome (IBS), and diarrhoea. Apart from this, it also possesses antimicrobial properties, which are beneficial for maintaining a healthy digestive system.


Haritaki: Haritaki is beneficial for relieving constipation and supporting overall digestive health. It detoxifies the entire digestive system and alleviates digestive discomfort like bloating and gas. It balances the gut flora and supports the healthy functioning of the liver.


Amalaki: Indian gooseberry, commonly called Amalaki, offers specific benefits for digestive health. It soothes the digestive system and supports the production of digestive enzymes that are crucial for the breakdown of food and facilitate proper digestion. It maintains a fair pH balance in the stomach and reduces excess acidity to relieve symptoms like indigestion and heartburn. Additionally, Amalaki is rich in vitamin C and antioxidants that protect the digestive system from oxidative stress caused by free radicals.
Direction of Use
Take 1-2 Capsules twice daily or as your healthcare professional advises.
Tighten the cap after every use to keep the product's efficacy intact.
The capsules are suitable for individuals above 18 years.
Store in a dry place with average room temperature and away from direct sunlight
Read the label thoroughly and carefully before use to know about all the necessary safety precautions.
Check the date mentioned date on the pack before consumption. Make sure that the date is within 24 months from manufacture.
Keep it in a safe place so that children can't reach put to it.
Capsules can be consumed daily.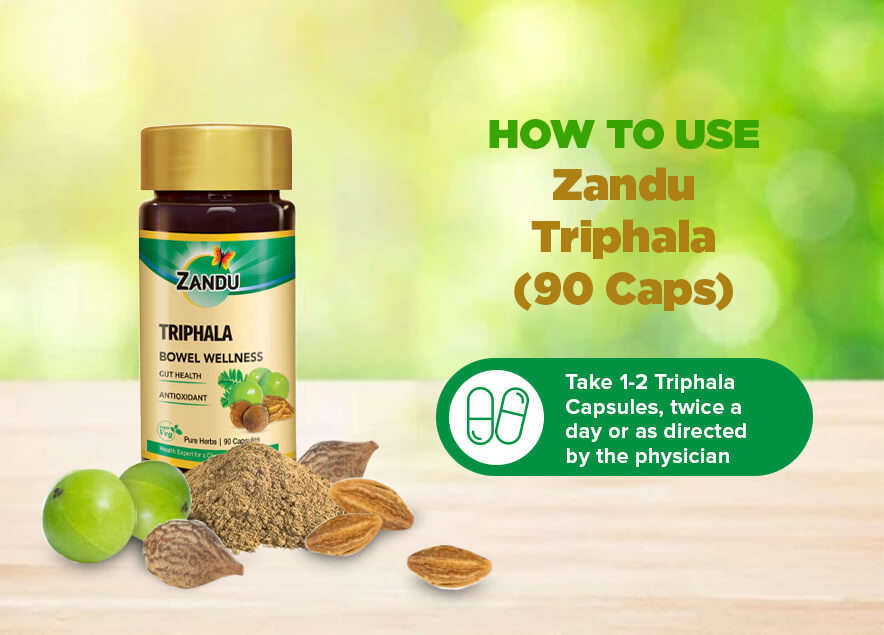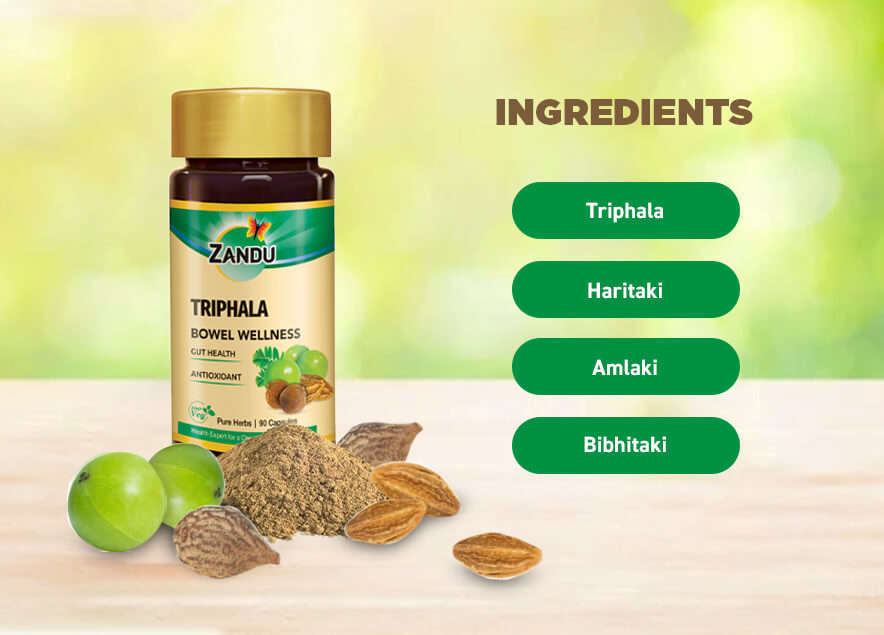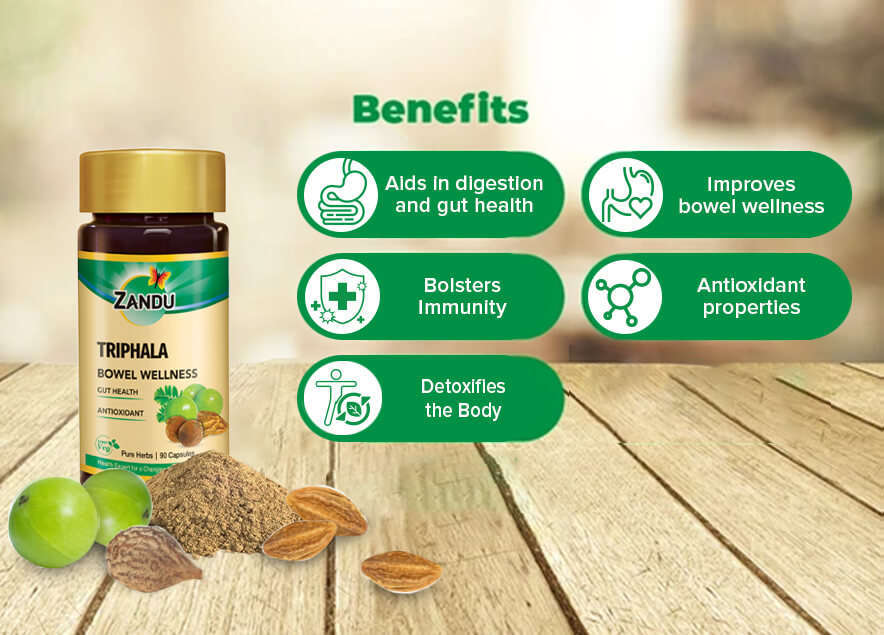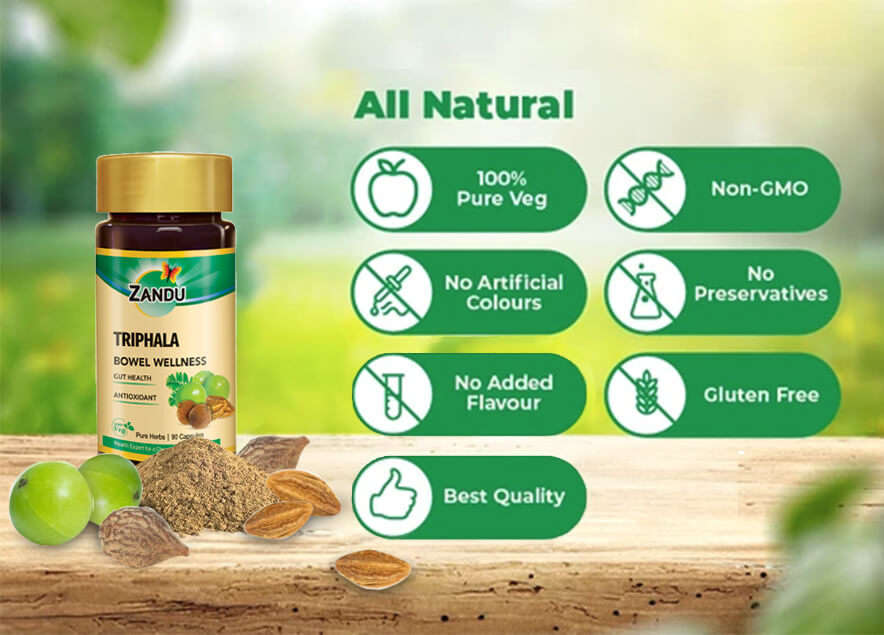 Storage Information for Zandu Triphala Capsules
The product doesn't come with any storage complications. Zandu Triphala capsules can be stored in a cool and dry place away from direct sunlight. Tighten the lid after every use and ensure it's out of the reach of children.
Who Can Use Zandu Triphala Capsules?
Triphala Capsules can be used by any individual above 18 years suffering from digestive problems. The special formulation offers relief from digestive issues, regulates bowel movements, and relieves discomfort concerning digestion.
The 3 main powerful ingredients used also boost immunity and skin health. Therefore if you are looking for a perfect daily supplement to secure health and well-being in the long run, 1-2 capsules of Zandu Triphala is all you need to include in your daily diet.
Ensure that you follow the recommended dosage per the label or your healthcare professional's advice.
Why Zandu Triphala Capsules?
Triphala capsules are a rich blend of some of the most beneficial ayurvedic ingredients that promote gut health and relieve constipation, gas, and
bloating, among other gut concerns. A healthy gut is not only the key to a healthy life and a healthy mind and skin.
Customers have trusted Zandu for its genuine Ayurvedic formulation for over 100 years. The company entertains 100+ years of trust, assisting people with a natural solution to their health problems. The product doesn't contain non-vegetarian ingredients, added flavours, colours, or preservatives. Therefore there's no issue concerning the occurrence of any side effects.
Additional Information
Best Before: 24 Months
Product Dimensions: 54.5 x 1.9 x 9.3 Centimeters
Manufacturer: Emami Limited., EMAMI LIMITED - Survey No. 61/2P/1-MASAT, Silvassa, D & NH (U.T)-396230
Marketed or Packer by: Emami Limited. Survey No. 61/2P/1-MASAT, Silvassa, D & NH (U.T)-396230
Country of Origin: India
Item Weight: 90 g
Net Quantity: 90 count
Frequently Bought Together