---
Country of Origin : India
Secured & trusted checkout with:
Description
We all need the energy to stay active & keep going. Modern-day women are good at multitasking. They can handle work responsibilities, daily chores or other activities at the same time. They want to be part of every activity & want to outshine everywhere. Zandu has introduced Vigorex for Her, an Ayurvedic energizer to support women in carrying out their daily activities without letting them fall short of energy. Zandu Vigorex For Her is enriched with the goodness of Soya, Saffron, Ashwagandha, Satavari & 8 other herbs that help improve energy, enhance performance and maintain overall female health. It also allows women to manage other hormonal problems & mood swings. Vigorex For Her is a proprietary Ayurvedic medicine expertly developed by Zandu to meet women's health needs. It has been prepared with 100% Ayurvedic and natural ingredients without added sugar, salt & preservativesf you have been looking for a daily energizer, then this product is just for you. Now, get your daily dose of energy in a natural way!

About Zandu Vigorex for Her
Zandu Vigorex For Her is prepared with Ayurvedic herbs like Soya, Ashwagandha, Satavari, Saffron & 8 others to help women in leading
an energetic & fulfilling lives. The Ayurvedic ingredients present in this formulation are rich in nutrition and thus can be a great energy source for daily activities. Zandu Vigorex For Her helps stabilize mood & promotes strength. It helps to boost her overall performance by enabling her to focus & excel in her daily activities. Regular use of this product also aids in rejuvenation & relieves stress. This proprietary Ayurvedic medicine is expertly curated by Zandu & has been prepared with 100% Ayurvedic and natural ingredients without any added sugar, salt, & preservative. Now stay energized naturally to lead an active lifestyle!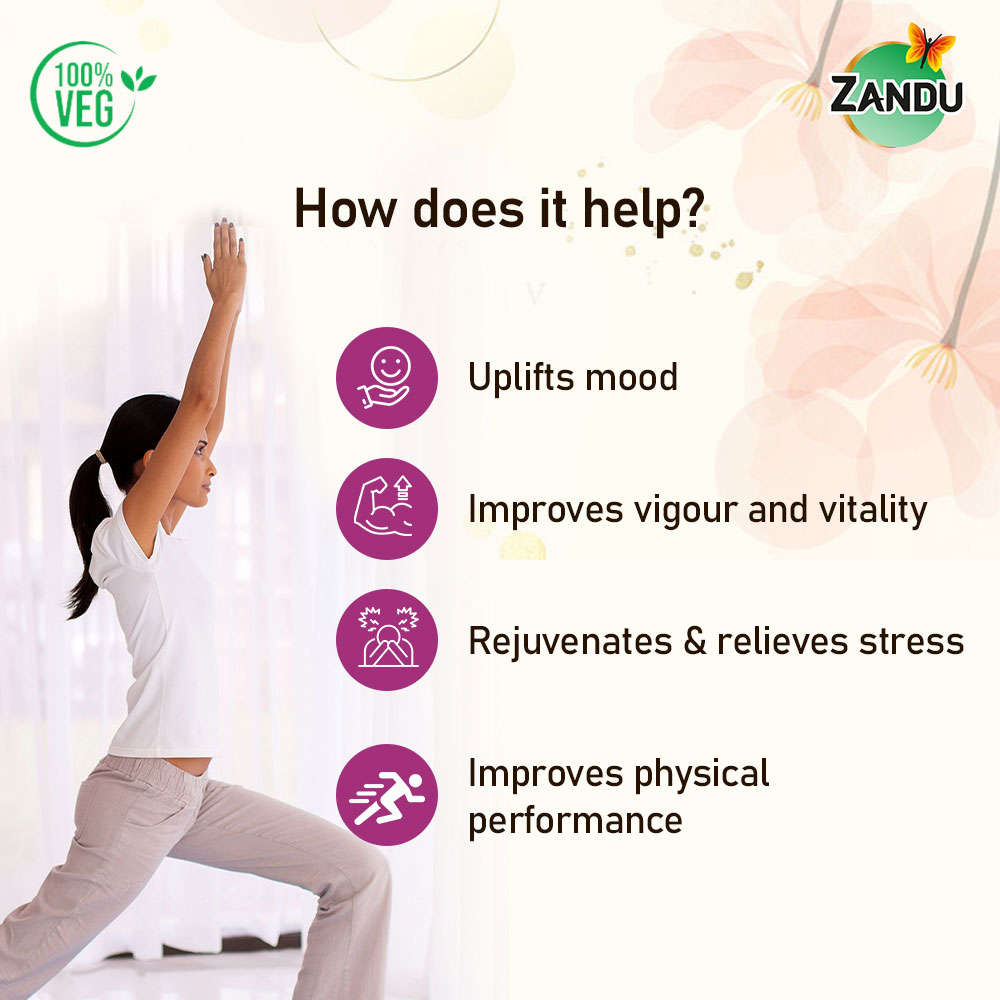 Uses and Benefits of Zandu Vigorex for Her
The major benefits of Zandu Vigorex for Her are as follows-
Helps to uplift mood : The presence of Satavari and Ashwagandha helps to stabilize the mood by reducing episodes of mood swings and helps to uplift her mood.
Improves vigour and vitality : Ayurvedic ingredients like Ashwagandha and Safed musali present in this formulation helps build vigour and vitality, keeps her energized & motivated to accomplish ambitions.
Helps improve physical performance : Zandu Vigorex for Her contains -rich potent ingredients such as soya, vidarikand, atmagupta, keshar & other herbs that can provide a boost in energy, strength, stamina and overall
performance naturally.
Useful in rejuvenation & relieving stress : Staying stress-free can help us to be more productive at work. Ingredients used in this formulation, like Ashwagandha, are responsible for relieving stress and rejuvenating properties that can help women stay energized.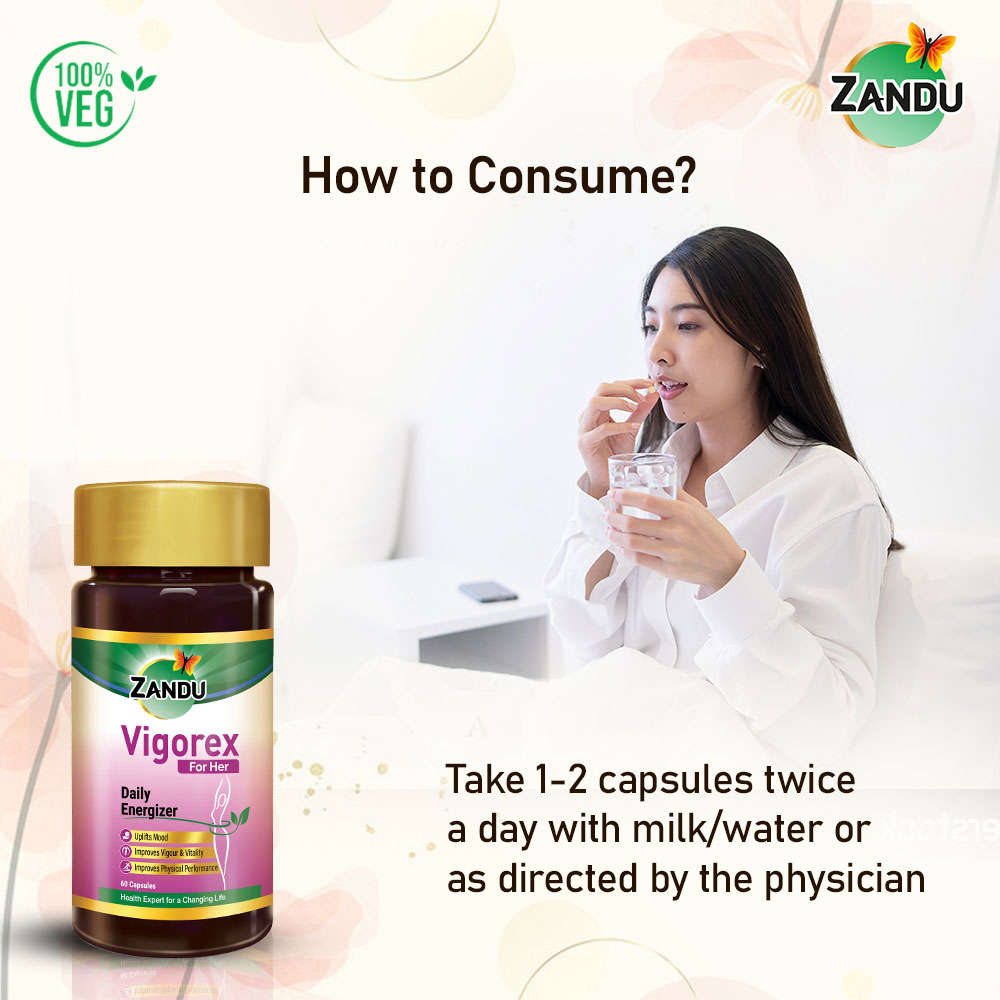 How to Use Zandu Vigorex for Her?
- To ensure good energy levels, stamina, vigour and to support her in performing all the daily activities without falling short of energy, include Zandu Vigorex For Her as a part of daily routine. Here's how you use it:
Take 1-2 capsules twice a day with milk or water or as directed by the physician.

Safety Information :
● Read the label carefully and stay informed about the uses and benefits of Vigorex for Her.
● Keep away from the reach of children.
● Take Zandu Vigorex for Her in the recommended dosage or as directed by the physician.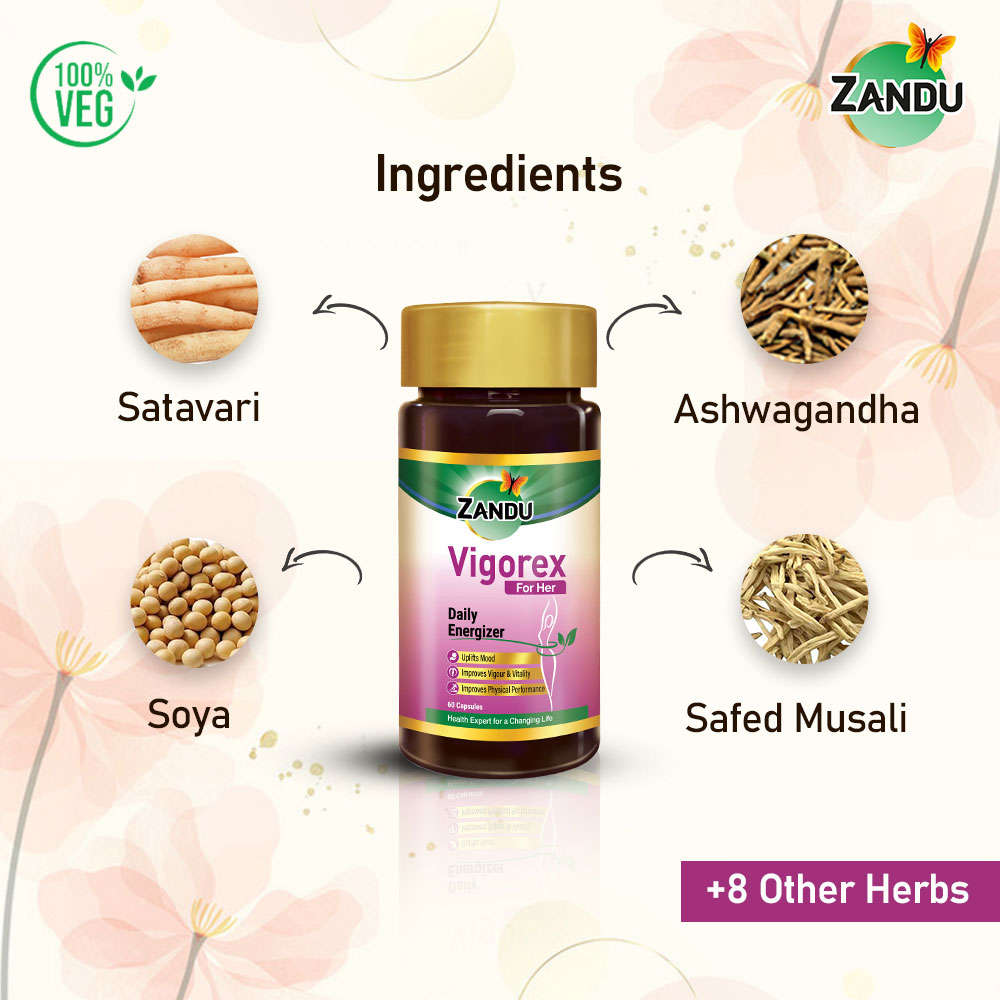 Ingredients used in Zandu Vigorex for Her
Ashwagandha (Withania somnifera Dunal.) - As per classical Ayurveda doctrines, Ashwagandha is a rejuvenator and a stress buster. Ashwagandha helps to improve vigour and vitality. It has aphrodisiac and rejuvenative properties & helps to reduce stress and anxiety as well.

Soya (Glycine soja Willd.) - Has high nutrition properties thereby increasing your strength. Soya contains phytoestrogen, which helps in reducing hot flushes & is known to reduce depressive symptoms and improve skin health.

Safed Musali (Asparegus adscendens Roxb.) - It acts as a rejuvenator, enhances strength and improves vigour. It also helps to retain youthfulness and vitality.

Satavari (Asparagus racemosus Willd.) –. Satavari is the most popular rejuvenator herb known to support reproductive health of women. According to the published scientific studies, Satavari is proven to be effective in managing female hormone imbalance induced by stress, performance anxiety, etc. It is a nutritive herb acting as a rejuvenator& strength promoter.

Kunkuma (Crocus sativus Linn.) - It is a well-known Ayurvedic
rejuvenator, which helps manage women health related issues.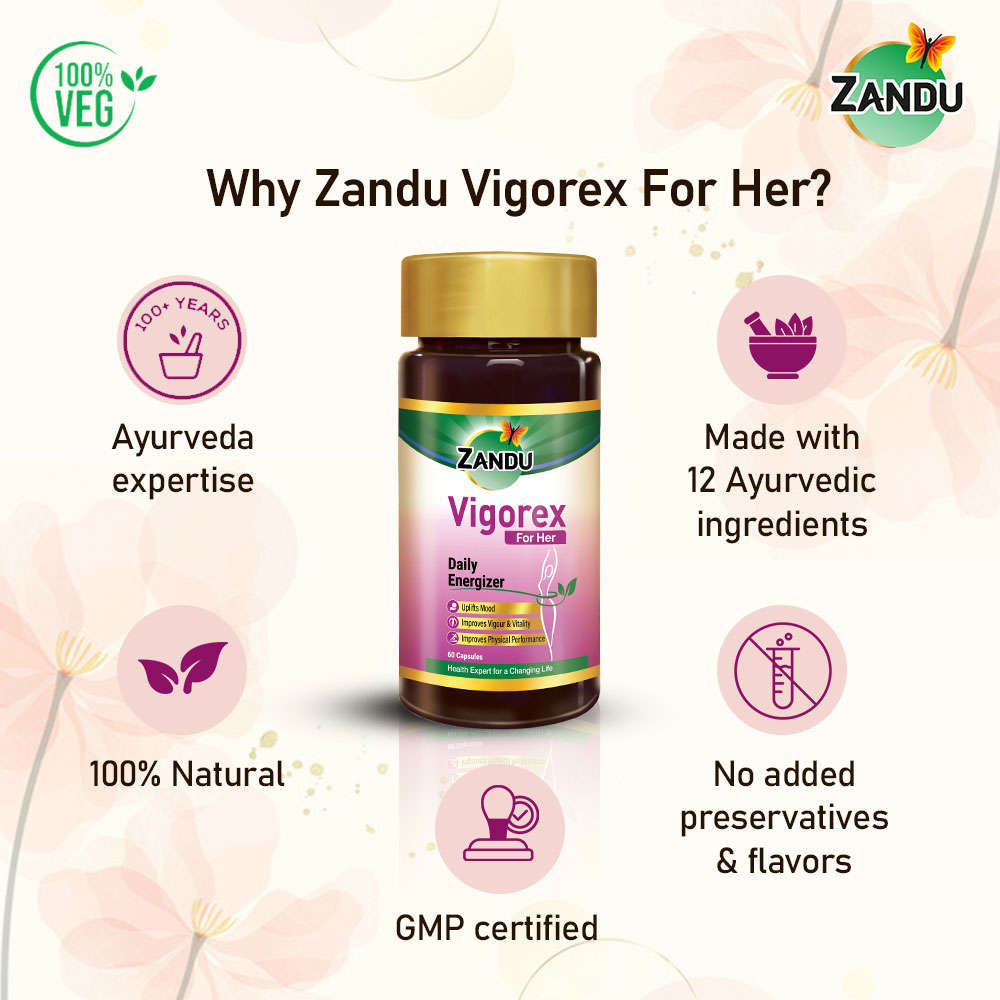 What Makes Zandu Vigorex for Her Special?
Comes with Zandu's expertise : It has been made with over 100+ years of Ayurvedic expertise to cater to women's daily energy needs.
Natural : All ingredients used in Zandu Vigorex for Her composition are pure, authentic, 100% vegetarian and natural. Animal-based extracts are not used in any form.
Safe to Use : Zandu Vigorex for Her is authentic, chemical-free, natural, and has no known side effects when
consumed in recommended dosages.
We follow Minimal Processing : Ayurvedic medicines lose their potency when processed beyond required levels. The experienced and trusted team at Zandu healthcare follows minimal processing to keep the efficacy, potency, and shelf life
intact.
No artificial colors & added flavors : No artificial colors or added flavors have been infused while formulating Zandu Vigorex for Her. All ingredients are natural and responsibly sourced.
Quality & Reliability
Every Zandu product is backed by the promise of quality and reliability from India's most trusted name in Ayurveda - Emami Ltd, the house of iconic products, which has been used for generations.
Time-tested and proven healthcare solutions
Blend of ancient wisdom with modern technology
Backed by easily accessible trustworthy information
Boast of nation-wide availability
Comply with specifications and methodology in Ayurvedic scriptures