---
Country of Origin : India
Secured & trusted checkout with:
Description
Clove Honey is specially curated to take care of your health and wellness needs and is enriched with the goodness of cloves for added health benefits. Every drop of our honey is pure and free of any impurities.
It helps boost immunity, relieve sore throat, cough & cold and helps to maintain a healthy digestive system. In addition, it's a rich source of antioxidants.
With Zandu honey, you get time-tested remedies for your health without the hassle of sourcing honey that is 100% pure and authentic. In a world where dozens of products are being launched, it is impossible to check the authenticity and purity of these claims.
Clove Honey is rigorously tested and undergoes strict production processes to ensure that you get safe and reliable products, which you can bank upon.

Item Form:

 Syrup/Liquid

Net Quantity:

 650g

Flavour:

 Clove

Key Benefits: Helps in 

Immunity, Cold & Cough

Number of Items:

 

1
Dosage:

 Take one tablespoon (approx.15g) of honey in a glass of lukewarm water and consume it twice a day. Stir the mixture well before consuming.

Diet Type:

 

Vegetarian

Age Range:

 

Adult

About Zandu Pure Honey with Clove
Zandu Pure Honey with Clove is a natural product and is made from 100% pure honey. It is further enriched with clove to enhance the overall efficacy. Clove Honey is made from natural ingredients, without any additives like sugar, salt, artificial flavours and colours. This pure and natural honey offers a variety of health benefits when consumed regularly to take care of your holistic wellness needs.

It helps boost immunity, provides relief in sore throat, cough & cold and helps to maintain healthy digestive system. Clove Honey is also rich in antioxidants. Make Zandu Pure Honey with Clove a part of your daily routine to enjoy its health benefits!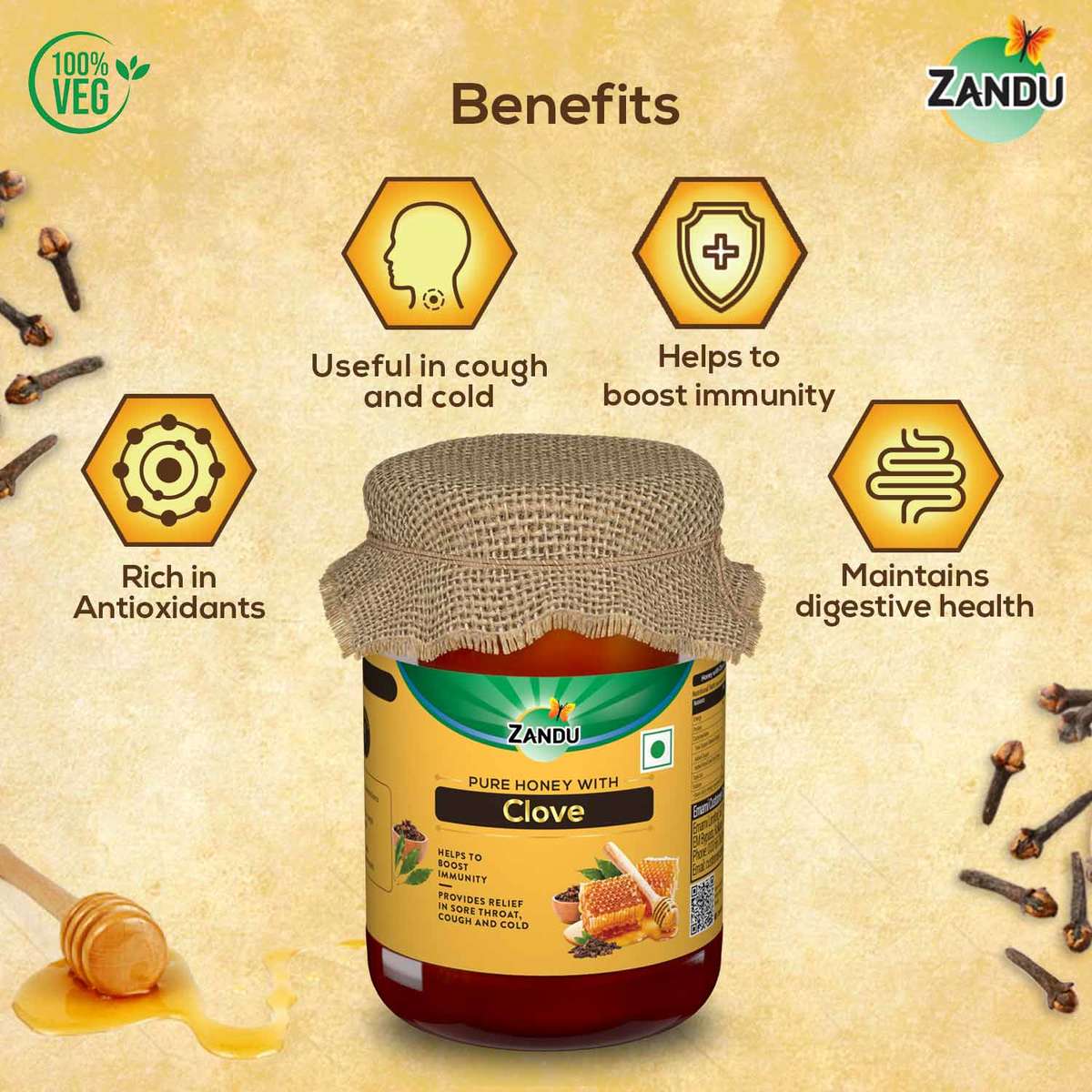 Benefits of Honey with Clove
Today's modern world requires convenient solutions to your wellness needs. Zandu Clove Honey is one such addition that can help you reach your health and fitness goals with health benefits. With this pure honey, you can be sure that you are
getting an authentic boost to your health.

Here are some of the benefits of honey and clove:
Boosts immunity: It supports your body in maintaining overall immunity to fight against infections and general ailments.
Relieves sore throat: Due to its anti-inflammatory and antimicrobial activity, honey can soothe sore throat. Consume it regularly with warm water to relieve sore throat.
Protects against cough and cold: Due to its antioxidant property, using Honey for cough and cold is an ancient practice. The viscosity of honey helps coat the throat, helps prevent coughing, and reduces the chances of cold.
Rich in antioxidants: Honey is a known antioxidant and has free radical scavenging activity.
Maintains digestion: Pure Honey with Clove helps to improve digestion and alleviate gastrointestinal issues that can cause discomfort.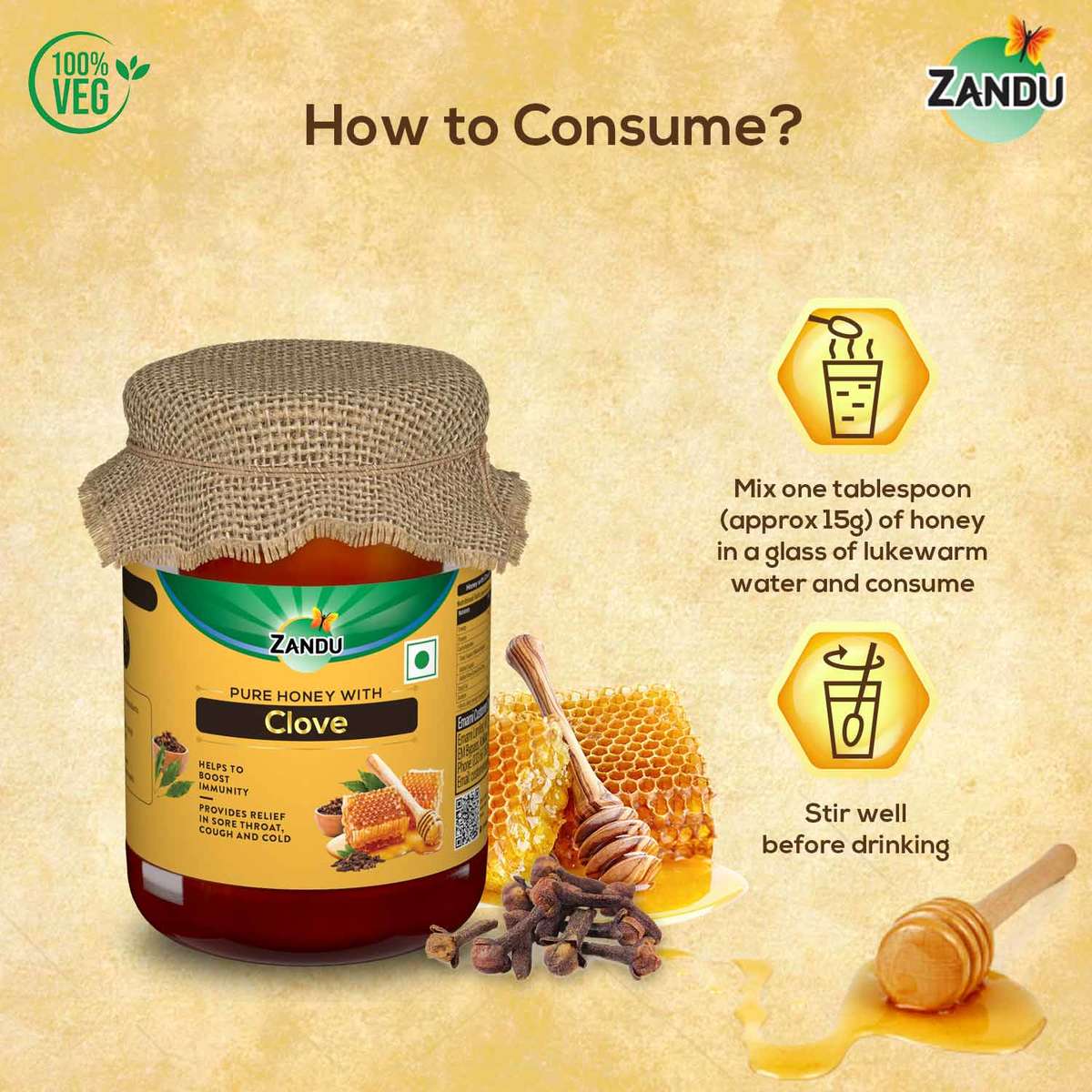 Steps to Consume Honey with Clove
Clove Honey is the go-to solution for your fitness needs. With this value-added honey, you get the health benefits of honey and clove in a convenient, easy to consume form. Just open the jar and get spoonfuls of this healthy food in an instant. You can have it as is or incorporate it into your meal.

Since it is a natural product, the ingredients might get separated over time. Hence, before using it, it is advisable to mix it well with a spoon.


For sustained benefits, take one tablespoon (approx. 15g) of honey in a glass of lukewarm water and consume it twice a day. Stir the mixture well before consuming. This product is suitable for all age groups.

Safety Information:
● Read the label carefully and stay informed about the uses and benefits of Zandu Pure Honey with clove.
● Take Zandu Pure Honey with Clove in the recommended dosage or as prescribed by the physician.
● The honey is best before 18 months from the date of manufacture. Always verify the date mentioned on the package before consumption.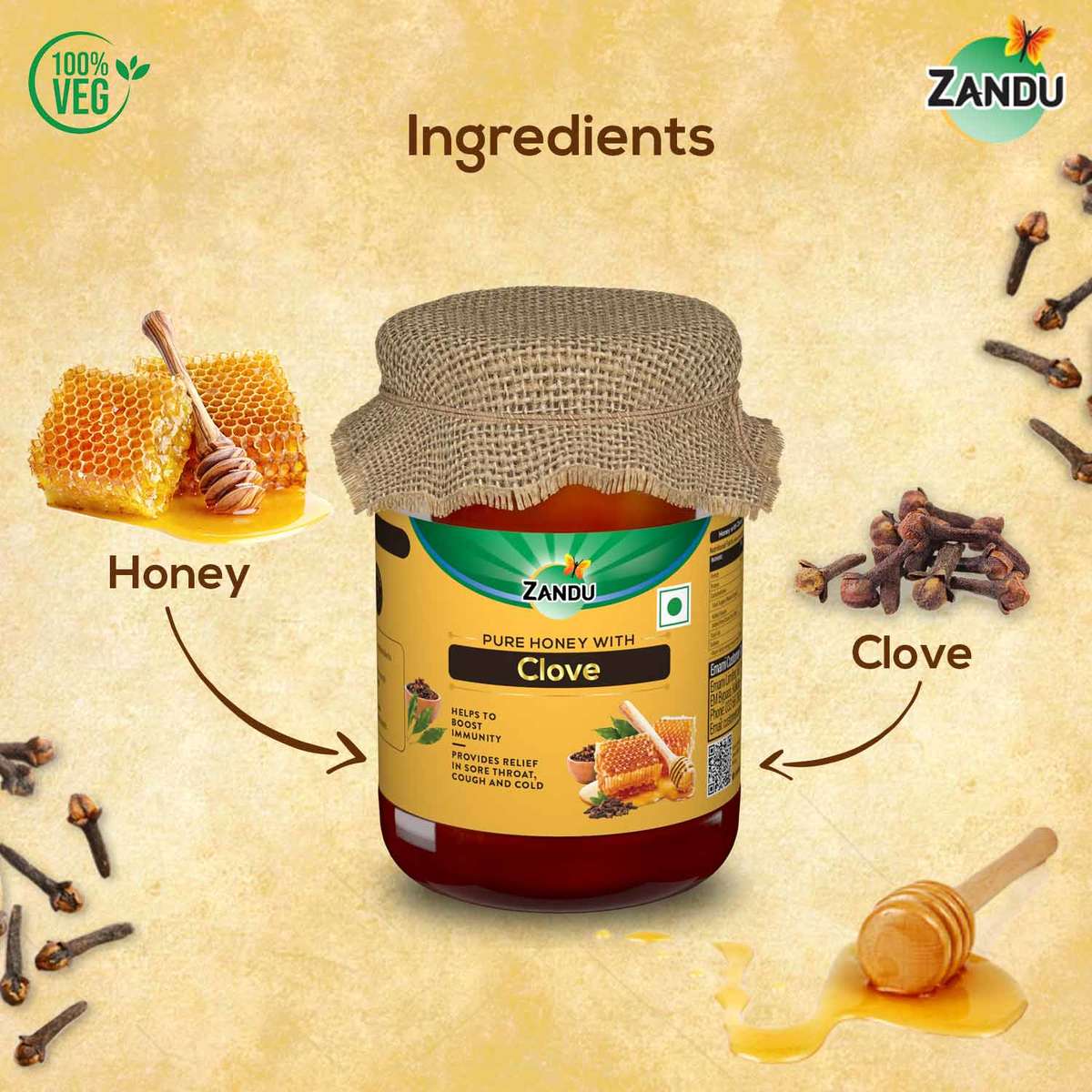 Storage Information
It naturally crystallizes and can be easily liquefied by keeping under the sun or placing it in warm water. It can be stored at room temperature, no need to refrigerate. Close the lid tightly after every use. Honey with Clove also tends to separate over time if left unused. This is a natural process, and it is advised to mix it with a spoon before usage.


Ingredients Information
Our value-added honey is enriched with the goodness of clove for holistic health benefits. This honey helps enhance the immune system, offers relief from sore throat and is also beneficial in cold and cough. It is made of natural ingredients and is 100%
vegetarian.


Honey: Honey, known as Madhu in Ayurvedic texts, is one of the most important medicines in Ayurveda, and numerous properties and uses of Madhu have been described in it. Honey has antioxidant and anti-inflammatory property and also supports boosting immunity. When mixed with other ingredients honey enhances the properties and actions of those ingredients.


Clove: Clove, also called Lavang in Ayurveda, is a commonly used medicine due to the numerous benefits it offers. It helps enhance the immune system, provides relief in sore throat and also aids in digestion.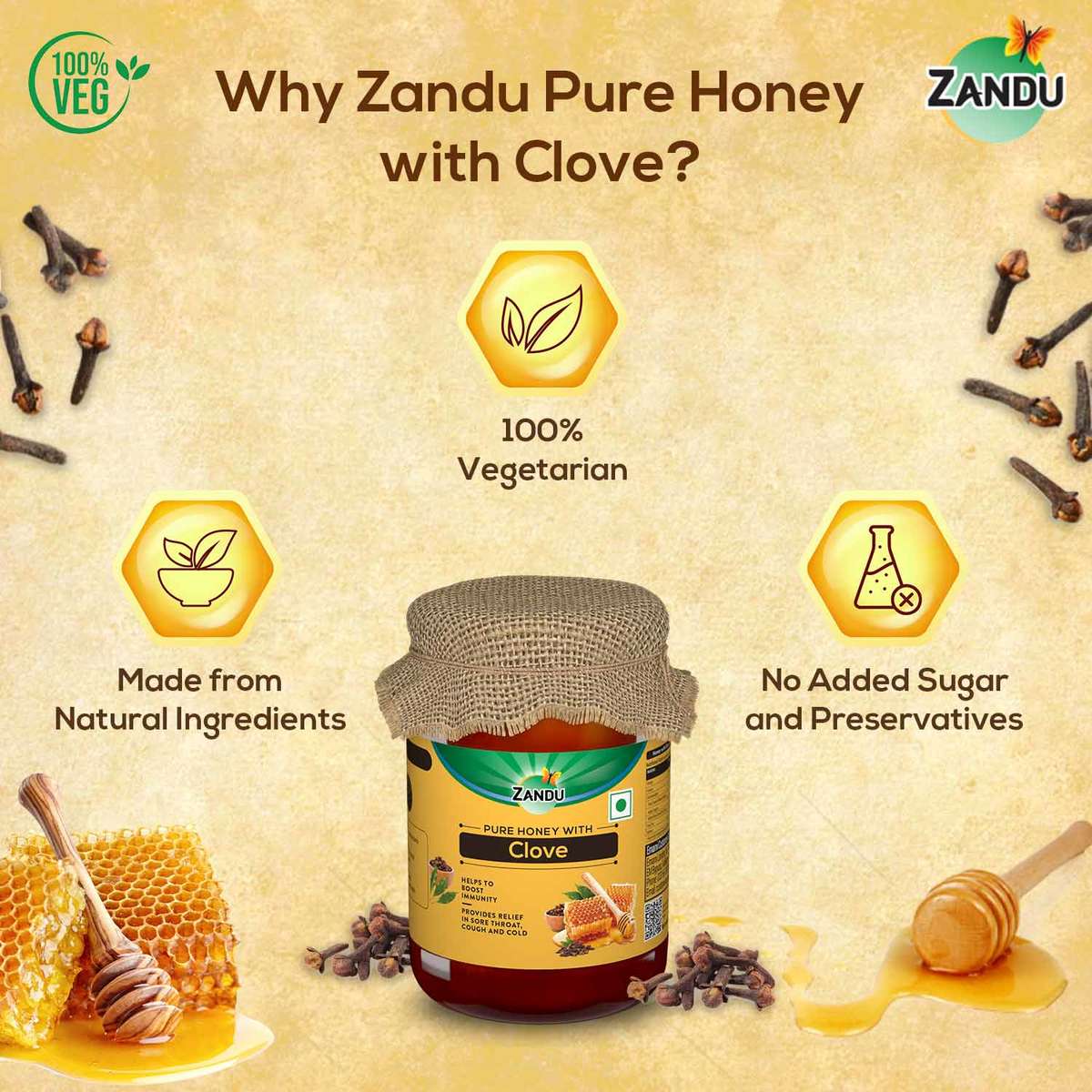 Why Zandu Pure Honey with Clove?
Made from 100% Pure Honey: It is a perfect blend of 100% Pure Honey and Clove that helps to cater to the health & immunity needs.


Safe to use : Zandu Pure Honey with Clove is authentic, chemical-free, natural, free from added sugar and salt. It is safe to consume in the recommended dosage.


A promise of convenience: There is no time to prepare and traditionally consume home remedies in the modern world. Therefore, Zanducare aims at providing you with easy-to-consume Zandu Pure Honey with Clove. This value-added honey helps to give you the best health benefits without causing any inconvenience.


Natural and vegetarian: All ingredients used in the composition of Zandu Pure Honey with Clove are pure, authentic and natural. Non-vegetarian ingredients are not used in any form.


No Artificial Colours & Added Flavours: No artificial colours or added flavours have been infused while formulating Zandu Pure Honey with Clove. All ingredients are natural and responsibly sourced.


Quality & Reliability: Every Zandu product is backed by the promise of quality and reliability from one of India's most trusted names in Ayurveda - Emami Ltd, the house of iconic products, which has been used for generations.

- Time-tested and proven healthcare solutions
- Blend of ancient wisdom with modern technology
- Backed by easily accessible trustworthy information
- Boast of nation-wide availability
- Comply with specifications and methodology as per the FSSAI guidelines.
Additional Information
Product Dimensions: ‎‎20.8 x 16.8 x 13 cm
Manufacturer: Emami Limited., 03366136264, 03366136600, customercare@emamigroup.com
Country of Origin: India
Net Quantity: 650g
Frequently Bought Together