---
Country of Origin : India
Secured & trusted checkout with:
Description
Zandu Pure Honey is 100% Natural Multiflora Honey sourced from wild forests and Sundarbans. We guarantee 100% pure honey, which is full of natural antioxidants and minerals. Honey is also a healthier and natural alternative to refined sugar. Zandu Pure Honey is brought to you by the house of Zandu, with its heritage of over 100 years of trust.
Now introducing in an unbreakable PET Jar.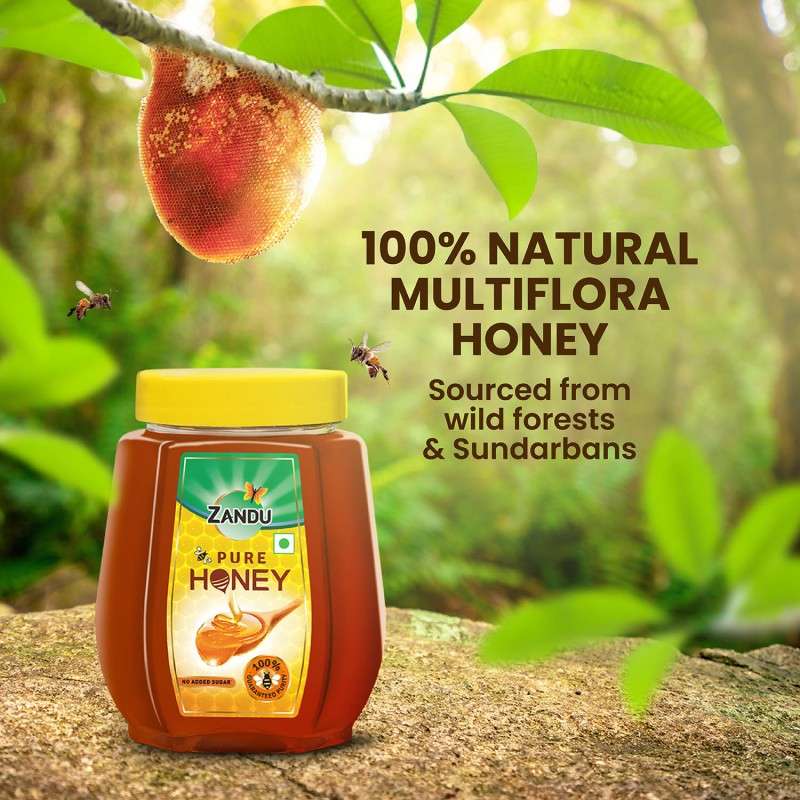 About Zandu Pure Honey
We understand the time and effort you give in taking care of your family's health, and we reciprocate that same care and love by collecting the finest quality honey for you. We firmly believe that you are the best judge of the purity and authenticity of Zandu Pure Honey, which we proudly bring to you.
Zandu Pure Honey ensures the promise of 100% purity, from the house of Zandu, a brand which has a heritage of over 100 years of trust.

Ingredient

100% Natural Multiflora Honey sourced from wild forests and Sundarbans. Zandu Pure Honey guarantees 100% Pure Honey and conducts over 500+ tests to ensure that the honey we provide to our consumers is pure and free from adulterants.
Every batch of Zandu Pure Honey undergoes comprehensive evaluation at an NABL-accredited laboratory, and each batch conforms to the 24 test parameters specified by FSSAI.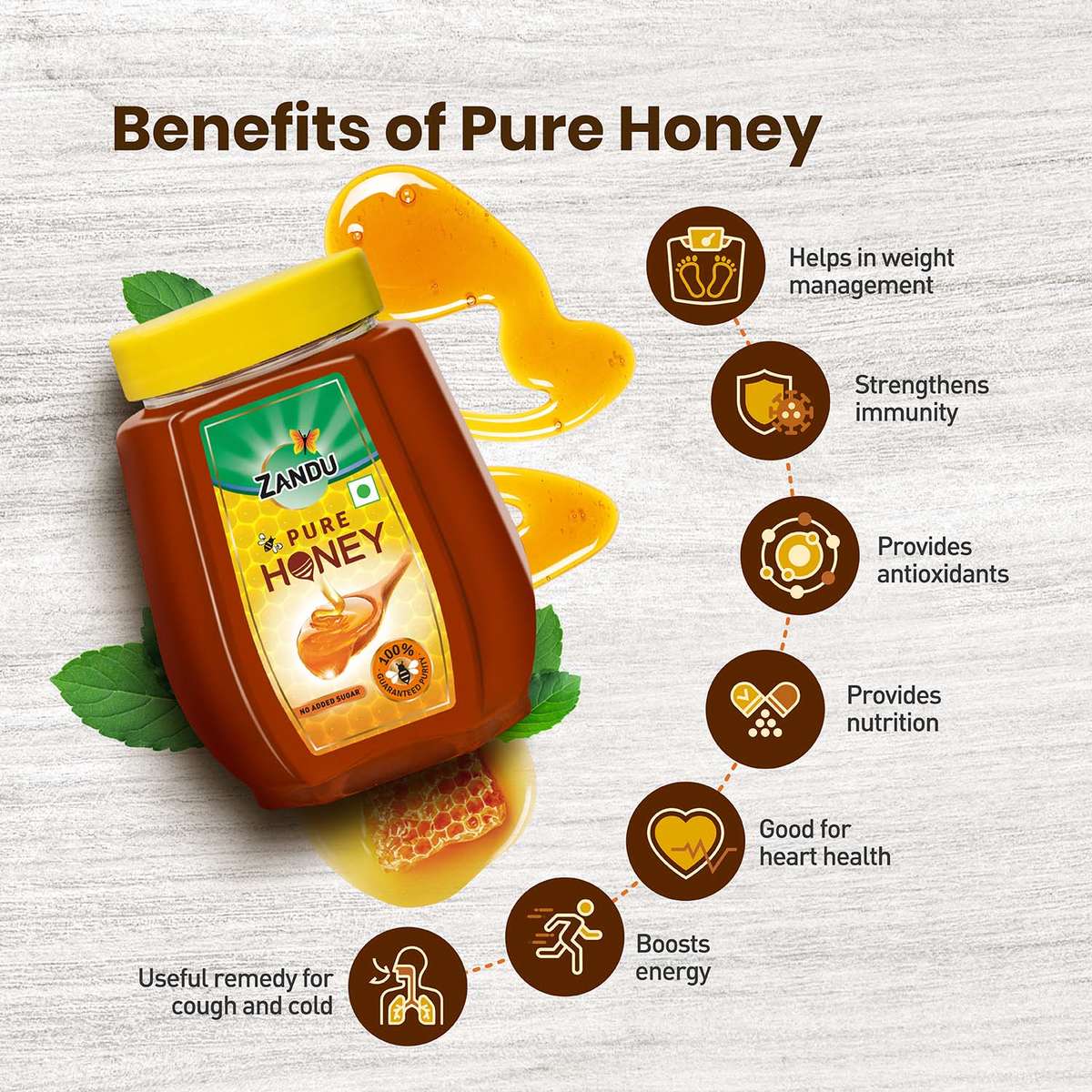 Benefits of Pure Honey
In the today's day and age, enhancing immunity holds paramount importance, especially in Indian households. Honey, when included in our daily diet, emerges as a natural and effective way to boost our body's defenses. Beyond its delicious sweetness, honey's immune-boosting properties offer a simple yet valuable addition to our wellness journey.


Helps in weight management : Honey's natural sugars provide a healthier alternative to refined sugar and aiding in weight control.
Strengthens immunity : Packed with antioxidants and enzymes, honey supports the immune system's ability to fend off illnesses and infections.
Provides antioxidants : Honey is naturally rich in antioxidants which help neutralize harmful free radicals in the body.
Provides nutrition : Honey offers a mix of vitamins, minerals, and trace elements, contributing to overall nutritional intake.
Good for heart health : Regular consumption of honey has been linked to improved heart health.
Boosts energy: The natural sugars in honey provide a quick and sustained energy source, making it an ideal option for pre- or post-workout fuel.
Useful remedy for cough and cold: Honey's soothing properties can alleviate throat irritation and coughing, making it a popular natural remedy for managing cold symptoms.
How to Use
There are several ways to include honey in your diet that are easy and delicious. Here are some of the ways you can use honey as a part of your diet:
Mix with Lukewarm Water : You can dissolve honey easily in warm water to make a nice, soothing drink that's good for your throat or just to enjoy something warm and sweet.
Add as a Natural Sweetener : Honey can be a better alternative to refined sugar, suitable to take it with your tea or use it as a natural sweetener in your food
Mix with Green Tea, Coffee and Shakes : Adding honey to your beverages will impart a sweet flavor and is a great all-natural alternative for refined sugar and artificial sweeteners.
Add to Cereal, Cornflakes and Muesli: Putting honey on your breakfast cereal, will bring a delicious sweet flavour.
Spread over Pancakes, Toast or Paratha: A delicious and nutritious spread
Pour over your favorite Sundaes and desserts: Enhance the flavour of your desserts with guilt-free sweetness.