---
Country of Origin : India
Secured & trusted checkout with:
Description
Zandu Nityam Vati is an Ayurvedic laxative enriched with the goodness of 7 natural ingredients. It gives overnight relief from constipation. It can also be used to treat gas, acidity and bloating. Unlike other laxatives, Nityam Vati is non-habit forming.
Zandu Nityam is crafted with time-tested Ayurvedic ingredients like Senna, Haritaki, Triphala, and Castor Oil, these tablets provide gentle relief from occasional constipation. Manufactured with utmost quality and adhering to rigorous standards, Zandu Nityam Tablets promote regular bowel movements, leaving you feeling light and rejuvenated. Trust Zandu's expertise in Ayurveda for a holistic approach to digestive well-being.
Item Form: Tablets
Net Quantity: 10 or 30 Tabs
Flavour: Unflavoured
Key Benefits: Relieves Constipation, Metabolism Improvement
Number of Items: 1
Dosage: Take 1-2 Capsules twice a day or as directed by the physician
Expire details: Best before 24 months.
Diet Type: Vegetarian
Age Range: Adult

About Zandu Nityam Vati Tablets
Constipation is a prevalent condition that affects nearly everyone at some point in their lives. A decrease in bowel movements characterizes it. While occasional episodes of constipation are normal, prolonged difficulty in passing stools for several weeks is referred to as chronic constipation.


Individuals suffering from constipation often experience the presence of hard stools and exert excessive effort while on the toilet. Some people may even have intermittent symptoms where they feel blocked and are unable to empty their bowels daily.


We prioritize holistic well-being and provide one of the best Ayurvedic medicine for constipation that combines over 5000 years of Ayurvedic wisdom with modern technology, offering time-tested remedies in a convenient form.


Zandu Nityam Tablet is an all-natural laxative that offers a comprehensive range of benefits. It effectively alleviates chronic constipation and associated symptoms such as flatulence, nausea, gas, and acidity. This
Ayurvedic tablet is formulated with a unique blend of seven powerful Ayurvedic, such as Triphala, Erand Taila, Sanchal, Yashtimadhu, Svarnapatri, Haritaki and Saunf - Zandu Nityam Tablets are natural laxatives that have no side effects. These tablets help to give immediate relief from constipation and its associated problems, including gas, acidity and flatulence.
Benefits Of Zandu Nityam Tablets
In today's fast-paced world, it is essential to have wellness solutions that are reliable and convenient to use. Zandu Nityam fits this description perfectly and is considered one of the best Ayurvedic capsules for constipation, offering effective relief without side effects. Here are the advantages provided by this vitalizer: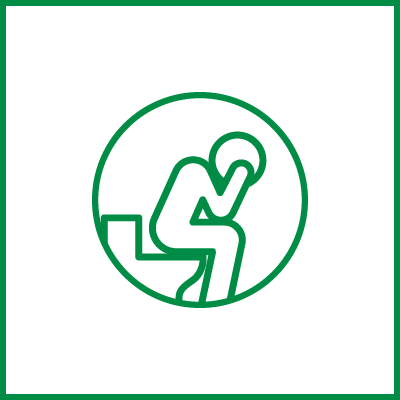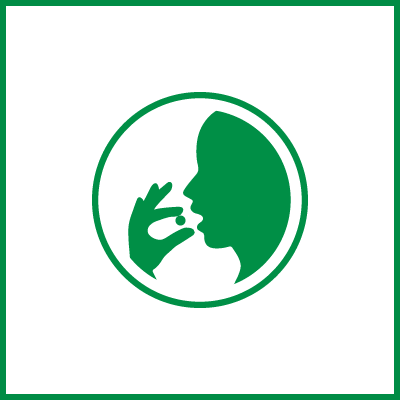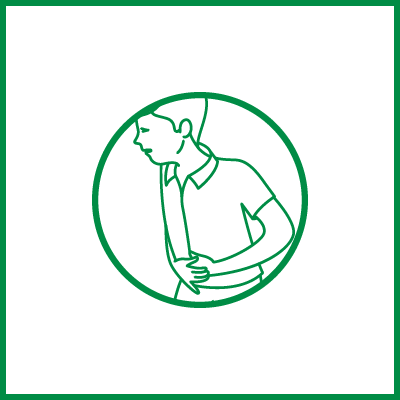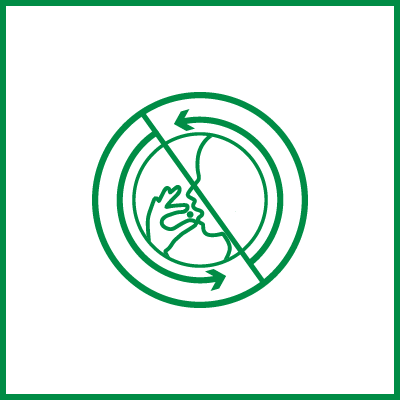 1. Relieves Abdominal Cramps
Abdominal cramps are common during constipation, often caused by gas accumulation in the abdominal region. These cramps can be extremely painful and uncomfortable, requiring immediate attention. Zandu Nityam tablet is beneficial in alleviating abdominal cramps, helping them subside quickly.
2. Overnight Constipation Relief
Typically, constipation medications take one to two days to provide relief. However, Zandu Nityam tablet offers a noticeable difference. They act as an overnight relief from constipation tablets, allowing you to wake up in the morning with the problem resolved.
3. Eliminates Gas and Acidity
Gas and acidity often accompany constipation, exacerbating the symptoms and causing disturbances. Fortunately, the natural ingredients present in the Zandu Nityam tablet aid in eliminating gas and acidity effectively. Additionally, you may experience relief from flatulence.
4. Enhances Nutrient Absorption
A healthy digestive system is vital for proper nutrient absorption. When the digestive process is optimized, the body can efficiently extract essential nutrients from the food we consume. By improving digestion and regulating bowel movements, Zandu Nityam tablets aid in maximizing the absorption of nutrients, ensuring that your body receives the nourishment it needs.
5. Promotes Detoxification
Regular bowel movements are crucial for the elimination of waste and toxins from the body. Zandu Nityam Vati tablets help cleanse the gastrointestinal tract, facilitating the removal of accumulated toxins. This detoxifying effect supports overall wellness and can contribute to improved energy levels and a sense of rejuvenation.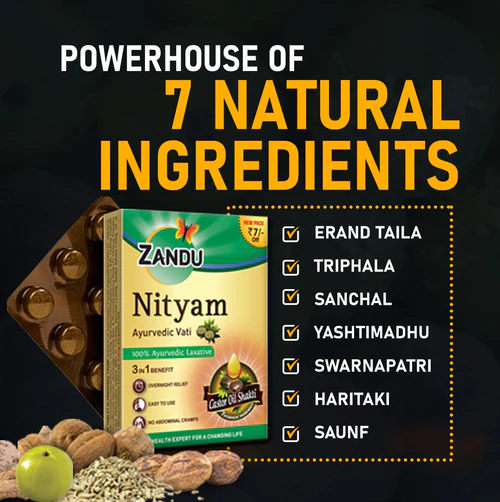 Zandu Nityam Vati Tablet Ingredients
The Ayurvedic tablet is formulated with several potent ingredients that work together to provide relief from constipation and keeps your body healthy, free from gas, abdominal cramps, and any stomach-related issues. The three major ingredients among them are as follows:

1. Sanchal: Sanchal is also known as Black salt and is a great Ayurvedic remedy for constipation. It is commonly used for cooking purposes. It possesses remarkable properties that can be beneficial for your health, including fat-burning and diabetes management. Because of its anti-flatulent and antioxidant properties, Sanchal can help alleviate constipation effectively. It has anthelmintic
properties, which aid in eliminating different kinds of parasite worms. Additionally, Sanchal may provide relief from inflammation, making it a valuable ingredient in Ayurvedic tablets. So, if you're considering Nityam for reducing weight, Sanchal can be particularly beneficial.

2. Haritaki: Haritaki is an essential herb and is rich in vitamins, magnesium, amino acids, Vitamin K, Vitamin C, flavonoids, and antioxidants. It offers relief from various long-term and short-term health issues, including constipation. Moreover, it improves metabolism and digestion and regulates bowel movements, providing overnight relief from constipation. Its soothing properties aid in
alleviating discomfort and improving immune function.

3. Yashtimadhu: Yashtimadhu contains an antacid that reduces hydrochloric acid production
in your stomach, offering maximum relief from irritation and stomach ulcers. This ingredient also aids in digestion improvement. Its antibacterial and anti-inflammatory properties enhance these benefits, promoting healing and management of gastric ulcers. Furthermore, Yashtimadhu may be useful in addressing conditions such as depression, stress, bronchitis, and various skin issues. It is advisable to consult with a medical professional before using Yashtimadhu for these additional benefits.
Steps to Use Zandu Nityam Tablet:
Take 1-2 tablets of Zandu Nityam before going to bed.
Fill a glass with lukewarm or regular water.
Place the tablets in a glass of water.
Swallow the tablets whole, without chewing or crushing them.

It is recommended to wait for at least 2 hours after your last meal before taking the tablets. To achieve the best results, maintain a healthy lifestyle along with taking tablets.

Remember, it is important to follow the instructions and dosage recommended on the product packaging or as advised by your healthcare professional.
Instruction To Store Zandu Nityam Tablet
These pills can be kept at room temperature and out of direct sunlight.To keep the bottle's efficacy intact, carefully close the lid after each use.
Who Can Use Zandu Nityam Tablet?
This product is suitable for adults of both genders who are experiencing issues related to metabolism and constipation.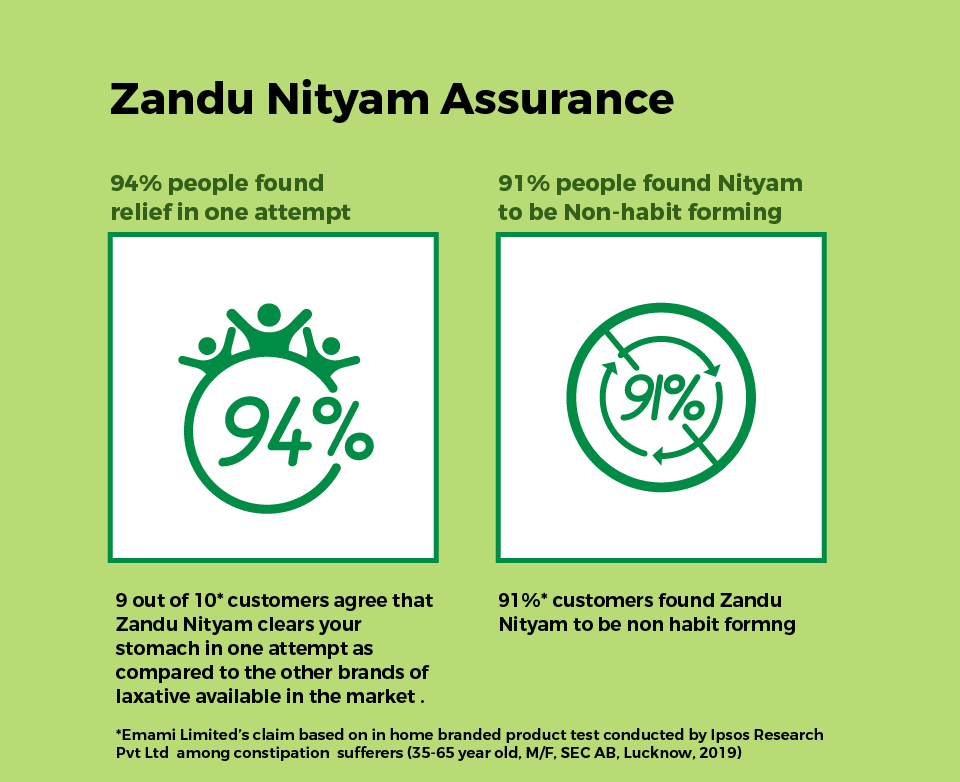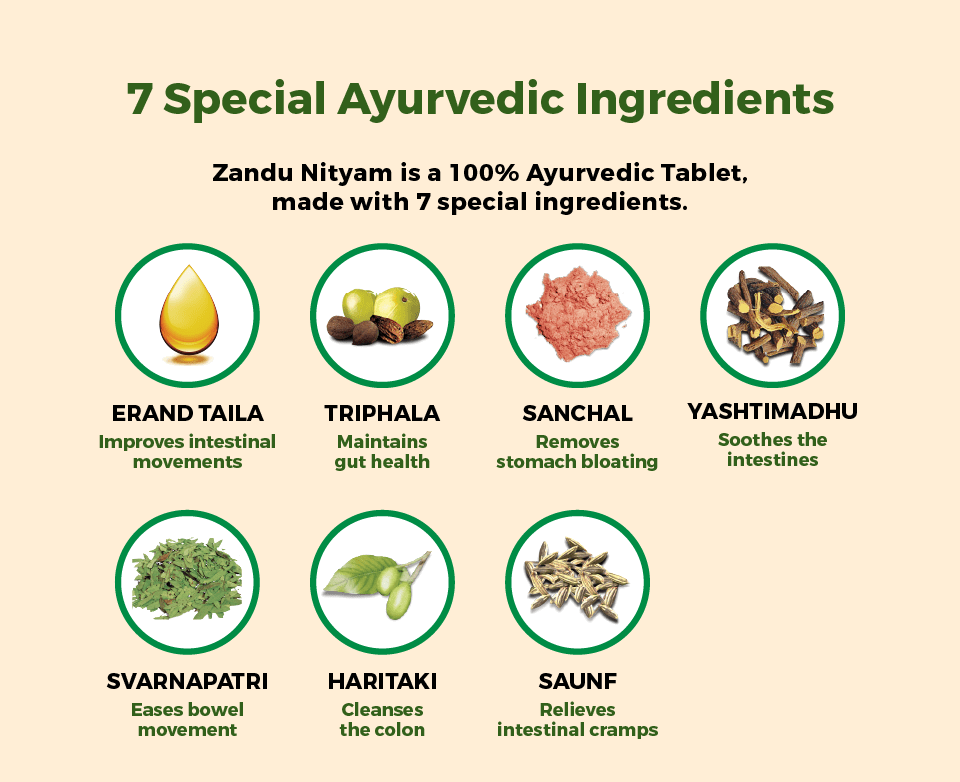 Why Use Zandu Nityam Vati Tablets?
Zandu Nityam tablets are used to treat gas, acidity, and bloating. These tablets are specifically designed to provide relief from constipation and promote healthy bowel movements. One of the key advantages of using Nityam Vati is that it is non-habit forming, unlike many other laxatives. This means that you can use it to relieve occasional constipation without worrying about dependency or addiction.


This Ayurvedic medicine contains natural ingredients that help regulate bowel movements, soften the stool, and ease the passage of waste through the intestines. By using Zandu Nityam tablets, you can experience relief from digestive discomfort and maintain a healthy digestive system.

However, it is always advisable to consult a healthcare professional before starting any new medication or supplement.
Product Safety Information
Safe and Secure Usage: It is an Ayurvedic formulation that is entirely natural. It is devoid of toxins, chemicals, gelatin, parabens, or sulfates. When consumed according to the instructions, these Ayurvedic capsules/tablets are considered safe without known Zandu Nityam side effects.
Natural and Vegetarian: The ingredients used in Ayurvedic Vati are pure, authentic, and derived from plants. No non-vegetarian ingredients are utilized in any form.
No Artificial Colors or Flavours: It contains no artificial colours or added flavours. The formulation is made using only natural ingredients that are responsibly sourced.
Legal Disclaimer
The therapeutic uses and advantages of Nityam Vati are based on the principles established by the ancient science of Ayurveda. Zanducare is committed to providing genuine and secure products and information. However, the effectiveness of these products may vary depending on the individual's
unique body constitution or Prakriti.

Therefore, the recommendations provided in this article should not be considered a substitute for the guidance and remedies offered by a qualified physician. This article is intended for informational purposes only. The use of this product is solely at the discretion of the consumer. If any persistent
side effects result from using the product, the consumer is advised to consulta physician immediately.
Additional Information
Best Before: 24 Months from the manufacturing date
Product Dimensions: 41 x 14 x 73 Millimeters
Manufacturer: Emami Limited, 687 Anandapur EM Bypass Kolkata - 700107
Marketed or Packer by: Emami Limited, 687 Anandapur EM Bypass Kolkata - 700107
Country of Origin: India
Item Weight: -
Net Quantity: 12 count & 60 count
Frequently Bought Together