---
Country of Origin : India
Secured & trusted checkout with:
Description
Since ancient times, we have relied on Ayurveda and its many natural benefits to lead a healthy and active life. In today's world, we require health and wellness solutions that can easily fit into our lives and provide us with all the timeless Ayurvedic benefits in an easy-to-use form. Organic Neem tablets blend the Ayurvedic wisdom spanning over 5000 years and modern-day convenience perfectly to offer a solution that enables you to keep your health and wellbeing intact. Curated from the natural extracts of a single herb in its unaltered & natural composition, Organic Neem Tablet is pure and natural with zero preservatives, no added flavours and colours. Made from Neem leaves extract, these tablets help eliminate impurities from the body and aids in detoxification. Regular consumption also helps to maintain healthy skin and protects against various infections. With these Organic Neem Tablets by Zandu, heal your body with nature's goodness!

About Organic Neem from the house of Zandu:
We all want to choose the best while taking care of our health; it stands true even while selecting Ayurvedic formulations. Nowadays, the market is swamped with numerous products, making it challenging to choose natural and organic ones. As per Ayurvedic texts, five natural elements- space, air, fire, water & earth (Panchamahabhutas) are the building blocks of the whole universe and our body. If the body is made of these natural elements, shouldn't we also treat our body to that which is natural & organic? Zandu brings you 100% organic Neem tablets that are 100% vegetarian and natural with no added colours, flavours, and preservatives to maximize health benefits.
From ancient times, Neem has been known for its ability to remove toxins from the body. Because of the antiseptic and antibacterial properties, Neem helps in improving overall skin health and rejuvenates the skin over time. Regular consumption of Neem tablet helps in body detoxification, helps maintain healthy skin, supports in healing acne and wounds while fighting against infections. It also helps to purify the blood and is useful in maintaining healthy sugar levels. The organic neem tablet uses are manifold and unlike Neem leaves that are bitter and difficult to consume, Neem tablets from the House of Zandu comes in an easy-to-consume format. Hence, it suppresses the unpleasant taste and improves the overall experience. These tablets are enriched with all the necessary goodness of pure Neem herb and are formulated after careful consideration of everyday health needs. With Organic Neem from Zandu, build a shield for your skin naturally!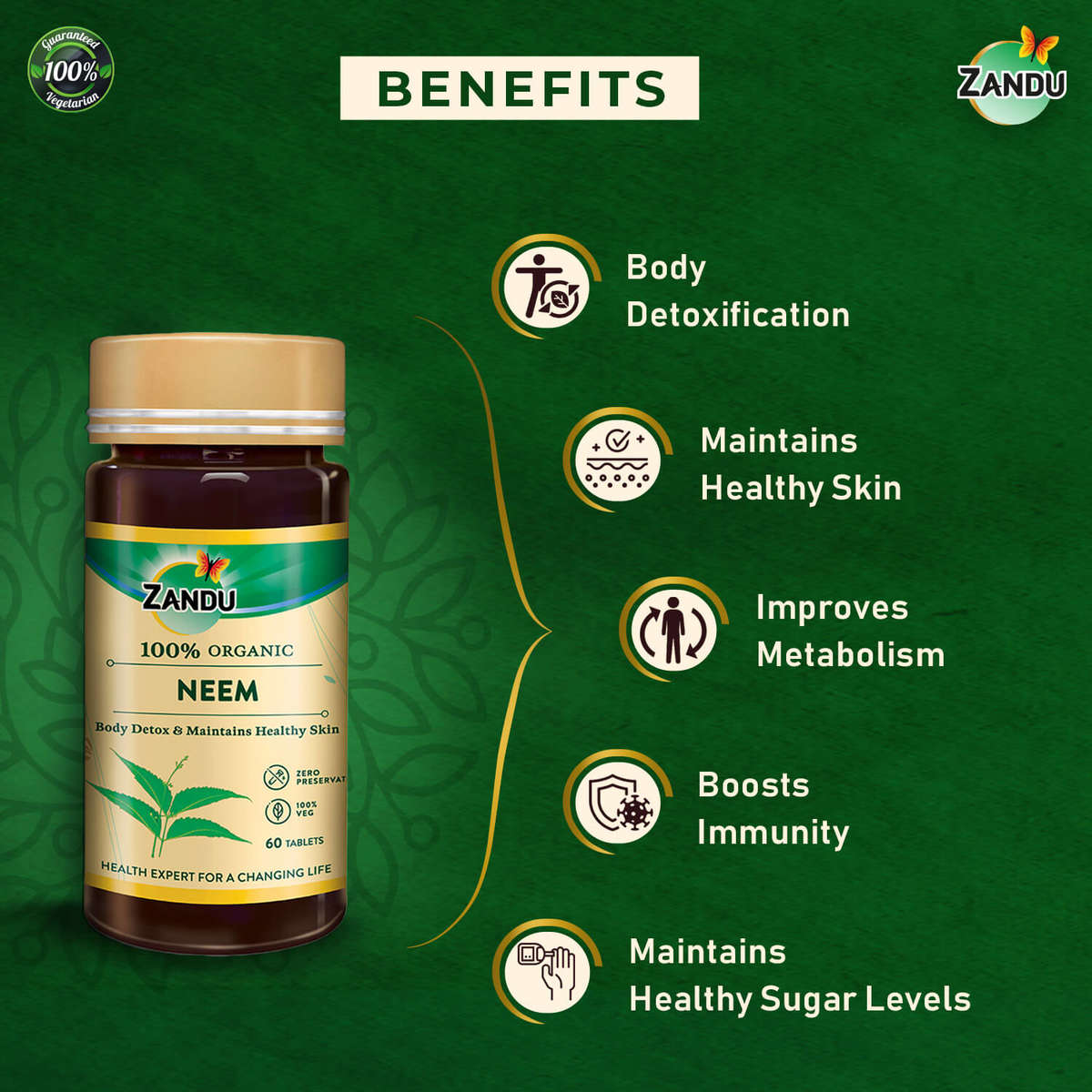 Organic Neem Tablets Benefits:
Neem is known as one of the most versatile plants and has been perceived as having health-promoting properties for centuries. Neem helps to cleanse the body by removing impurities and helps improve the texture and tone of the skin. Many people use neem tablets for acne and other skin problems. Make these Organic Neem tablets a part of your wellness ritual to take care of your health and wellness needs naturally and holistically.

Here are some of the benefits of 100% Organic Neem tablets:


Body Detoxification: Neem is known for its ability to remove toxins and impurities from the body. Blended with the goodness of the 100% organic and natural Neem, regular consumption of Organic Neem by Zandu supports body detoxification.
Maintains healthy skin: Neem is considered to be a renowned Ayurvedic herb that is useful in improving the overall texture and maintain quality of the skin. Due to its anti-inflammatory and antimicrobial property, it is helpful in the management of skin ailments such as acne and rashes.
Protection Against Infections: Neem helps protect against various infections and ailments because of its antiseptic and anti-inflammatory properties.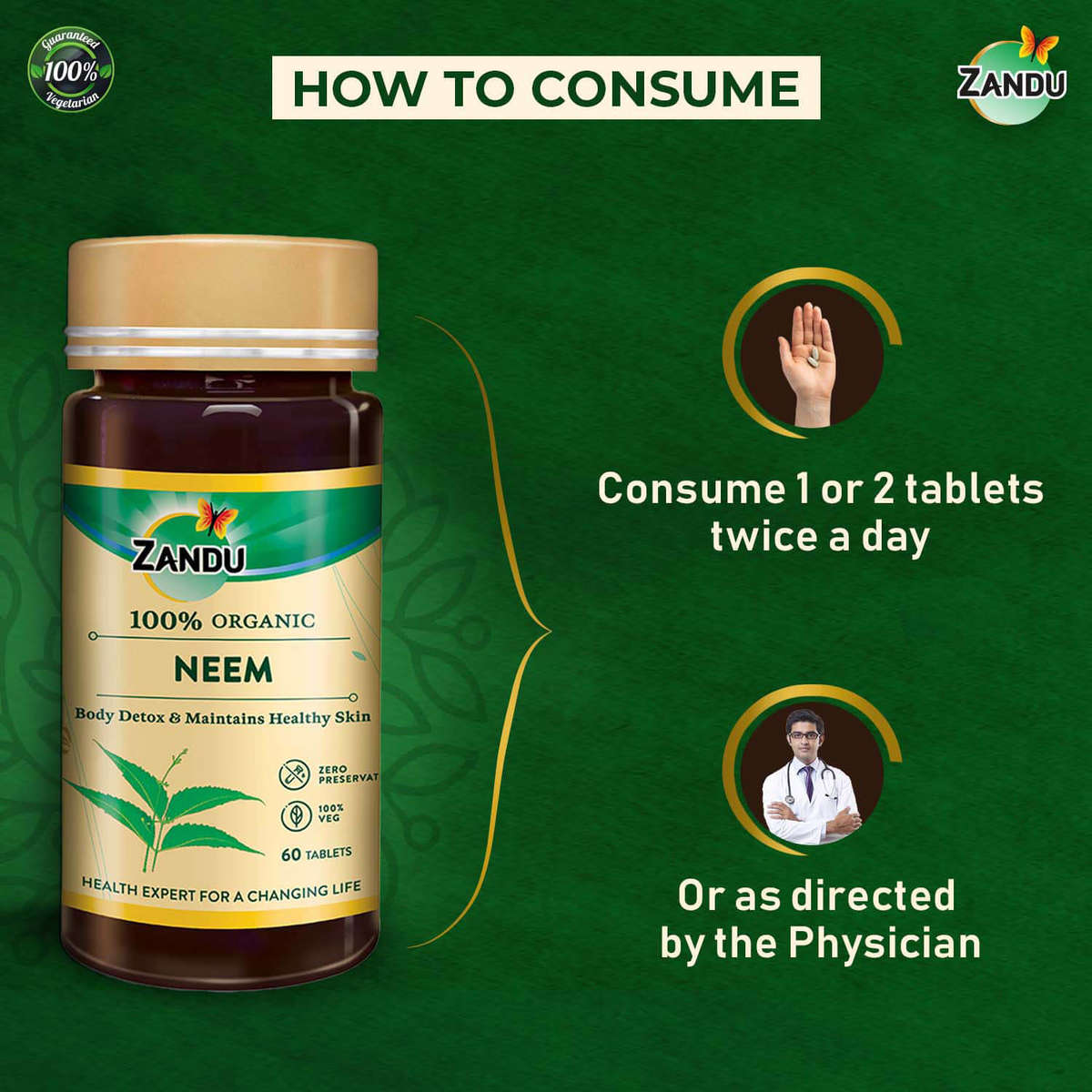 How To Use Organic Neem by Zandu?
100% organic Neem tablets from Zandu are 100% vegetarian, have no preservatives or harmful chemicals. This tablet is specially curated to manage numerous lifestyle-related health concerns. Regular consumption of this tablet helps the body to detoxify and improve skin health. Consume 1-2 Organic Neem Tablets twice a day or as directed by the physician for sustained results.

Safety Information:
● Read the label carefully and stay informed about the uses and benefits of 100%
Organic Neem tablets.
● Keep away from the reach of children.
● Take Organic Giloy tablets in the recommended dosage or as directed by the physician.
● Always verify the best before date mentioned on the pack before consumption.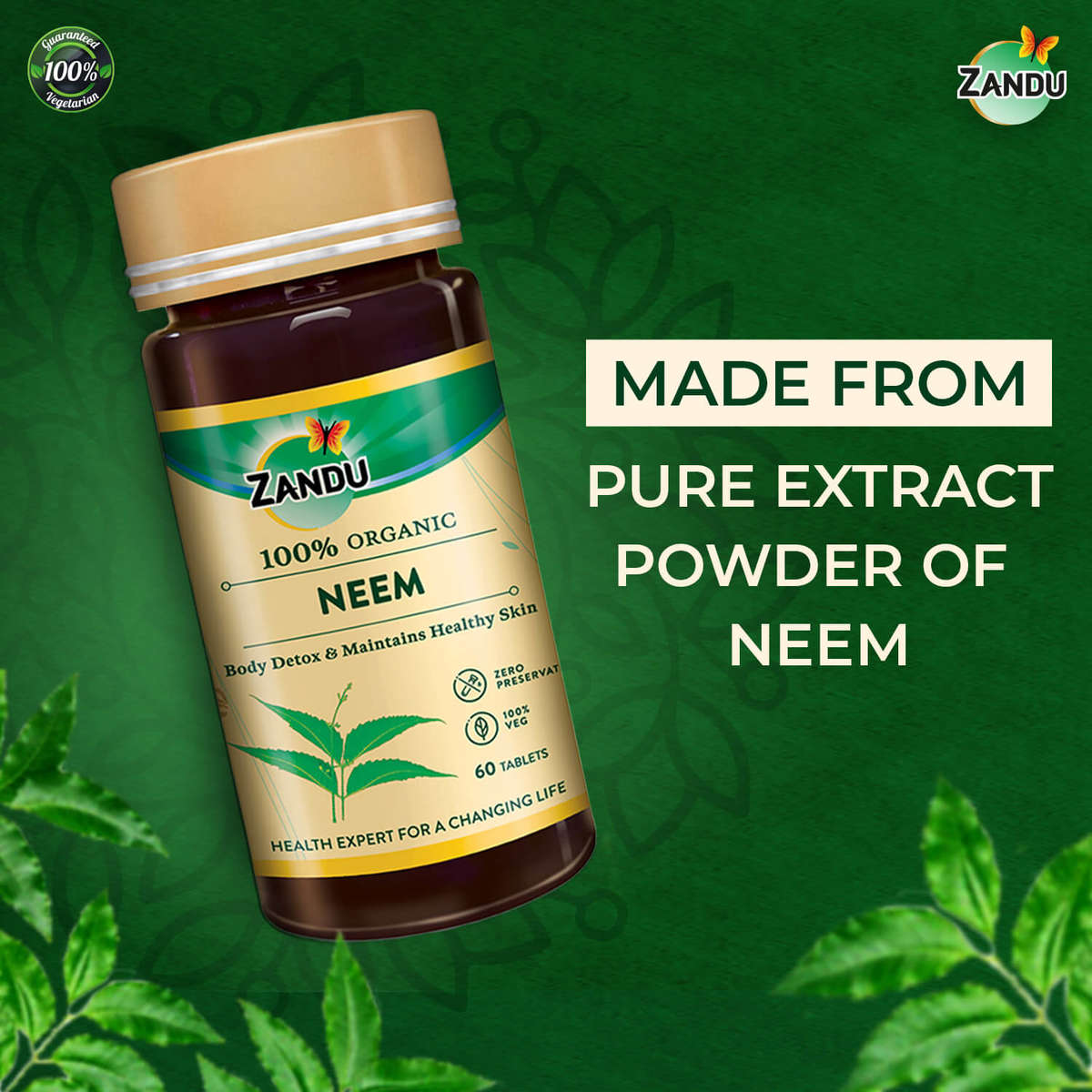 Storage Information:
Ayurvedic products, if not stored correctly, may lose their efficacy and potency. Store
these 100% Organic Neem tablets at room temperature, away from direct sunlight.
Replace the cap of the bottle tightly after every use to maintain its efficacy intact.

Significance of Neem:
Neem, also called Azadirachta indica, is known as the "Divine Tree" because of its many medicinal properties. Neem is a rich source of various active compounds and possesses antibacterial and antifungal properties. It also helps to remove impurities and toxins from the body. Neem works as a mild antiseptic; hence, it is beneficial for your skin and helps to prevent skin infections such as acne and rashes. This leads to an improvement in the overall texture and tone quality of the skin. Because of the multiple properties, Neem plays a therapeutic role in health management.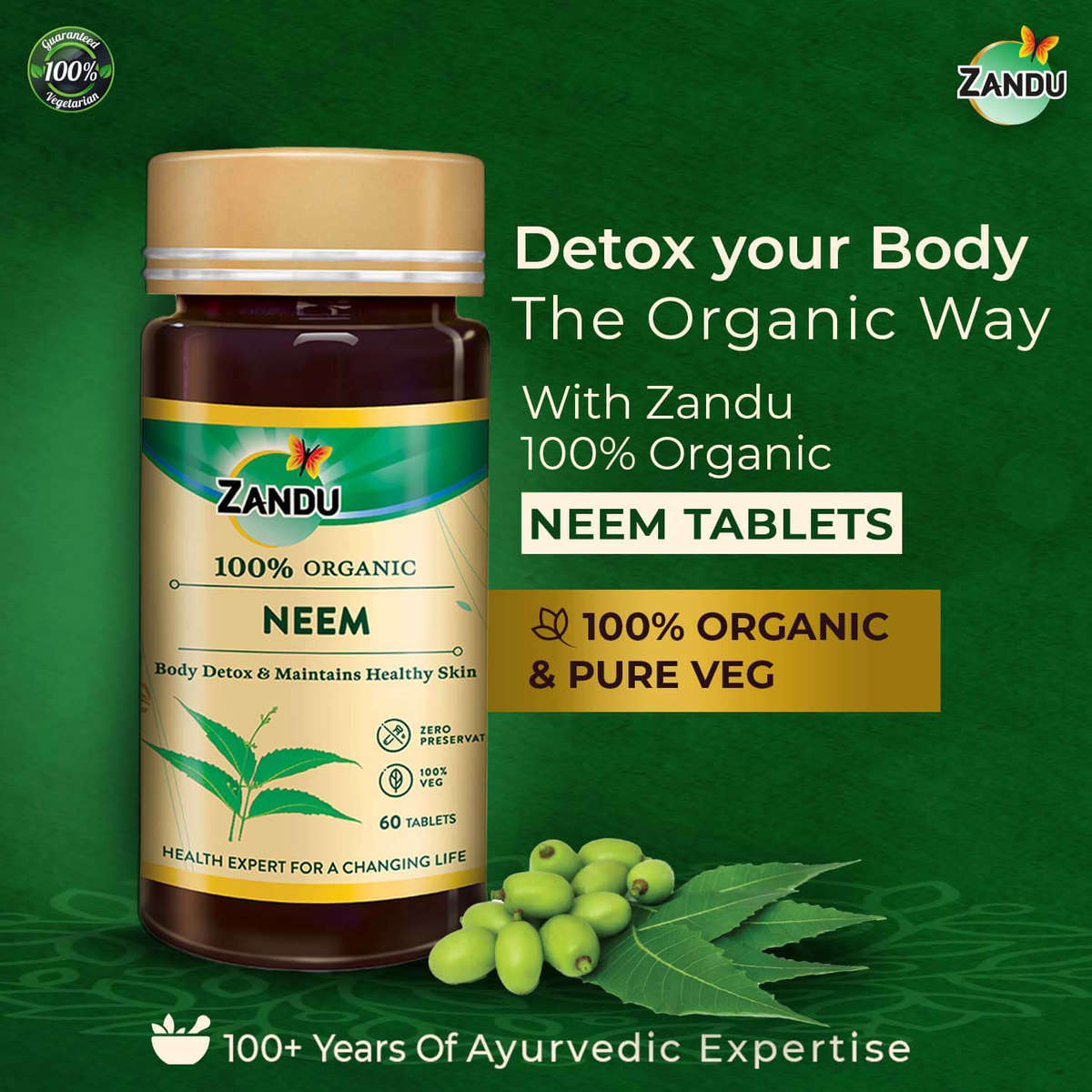 What Makes Our 100 % Organic Neem Special?
100% Organic and 100% Pure - According to Ayurveda, our body is composed of five natural elements- space, air, fire, water and earth; hence, the supplements we use should also be natural and organic for holistic healing of the body. Zandu presents 100% organic Neem tablets that are pure, 100% vegetarian and natural with zero preservatives.

Safe to use - Organic Neem by Zandu is authentic, chemical-free and natural, with zero preservatives. It is safe to consume it in the recommended dosage or as directed by the physician. It is natural and shows no known side effects when consumed in proportion.

A promise of convenience - There is no time to prepare and traditionally consume medicines or Ayurvedic herbs in the modern world. Therefore, Zandu aims at providing you with easy-to-consume Neem tablets that are 100% organic. This Ayurvedic formulation helps to give you the best health benefits without causing any inconvenience.


We follow Minimal Processing - Ayurvedic medicines are expected to lose their potency if not appropriately handled. Therefore, they cannot be processed beyond a certain point. This is why we follow minimal processing to keep their potency intact.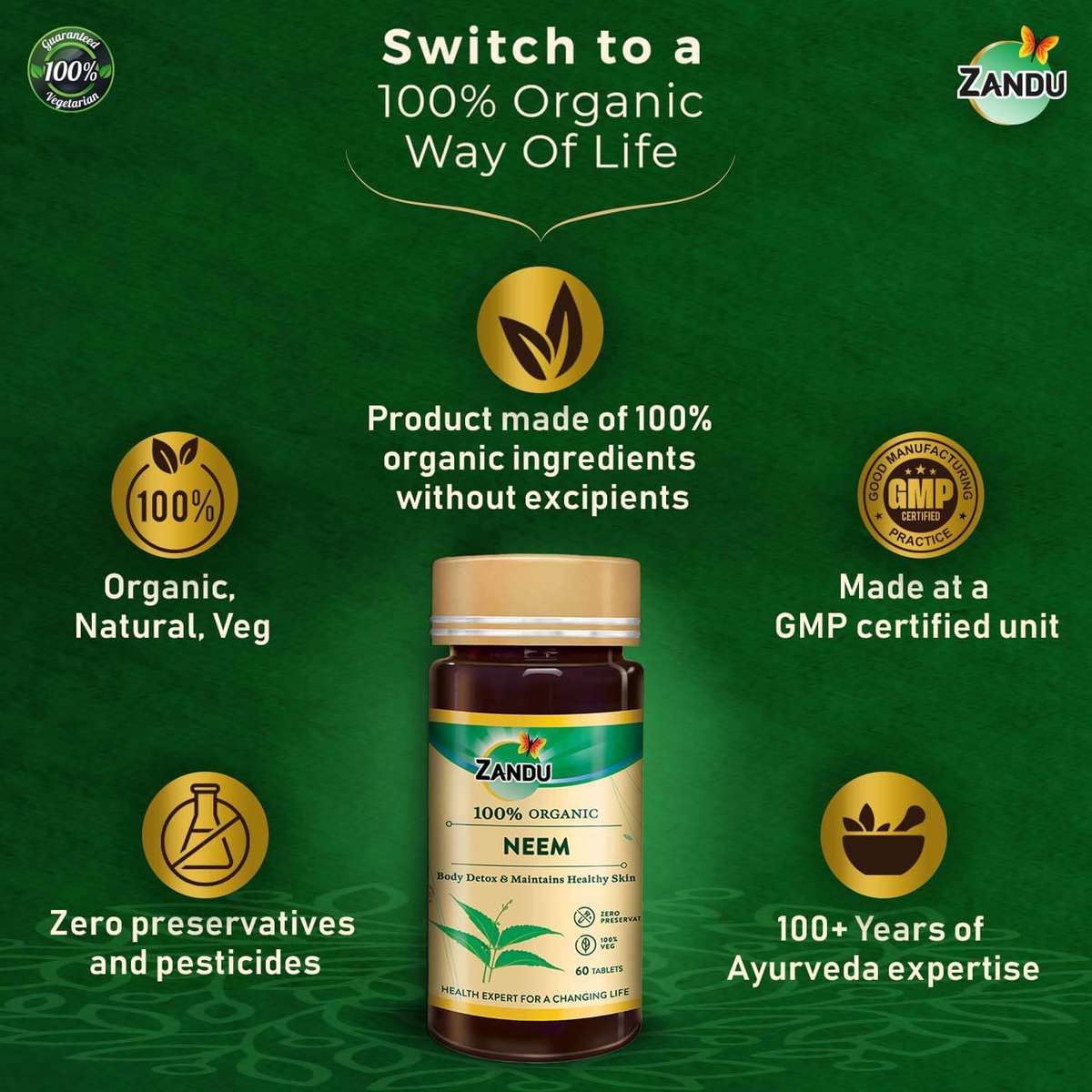 Natural - All ingredients used in Organic Neem composition are pure, authentic, and natural. Animal-based extracts are not used in any form.

No artificial colours & added flavours - No artificial colours or added flavours have been used while formulating these Organic Neem Tablets. All ingredients are natural and responsibly sourced.

GMP certified - We strictly follow Good Manufacturing Practice (GMP) to ensure that our products are consistently produced and meet all required quality standards.

Quality & Reliability - Every Zandu product is backed by the promise of quality and reliability from one of India's most trusted names in Ayurveda - Emami Ltd, the house of iconic products, which has been used for generations.
Time-tested and proven healthcare solutions
Blend of ancient wisdom with modern technology
Backed by easily accessible trustworthy information
Boast of nation-wide availability
Comply with specifications and methodology in Ayurvedic scriptures
Frequently Asked Questions (FAQs): Organic Neem Tablets
When should I take organic neem tablets?
Regular consumption of Organic Neem supports detoxification and helps maintain healthy skin. Take 1-2 Organic Neem tablets twice a day or as directed by the physician.
Do Organic Neem tablets have side effects?
Organic Neem tablets are prepared with pure Neem extract, an Ayurvedic herb that has been used since ancient times for its health benefits. This tablet is safe for everyday consumption. It is prepared using natural ingredients that do not have side effects when taken in the prescribed dose.
What are Organic Neem tablets good for?
Organic Neem tablets contain pure Neem extracts that have good skin protecting and maintaining properties. Neem tablets benefits for skin are multifold. They help in reducing acne, blemishes, and skin redness, thus promoting overall skin health. They also help to remove body toxins and promotes detoxification.
Can I take organic neem tablets on an empty stomach?
Organic Neem tablet can be consumed on an empty stomach. However, it is advisable to take 1-2 tablets twice a day, after lunch and dinner or as directed by the physician.
Is Neem good for your face?
Neem has multiple health benefits. It has antimicrobial and antifungal properties that help in fighting bacterial, viral and fungal infections. It helps prevent acne and rashes. Thus, it is suitable for obtaining healthy, younger, and better skin when consumed regularly in the prescribed dose.
---