---
Country of Origin : India
Secured & trusted checkout with:
Description
In this modern lifestyle in order to complete our daily roles & responsibilities, we tend to put a lot of strain on our bones without even realising it. We should start taking care of our bone health before it's too late. Zandu introduces an Ayurvedic Bone Care Juice to assist in our journey to maintain healthy bones. Zandu Bone Care Juice uses Asthisamharaka(Cissus quadrangularis) as one of its chief ingredients, also called Hadjod in Hindi. This valuable herb has immense medicinal uses. It appears in the shape of a bone or a bone joint and is used extensively in the Ayurvedic formulations for its ability to help maintain and promote bone health. Zandu Bone Care Juice, apart from maintaining bone health also acts as a rejuvenator and a strength promoter. Along with Asthisamharaka / Hadjod (Veldt Grapes), it also includes many other valuable herbs into this unique blend such as: Amalaki, Apple, Mango, Daruharidra, Ashwagandha, Shigru and Rasna.These valuable ingredients blended together are known to provide strength & promote bone health. Backed by more than 100 years of Zandu's legacy, our wellness juice is 100% natural & comes without additives like salt, sugar to offer you additional health benefits. Drinking this Bone care juice, a healthier & tastier wellness drink is a convenient solution for strengthening your bone & leading an active lifestyle!

About Zandu Bone Care Juice
Zandu Bone Care Juice is a bone health promoter as well as rejuvenator. It is a blend of valuable Ayurvedic herbs that not only promote bone health but also helps to improve digestion, reduce stress, improve strength & vigor, and boost bone healing after injuries. This formulation is prepared using natural Ayurvedic ingredients like Amalaki, Apple, Mango, Asthisamhrita, Daruharidra, Ashwagandha, Shigru, Rasna and has no additives like sugar, salt, artificial colours or flavours to supplement your health naturally. Added to the genuineness of the ingredients in the formulation are the excellent packaging techniques used to support shelf life. Unlike most other health juices in the market, our Bone Care Juice comes with good taste to keep your smiles intact. Make Zandu Bone Care Juice a part of your life because, ultimately, healthy bone will pave the way for a healthier lifestyle.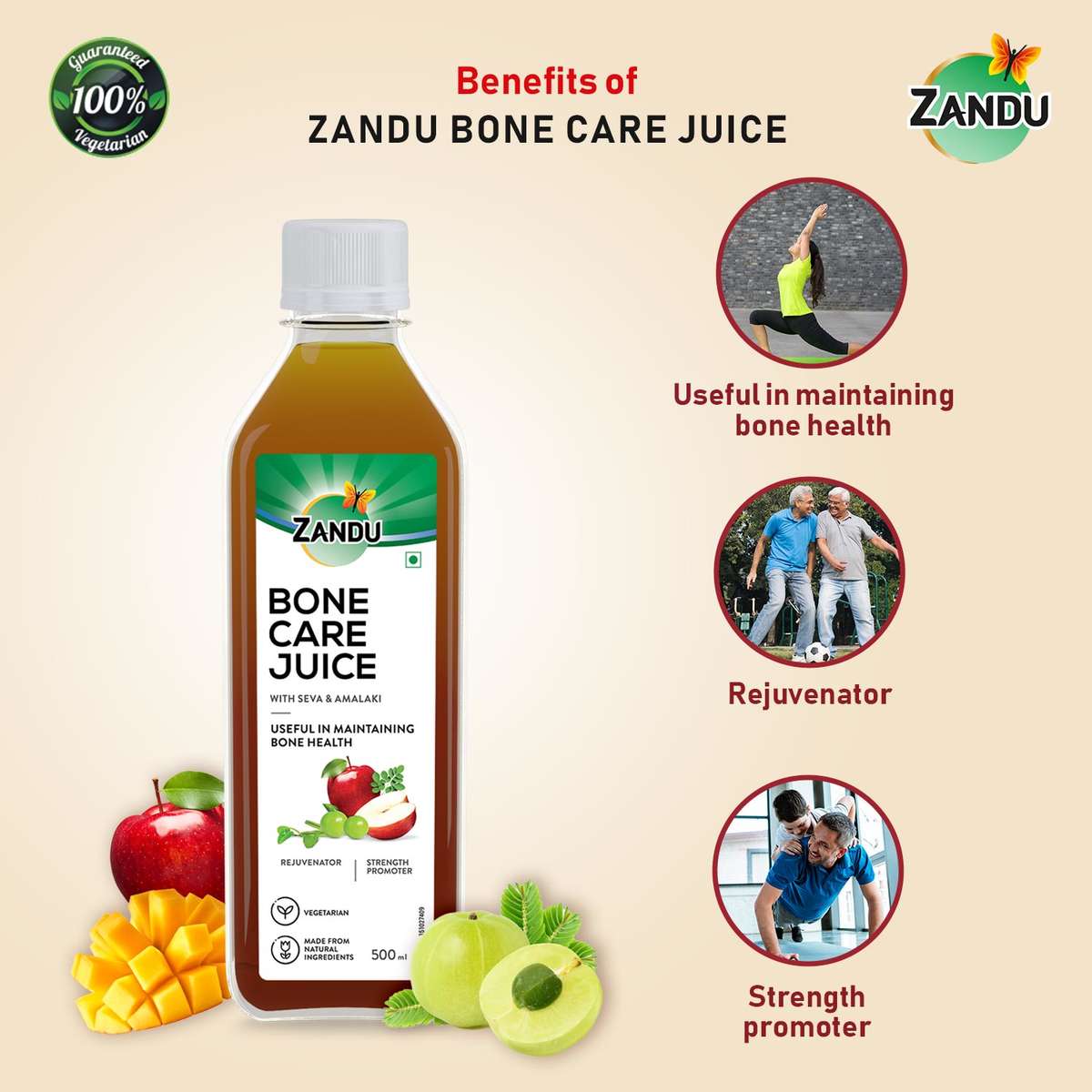 Benefits of Zandu Bone Care Juice:
The unique blend of the selected herbs such as Amalaki, Apple, Mango, Asthisamharaka, Ashwagandha, Moringa (Shigru), Rasna helps to impart many more benefits than strengthening bones. Zandu Bone care juice contains ingredients known to boost strength, stamina and also helps to prevent symptoms associated with premature ageing.. Some more benefits are listed below:


Useful in Maintaining Bone Health : Our wellness juice is packed with the valuable herbs such as Hadjod ,Moringa and Ashwagandha that can directly impact the bone health and strengthen the bones. Regular usage of this wellness juice can help maintain overall bone health.
Acts as a Rejuvenator : Ashwagandha, Amalaki and Apple in this formulation help to rejuvenate the body by helping with repairing tissues, reducing stress, improving metabolism and vigor, and improves the general wellbeing.
Promotes Strength : This bone care juice includes Apple, Mango and Ashwagandha, which along with being a tissue builder, rejuvenator and stress buster, are also one of the best ingredients in Ayurvedic formulations for promoting strength, stamina and vitality.
Balances Pitta : Amalaki is the choice herb used to balance Pitta. Excessive Pitta along with Vata dosha reduces the fluid that maintains the movements of the muscles and bones, essentially the bone joints which have to be free of friction. Failing of this can impact your bone health in a negative way. With this thought in the mind, our product has included Amalaki as one of its chief ingredients that support bone health.
Improves Digestion : This wellness juice helps to improve digestion, enhance metabolism and aid in maintaining good gut health.
Enhances Immunity : Ashwagandha, Apple and Amalaki are choice herbs used in the Ayurvedic formulations meant for improving immunity and helping one recover from the state of debility.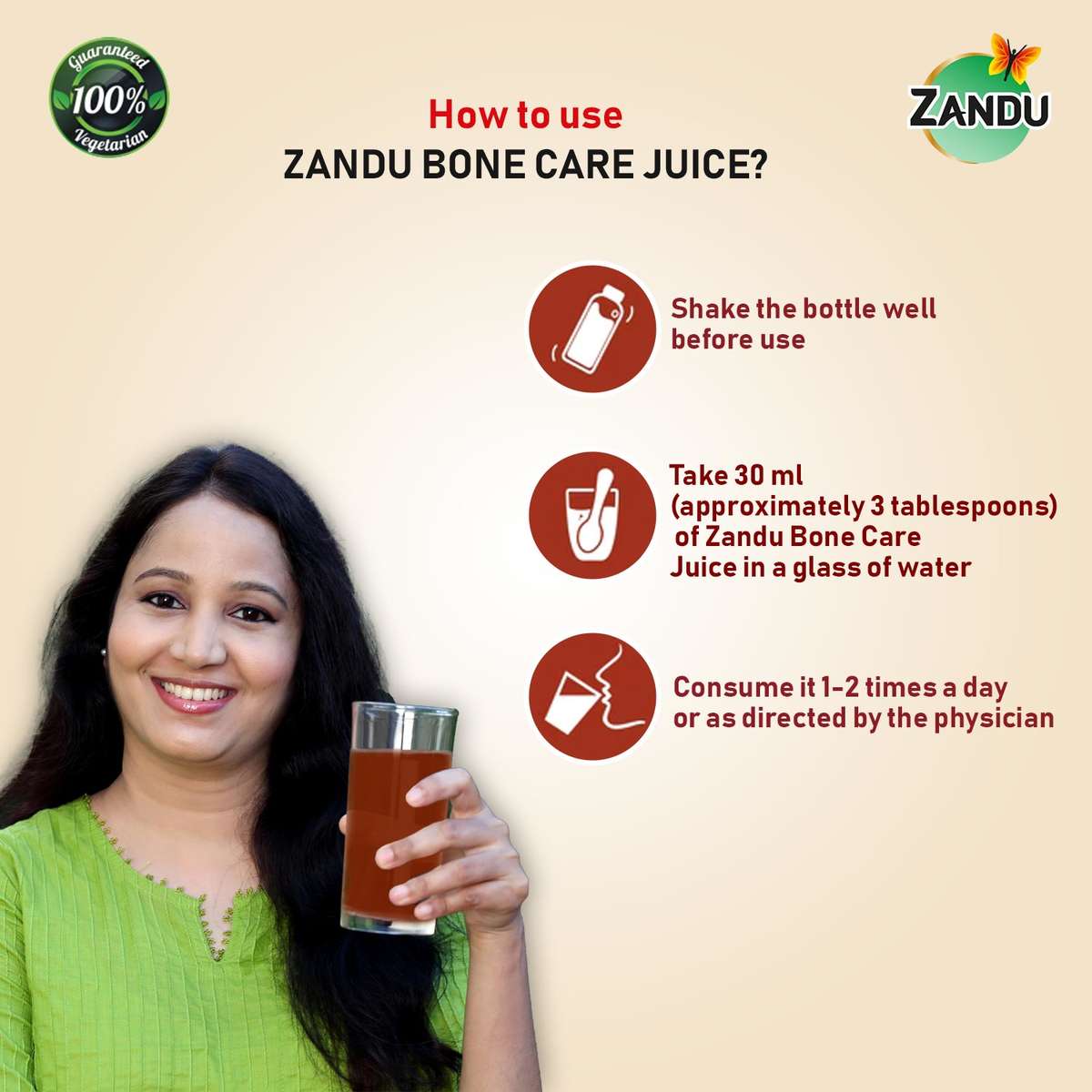 How to Use Zandu Bone Care Juice?
Zandu Bone Care Juice is food for healthy bones; hence make it a part of your daily regime.
Shake well before each use.
30 ml (approx. 3 tablespoons) of Zandu Bone Care Juice to be mixed in a glass of water.
For maximum health benefits, consume it 1-2 times a day or as directed by a physician.
Zandu Bone Care Juice is best consumed with chilled water/freshwater or as advised by the physician.
Zandu Bone Care Juice is best used within 24 months from the manufacturing date.
Safety Information :
While Zandu Bone Care Juice is made from 100% vegetarian,natural Ayurvedic ingredients, it is advised to consult your physician before starting dosage of Zandu Bone Care Juice.. In case of any allergic symptoms, stop usage immediately and consult your physician before continuing the usage of Zandu Bone Care Juice.
The dosage should NOT exceed the dosage mentioned on the packaging.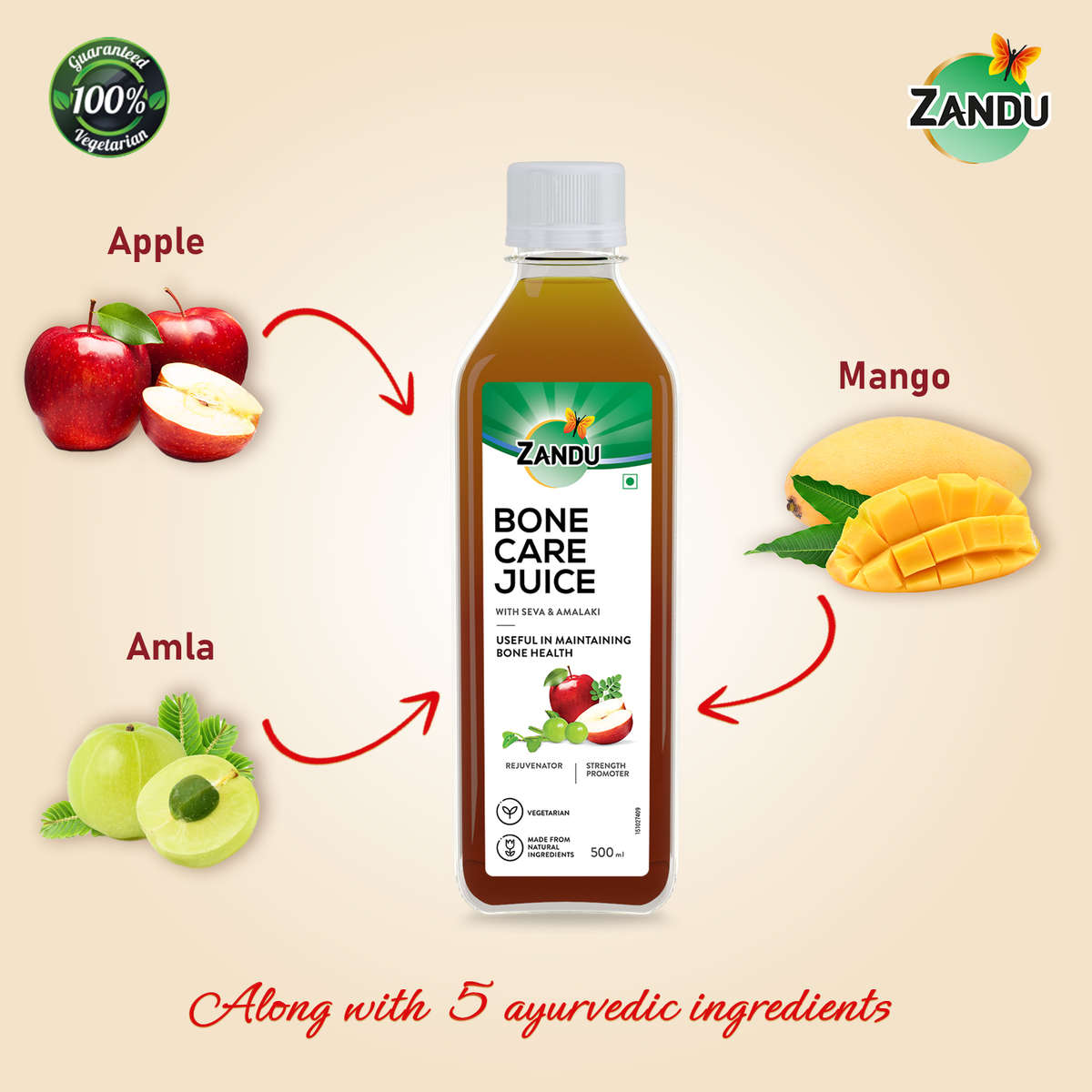 Ingredient Information :
The chief ingredients of Zandu Bone Care Juice:

Asthisamharaka - (Cissus quadrangularis) is a herb with stems having quadrangular cross-sections. It resembles a series of bones with their internodes resembling bone joints. It is well known for promoting bone health by increasing bone mass or accelerating fracture healing rates. Also, useful in prevention of osteoporosis.

Ashwagandha - (Withania somnifera) well known as adaptogenic as well as a tissue builder herb. It provides strength to the muscles and the nervous system. It provides strength during recovery from and debilitation caused by long term illnesses. Ashwagandha is rejuvenative and imparts vigor and vitality. It reduces inflammation and helps to reduce stress and anxiety as well.

Daaruharidra - Daaruharidra(Berberis aristata) also known as Tree turmeric is a valuable herb used in Ayurveda formulations of bone repair and maintenance for its anti-inflammatory properties.

Shigru - Shigru (Moringa oleifera) the common Indian drumstick has immense medicinal benefits. The leaves have antioxidant and anti-inflammatory action. Reducing inflammation is of great significance when managing bone health.Moringa is also useful in age related debility

Rasna – Rasna(Pluchea lanceolata) is a valuable medicinal herb, leaves of which are used in Ayurvedic formulations. It is benefical in managingage-related disorders, pain and inflammation. Thus, including Rasna in bone care juice will help in reducing inflammation and help in maintaining joints health.

Seva/Apple – Contains essential vitamins, minerals & antioxidants that aid good bone health. Regular consumption of apple fibres improves gut health and bowel movements, which aid good metabolism.

Amalaki – Amalaki, also known as Indian Gooseberry is one of the most commonly
used ingredients in Ayurvedic formulations related to managing immunity, digestion and other minor ailments related to skin, hair and eye. It helps in proliferation of osteoblast cells (Bone forming cells). Along with Asthishrikala it has preventive role on bone loss in osteoporosis. It helps in improving collagen synthesis and prevent osteoporotic changes.

Amra (Mango) – This is a rich source of vitamins, minerals and has anti-inflammatory
& antoxidant properites.

Storage Information:
For best results, store Zandu Bone Care Juice in a dark, cool place that is not excessively exposed to heat and humidity.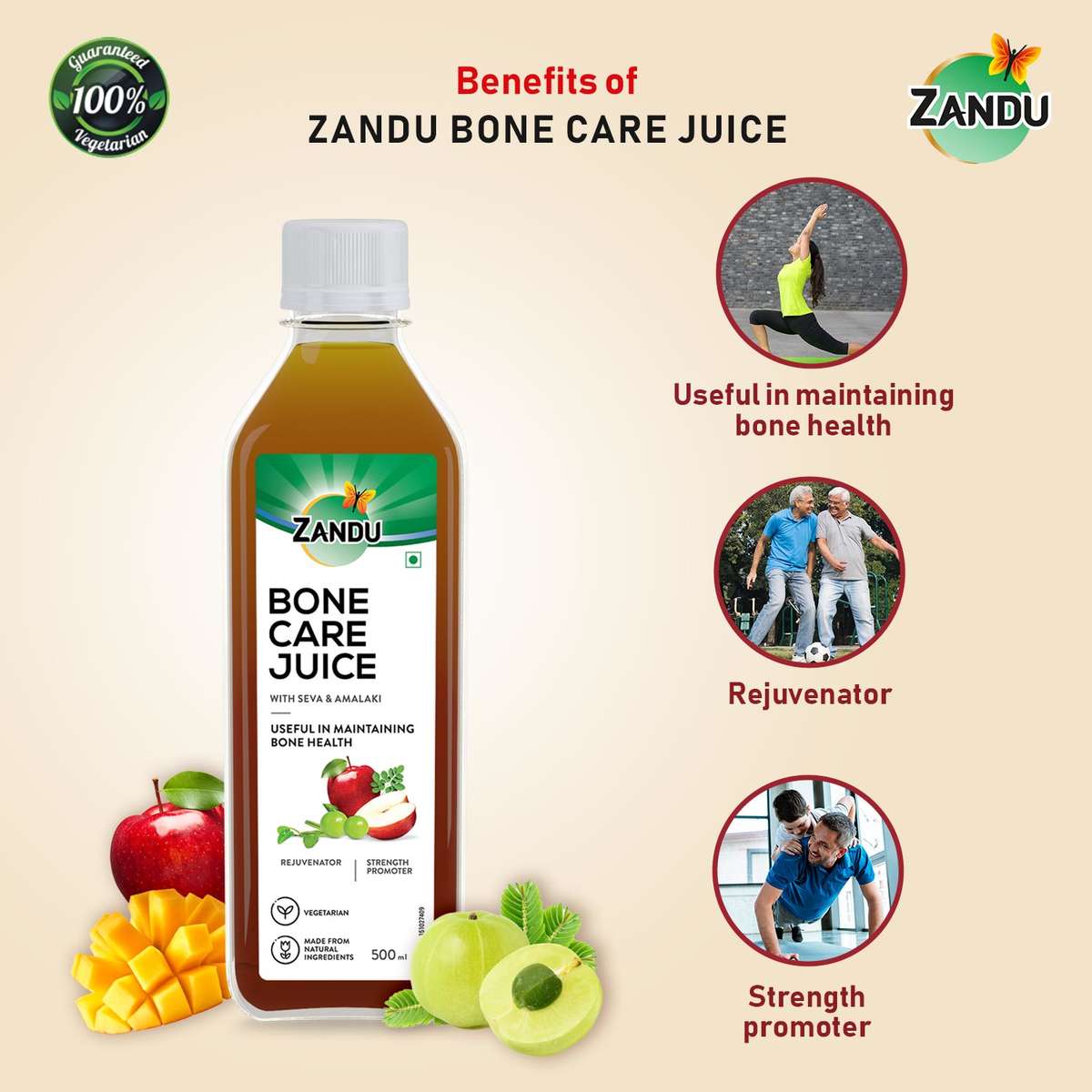 What Makes Zandu Bone Care Juice Unique?
Natural Ingredients : Zandu Bone Care Juice is formulated under the guidance of Ayurveda experts who have decades of experience. It is 100% vegetarian and contains Ayurvedic natural ingredients.
Good Health & Convenience : Excellent blend of the selected herbs that not only promote bone health but also known to heal bone injuries. Thanks to Zandu
Care, years of research have yielded a valuable bone supplements such as Zandu
Bone Care Juice that imparts good health as well as is packaged conveniently
for good shelf life.
Addresses multiple health issues : The ingredients used in Zandu Bone Care Juice not only improves bone health but also improves strength, vigor, immunity and general well-being which makes one feel younger .
Zero side effects : As Zandu Bone Care Juice is made of natural Ayurvedic ingredients, without any additives, this formulation does not have any side effects if taken in recommended dosage.
Minimal Processing : Excessive processing of herbs while formulating Ayurveda products can undo the potency of the herbs used as chief ingredients and may render the end product ineffective. This is why Zandu Care follows a minimal processing method to keep the potency intact.
No artificial colors & added flavors: No artificial colors or added flavors have been infused while formulating Zandu Bone Care Juice.
Quality & Reliability : Every Zandu product is backed by the promise of quality and reliability from one of India's most trusted names in Ayurveda - Emami Ltd, the house of iconic products, which has been used for generations.
- Time-tested and proven healthcare solutions
- Blend of ancient wisdom with modern technology
- Backed by easily accessible trustworthy information
- Boast of nation-wide availability
---
Frequently Bought Together