Zandu 100% Organic Ashwagandha (60 Tabs)
Zandu 100% Organic Ashwagandha (60 Tabs)
---
---
---
Secured & trusted checkout with:
For thousands of years, humankind has relied on Ayurveda and its many natural benefits to lead a healthy and active life. Our relationship with nature has been a close and beneficial one. But, the modern world leaves us with little time to rely on ancient methodologies. We require health and wellness solutions that can easily fit into our lives and provide us with all the benefits we need minus any hassles. Organic Ashwagandha tablets combine powerful natural ingredients that are time-tested and backed with over 5000 years of Ayurveda, with an easy-to-use form that we are familiar with today. These tablets are made from Ashwagandha extract with zero preservatives, no added colour, flavour, or chemicals. They are known to improve your immunity and help you cope with stress and anxiety better. With these supplements, get the best of both worlds with Ayurvedic benefits in a convenient tablet form.
Take 1-2 100% Organic Ashwagandha Tablets twice a day or as directed by the physician for sustained results.
Best before 24 months from manufacturing

About Organic Ashwagandha Tablets from Zandu:
Nature has gifted us with a wide variety of essential nutrients and minerals to maintain our health and wellbeing. These substances can be found all around us, just as they have since the beginning of time. Ayurvedic teachings highlight the philosophy of the five building blocks of the universe. These elements are space, fire, wind, water, and earth (Panchamahabhutas). They come together to form the entire universe around us and have played a significant role in our development. The human body is a pure and natural collection of substances that require similarly pure and natural ingredients to operate perfectly and in harmony with the world around us.
This is why we at Zandu have brought 100% Organic Ashwagandha tablets that are completely natural and do not contain any preservatives, colours, flavours, or chemicals. These tablets deliver natural and lasting benefits in a convenient form. Ashwagandha is known to improve your immunity and also helps you to deal with stress and anxiety better. The product is prepared with the wisdom of Ayurveda and the reliability of modern-day packaging. Make Ashwagandha tablets a part of your wellness journey to lead a healthy and happy life!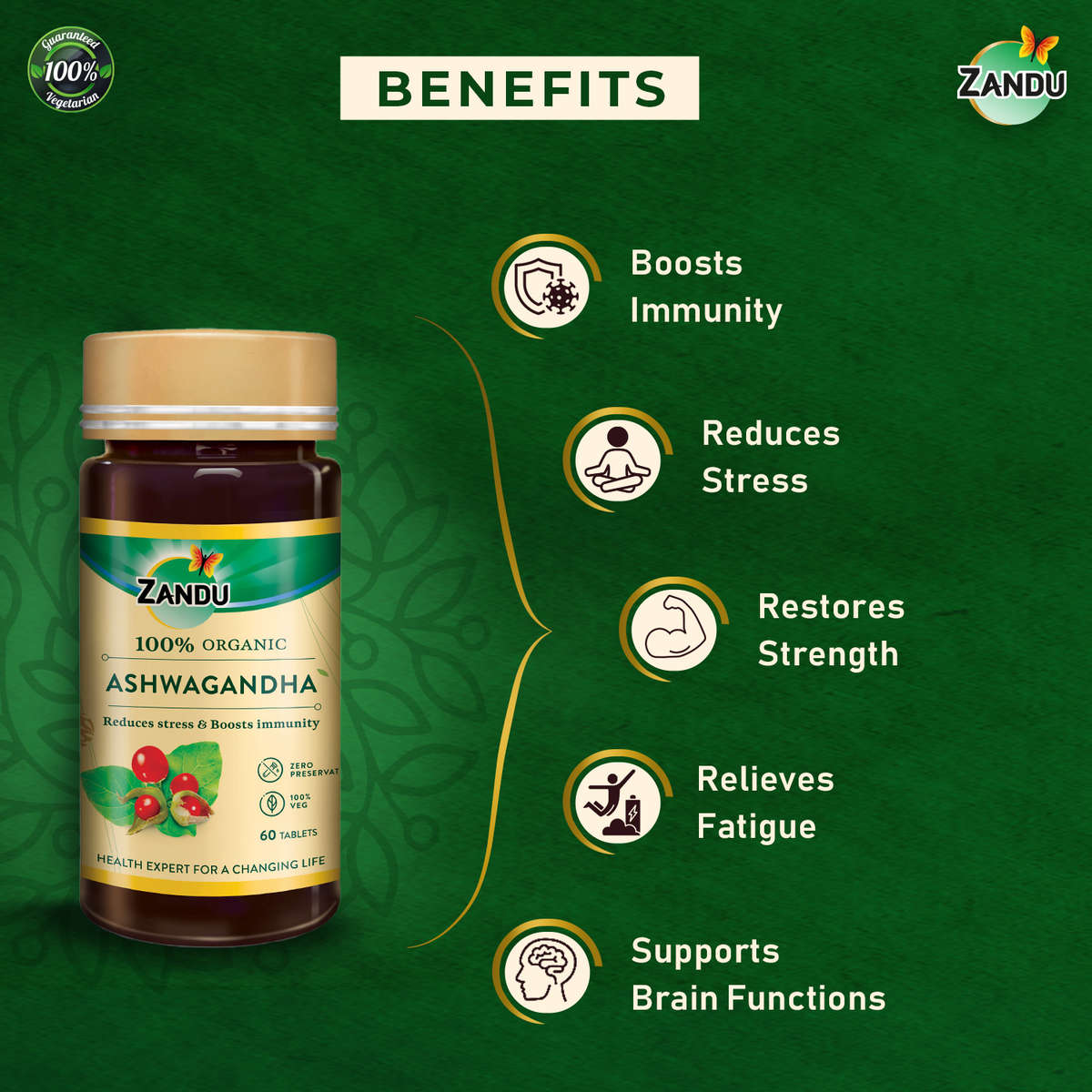 Benefits of Organic Ashwagandha
Organic Ashwagandha tablets from the house of Zandu are created to bring you the
time-tested benefits of Ayurveda in a convenient package. They are 100% organic, are all-natural and can enrich your life when consumed regularly.

Here are some of the benefits of these tablets:
It helps to boost immunity: With pure and natural Ashwagandha as the ingredient, these tablets are formulated to support your body in boosting overall immunity to fight against infections and help reduce the chance of common illnesses.
Reduces stress: It possesses adaptogenic properties, making it a stress buster and can help you improve your ability to cope with stress.
Reduces anxiety: These Ayurvedic supplements can help you remain sharp by reducing anxiety, leading to a balanced outlook towards life.
Relieves fatigue: Ashwagandha is also known to help you restore the energy levels in your body to keep you active and focused throughout the day.
Supports brain functions: Ashwagandha may promote antioxidant activity that
protects nerve cells from harmful free radicals. It helps provide a natural
boost to keep your mind sharper and perform better.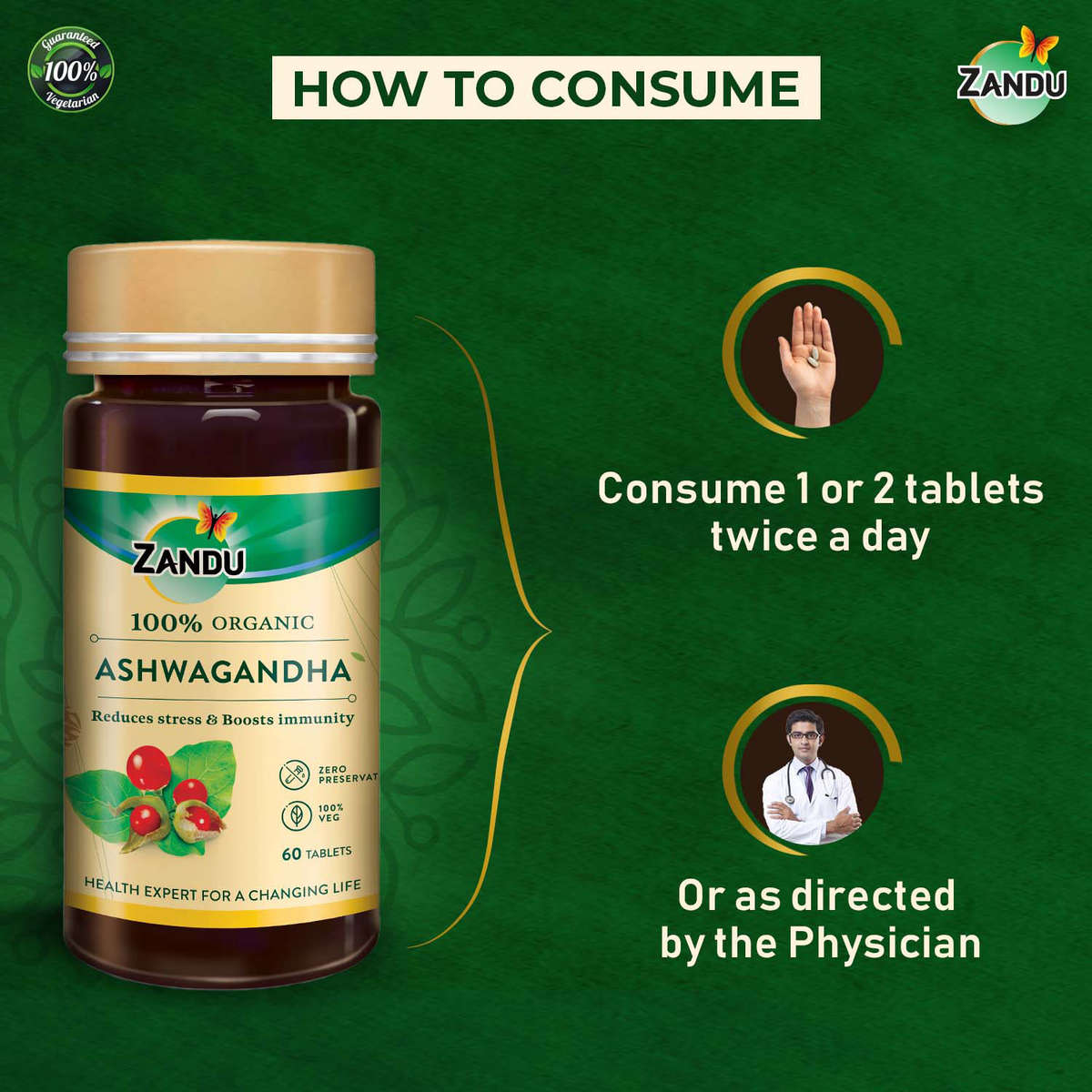 How to Consume Organic Ashwagandha Tablets?
Organic Ashwagandha tablets by Zandu bring you health and wellness benefits in a
convenient tablet form. They can be easily incorporated into your busy life without any interruption to your lifestyle. Regular consumption of this tablet helps to reduce stress and boosts the immune system. Take 1-2 100% Organic Ashwagandha Tablets twice a day or as directed by the physician for sustained results.

Safety Information:


● Read the label carefully to learn about the uses and benefits of these organic supplements.
● Keep away from the reach of children.
● Take Organic Ashwagandha tablets in the recommended dosage or as directed by the physician.
● Always verify the best before date mentioned on the pack before consumption.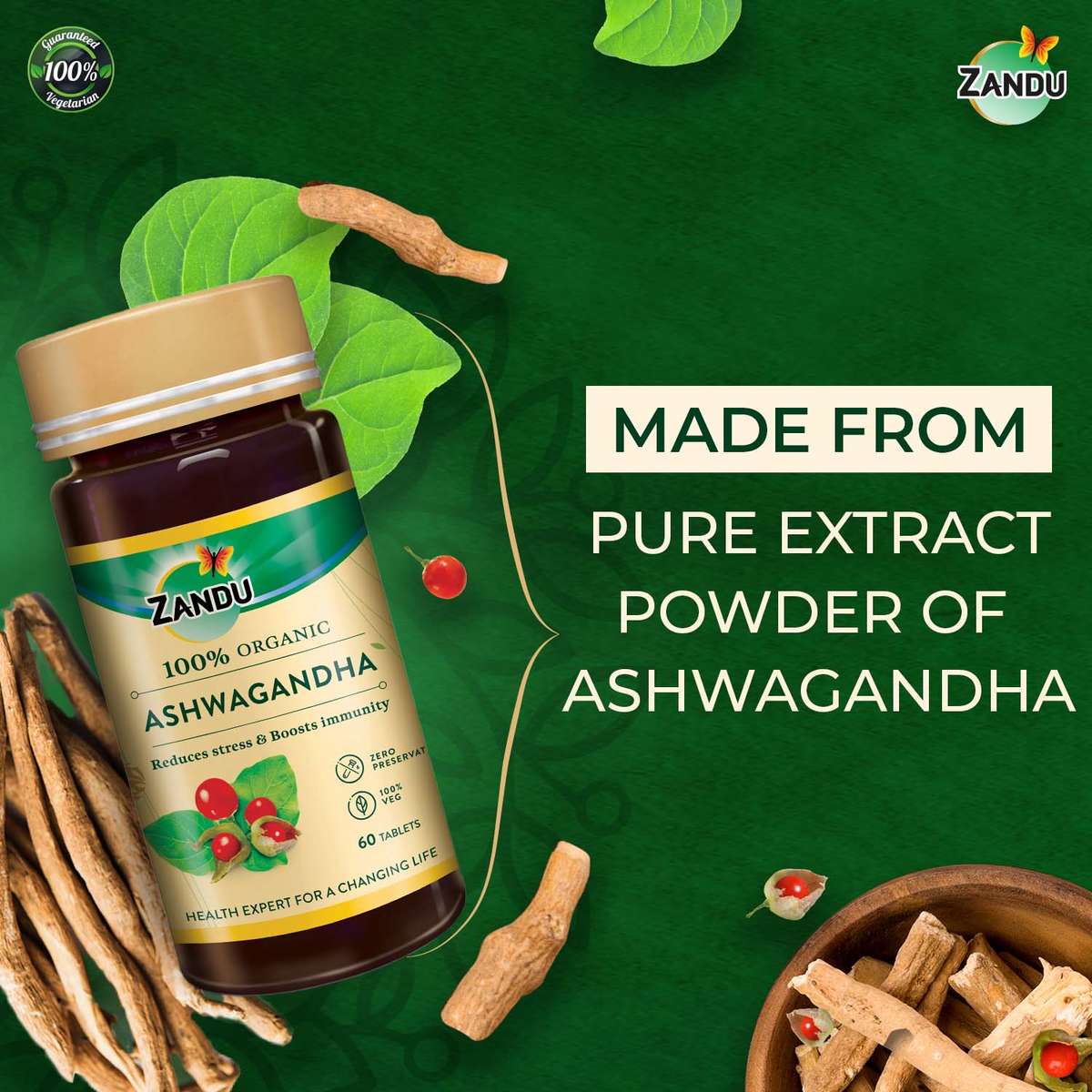 Storage Information:
These tablets are made of organic Ashwagandha and are completely natural. If not stored properly, they can lose their efficacy and potency. These tablets are easy to store and simple to handle. Store these tablets at room temperature and keep them away from direct sunlight. Close the bottle lid tightly after every use to maintain efficacy.

Significance of Ashwagandha:
This natural herb has been in use for centuries as per Ayurvedic teachings. It helps boost your immunity, regulate your stress levels and deal with anxiety better. Ashwagandha can also relieve fatigue and possesses anti-inflammatory properties.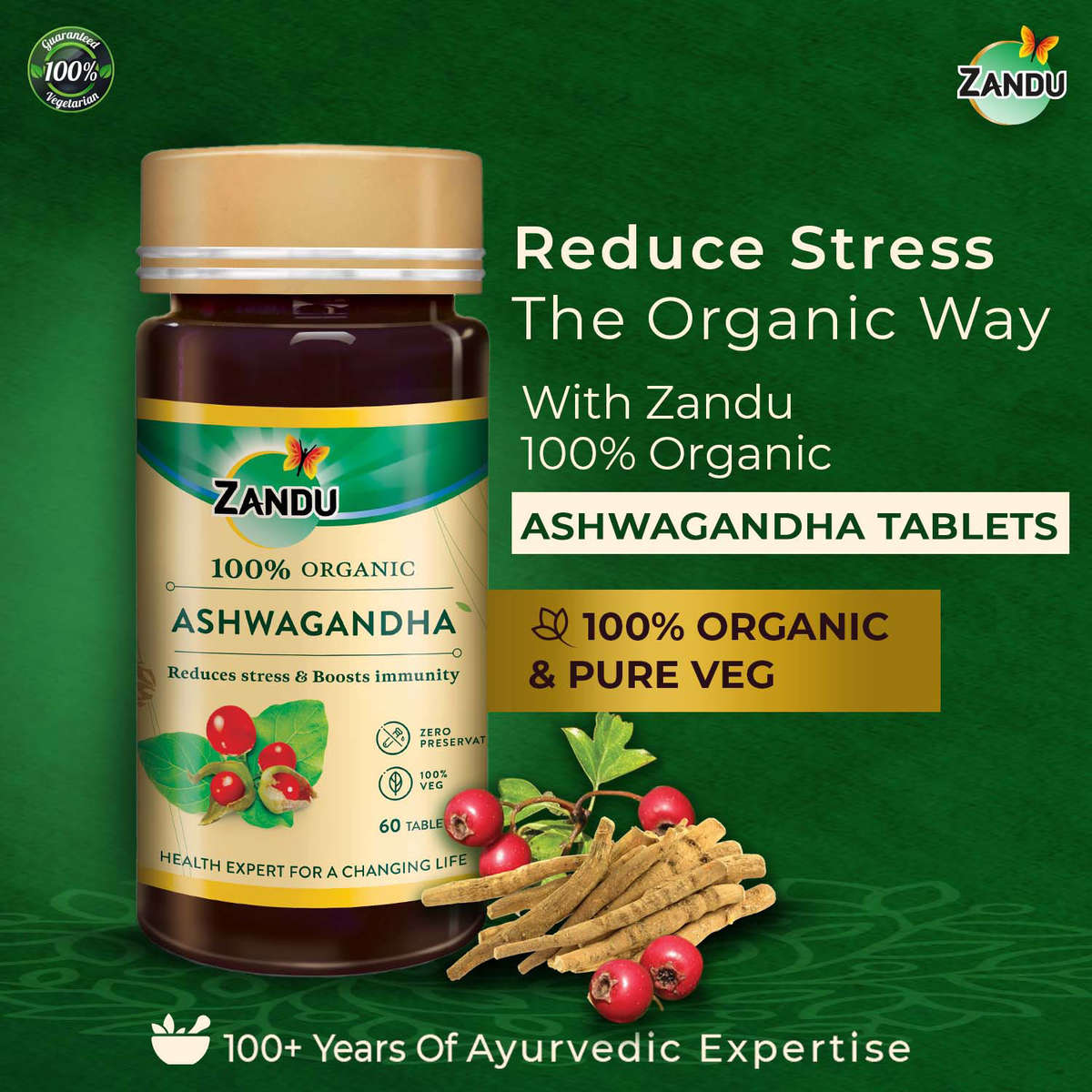 What Makes Zandu Organic Ashwagandha special?
100% Organic and 100% Pure - As per Ayurveda, our body is made of five natural elements- space, air, fire, water, earth; hence, the supplements we use should also be natural and organic to treat the body holistically. Zandu presents 100% organic Ashwagandha tablets that are pure, 100% vegetarian and natural with zero preservatives.

Safe to use - Organic Ashwagandha by Zandu is authentic, chemical-free and natural,
with zero preservatives. It is safe to consume it in the recommended dosage or as directed by the physician. It is natural and shows no known side effects when consumed in proportion.

A promise of convenience - There is no time to prepare and traditionally consume medicines or Ayurvedic herbs in the modern world. Therefore, Zandu aims at providing you with easy-to-consume Ashwagandha tablets that are 100% organic. This Ayurvedic formulation helps to give you the best health benefits without causing any inconvenience.


We follow Minimal Processing - Ayurvedic medicines are expected to lose their potency if not appropriately handled. Therefore, they cannot be processed beyond a certain point. This is why we follow minimal processing to keep their potency intact.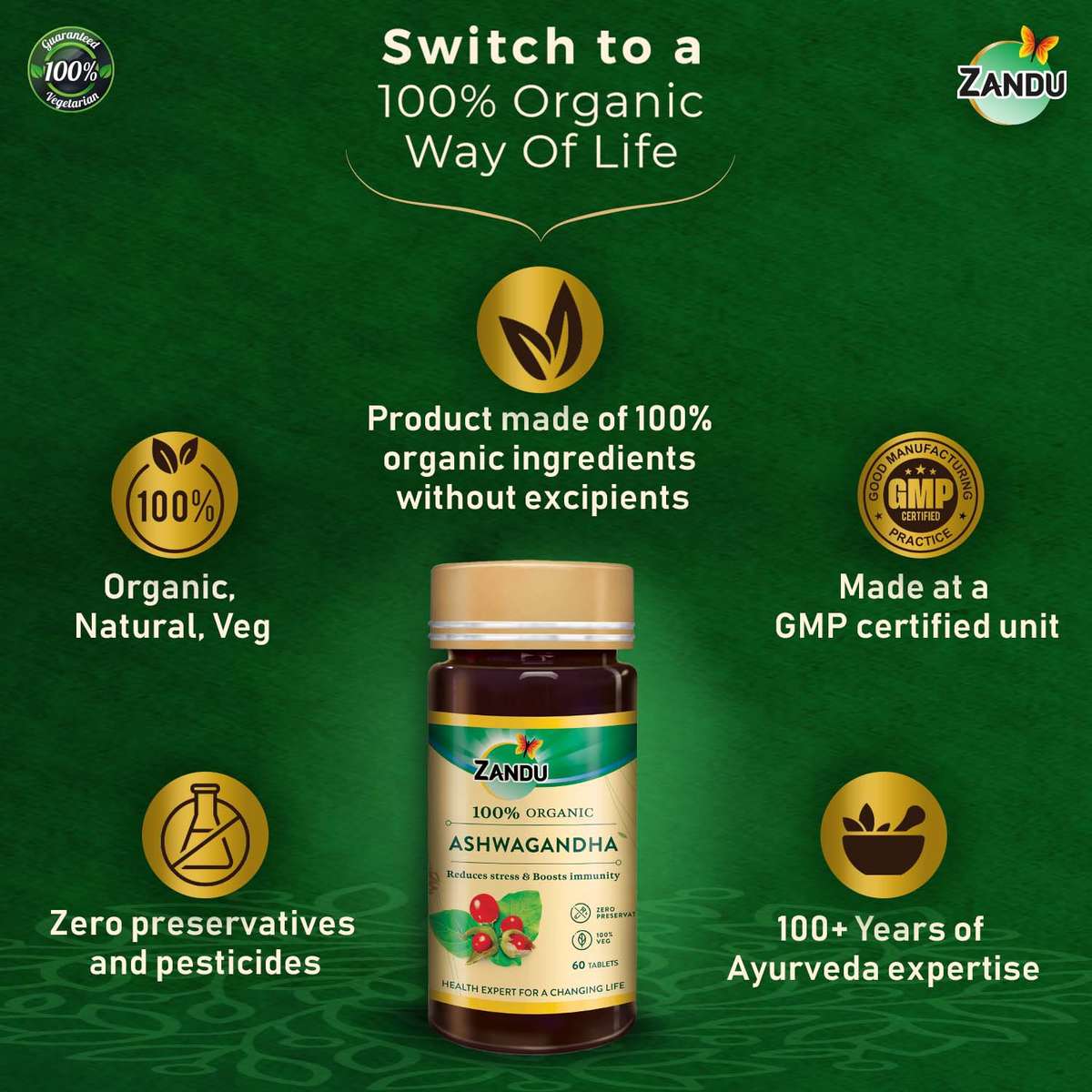 Natural - All ingredients used in Organic Ashwagandha composition are pure,
authentic, and natural. Animal-based extracts are not used in any form.

No artificial colours & added flavours - No artificial colours or added flavours have been used while formulating these Organic Ashwagandha Tablets. All ingredients are natural and responsibly sourced.

GMP certified - We strictly follow Good Manufacturing Practice (GMP) to ensure that our products are consistently produced and meet all required quality standards.

Quality & Reliability - Every Zandu product is backed by the promise of quality and reliability from one of India's most trusted names in Ayurveda - Emami Ltd, the house of iconic products, which has been used for generations.
Time-tested and proven healthcare solutions
Blend of ancient wisdom with modern technology
Backed by easily accessible trustworthy information
Boast of nation-wide availability
Comply with specifications and methodology in Ayurvedic scriptures
Frequently Asked Questions- Organic Ashwagandha Tablets
Is Organic Ashwagandha tablet adulterated?
Every Organic Ashwagandha tablet by Zandu is packed with 100% natural extracts of a single herb in its pure, unaltered, natural composition without any added sugar, salt, colours, flavours, preservatives, or chemicals.
What is the recommended dose for Organic Ashwagandha Tablet?
Ayurvedic supplements are meant to be taken as prescribed and routinely for the best results. Take 1-2 Organic Ashwagandha tablets twice a day or as directed by the physician.
What does Organic Ashwagandha do for the body?
Organic Ashwagandha can boost your immunity and help you manage stress and anxiety, leading to overall physical and mental wellbeing. It can also help to energize your body and relieve fatigue.
When should I take Ashwagandha?
Ashwagandha is known to be most effective in the morning and/or night, based on the medical condition being treated. In the morning, Ashwagandha can energize your body and give a strong start to the day. In the night, it can keep the fatigue away and revitalize your system, recharging you and helping you get a good night's sleep.
What are the side effects of Ashwagandha?
When consumed in recommended doses or as prescribed by a physician, Organic Ashwagandha tablets do not have any known adverse side effects.
Can Ashwagandha expire?
Every natural substance comes with a natural shelf life. After this duration, it may lose potency or degrade. Organic Ashwagandha tablets by Zandu do not make use of any preservatives. We recommend following the instructions on the label and consuming the tablets before the expiration date mentioned on the pack.
EXTRA SAVINGS!
Register Now & get FLAT Rs.100 OFF*
Get immediate access to our latest offers
No, I want to pay full price
Valid on only 1st purchase
Get Additional Rs. 100 OFF
The minimum order should be Rs.499
Offer can be availed only once per customer
This offer cannot be combined with any other offer
Offer is valid only on limited products