---
Country of Origin : India
Secured & trusted checkout with:
Description
Are you looking out for Triphala Churna? Try Triphala capsules now. Zandu Triphala capsule is easy to consume in comparison to triphala churna and is more palatable in comparison to other triphala tablets. Zandu Triphala is a time-tested Ayurvedic formulation for improving Gut health. As 70% of the immune system is present in the gut **, Zandu Triphala also helps boost your immunity. Triphala consists of three well-known Ayurvedic herbs - Haritaki, Amlaki and Bibhitaki that provide support to the digestive system by alleviating problems related to bowel movement, constipation and digestion. 
**Disclaimer: Based upon study published in Scientific Journal
How to Use Triphala Capsules?
Take 1-2 Triphala Capsules, twice a day or as directed by the physician.
Advisory
Best before 24 months from manufacturing date

About Zandu Triphala
Zandu Triphala Capsule is an Ayurvedic medicine that provides solutions for all problems related to constipation while helping to improve gut health and support bowel wellness. Triphala contains Haritaki, Amlaki and Bibhitaki that aid in maintaining digestive functions. Daily consumption of Triphala helps to boost immunity, improve digestion and promote gut health. To help you look after your daily health needs and to enhance your gut health in a natural way, we bring you Zandu Triphala Capsules!
Uses and Benefits of Triphala Capsules:
Aids in digestion and gut health
Improves bowel wellness
Bolsters Immunity
Antioxidant properties
Detoxifies the Body
Storage Information for Zandu Triphala Capsules
Store at room temperature, away from direct sunlight. Replace the cap tightly after every use.
Ingredients Information
Triphala- Aids in digestion, detoxification and boosts immunity
Haritaki- Strengthens digestive system, improves metabolism and bolsters immunity
Amlaki - Helps in promoting liver health and enhancing immunity
Bibhitaki – Maintains good liver health & eases bowel movements.
Triphala is an ancient Ayurvedic medicine containing a unique blend of herbs - Amlaki, Bibhitaki and Haritaki that helps in reducing gastrointestinal distress like loss of appetite, tastelessness, abdominal distension, bloating and constipation. It also improves your gut health and boosts your immunity naturally.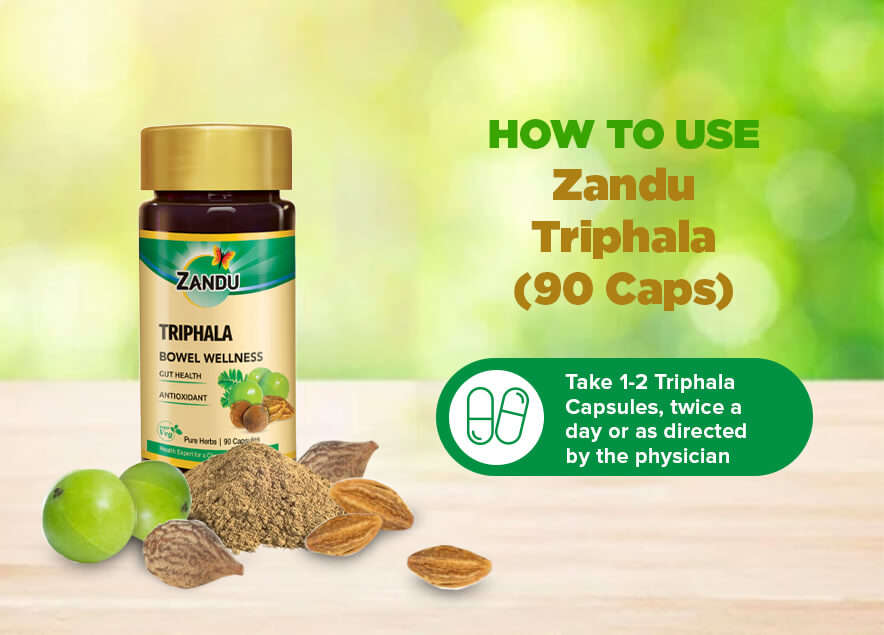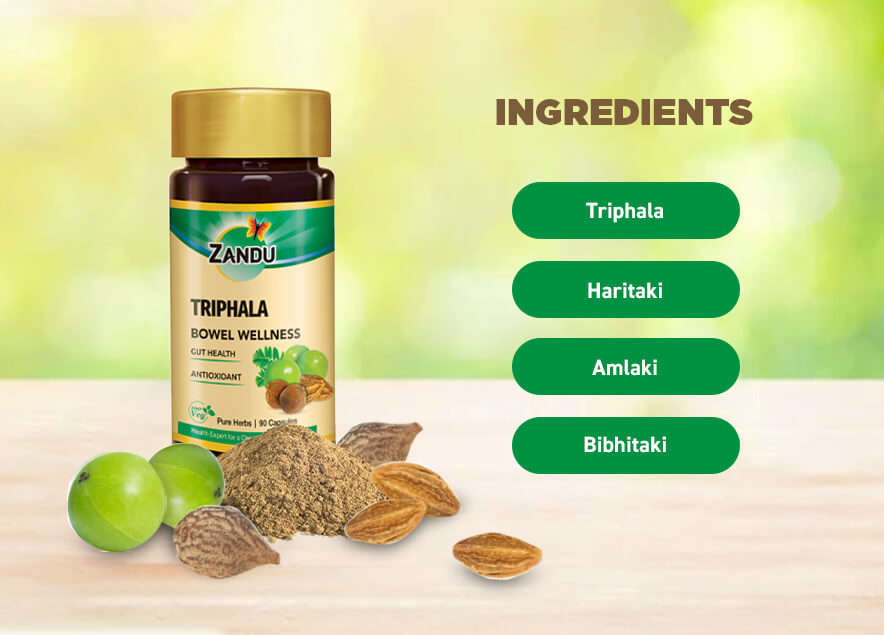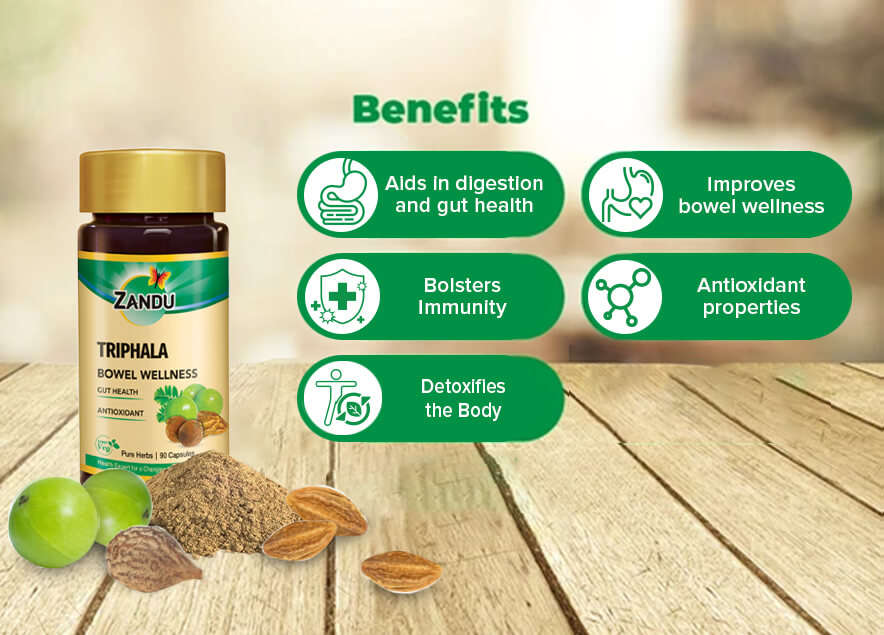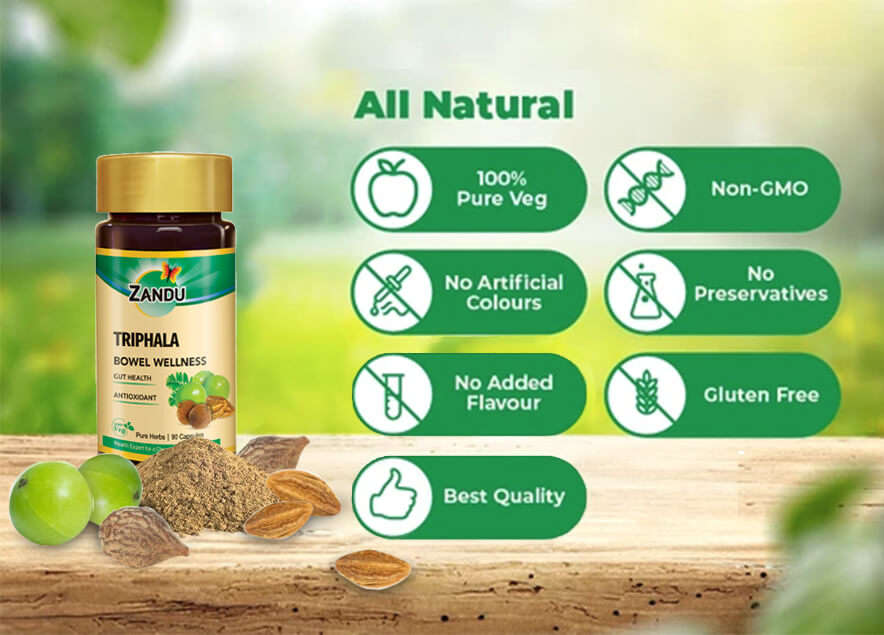 Frequently Asked Questions around Triphala Capsules
What are Triphala Capsules used for?
Triphala Capsules are primarily used for alleviating digestion related problems like loss of appetite, tastelessness, abdominal distension etc. Due to the ingredients present in Triphala it can also be used for detoxifying the body, improving immunity and maintaining physical health. Besides, Triphala capsules have better taste than Triphala tablets & are convenient to consume in comparison to Triphala powder.
Is Neem safe for humans?
Neem is considered to be safe when taken orally for a short time (10-12 weeks).So, while deciding frequency and time period of its consumption, it is necessary to consult a physician.
Can I take Triphala every day?
Yes, Daily consumption of Zandu Triphala capsule is beneficial in improving gut health and associated symptoms. It is also useful in improving skin, eye health and immunity.
How many Triphala capsules should I take?
Take 1-2 Triphala Capsules, twice a day or as recommended by the physician.
What are the benefits of Triphala ?
Triphala is a renowned Ayurvedic formulation containing fruits of 3 herbs-Haritaki, Amalaki and Bibhitaki. It is found to be useful in managing digestive health and symptoms associated like mild constipation, indigestion, abdominal distension. It is also beneficial in maintaining good skin and eye health.
Can I take Triphala at night?
Yes, Zandu Triphala Capsule can be taken twice a day as per convenience.
Other Zandu Ayurvedic Pure Herbs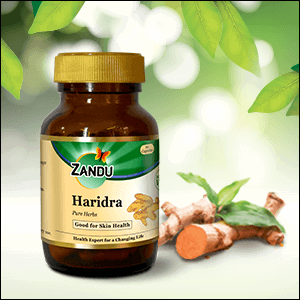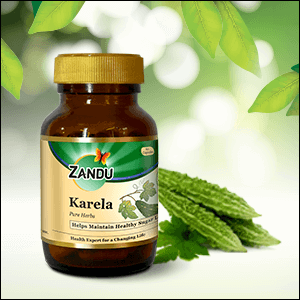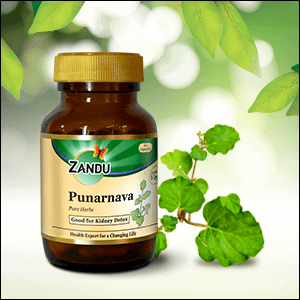 Recommended Single Herbs
---