---
Description
Zandu Digestive Stimulant (Pachan Vati) is an effective Ayurvedic digestion enhancer. It helps restore appetite and reduce digestive discomforts, including bloating and flatulence. This pure Ayurvedic formula also helps ease bowel movements and thereby improves your lifestyle.
How to Use
Take 1-2 tablets after meals, or as directed by the physician.
Best before 60 months from manufacturing

Ayurveda has long emphasized the importance of digestive regulation in living a healthy life. Modern-day living often necessitates the consumption of unhealthy food that can interfere with that goal. Skipped meals, or conversely excessively heavy eating, can interfere with the natural functions of the digestive system leading to problems like abdominal bloating and loss of appetite. Pachan Vati contains a carefully crafted blend of herbs, spices and other ayurvedic ingredients that get your digestive health on track no matter what your diet or lifestyle. Mridu Sandhigata Pidahar Vati is an Ayurvedic solution that addresses the issue of joint pain from within and improves bone, cartilage and joint health for the long run. Formulated using the Ayurvedic goodness of Yograj Guggal, Maharasnadi Kwath and Swarna Bhasma (gold), Mridu Sandhigata Pidahar Vati not only has analgesic and anti-inflammatory properties, but also promotes bone health and physical functions across the body. Just two capsules a day can ensure that you never feel the need to hold yourself back ever again. Enjoy sports, travel and your hectic daily life with all the freedom you deserve.

Medicinal herbs like Chitrak, known for their anti-parasitic and antiseptic properties, serve as a digestive regulator that relieves heaviness. Spices like the three-pepper blend of Trikatu are much treasured in cuisines across the world for their digestive and appetite stimulating properties. Ingredients like these come together in Pachan Vati and lend their ayurvedic goodness to the regulation of your digestive health so that you can live freely and enjoy the flavours of life.
Benefits of Pachan Vati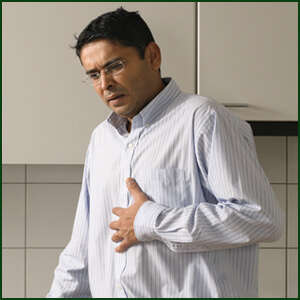 Help Stimulates Disgestion :
Aids digestive functions after consuming heavy meals.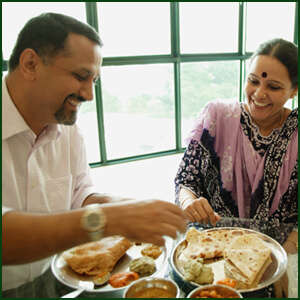 Restores appetite and reduces Dysgeusia (loss of taste sensitivity).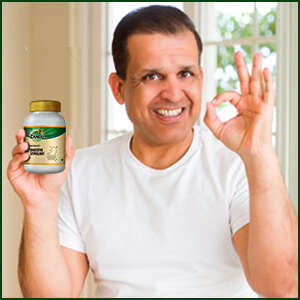 Helps Alleviates Discomfort:
Reduces digestive discomfort such as flatulence, bloating and abdominal heaviness.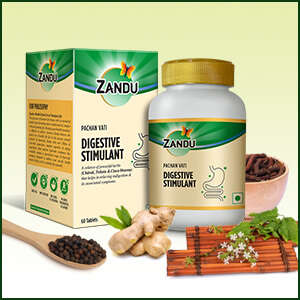 Ayurvedic Digestive Stimulant
Zandu Pachan Vati

Contains herbs like Chitrak, Trikatu and Cincabhasma, which are known for relieving discomfort and improving digestive health.

Direction for use: 1-2 tablets as and when needed or as directed by the physician.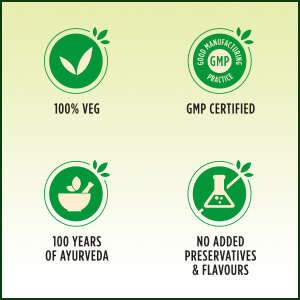 Zandu Pachan Vati: Digestive Stimulant
Introducing Zandu Pachan Vati
Manufactured in the advanced ayurvedic research facilities of Zandu healthcare, under the careful supervision of our trained R&D scientists.

Made with responsibly sourced, powerful ingredients, which are Pure, Authentic and 100% Vegetarian


Consume daily for best results.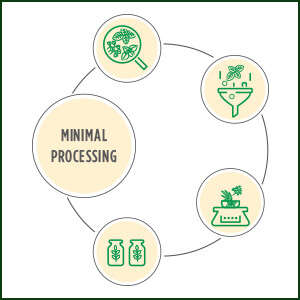 Ayurvedic herbs are fragile and perishable.
Therefore they cannot be processed beyond a certain point. This is why we follow minimal processing to keep their potency intact. Every vati is packed with the natural extracts of the ingredients without altering their natural
composition which happens due to over-processing and heating.


This means that each vati retains 100% of the
nutrient value of the herbs.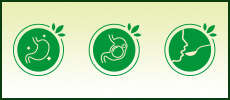 The digestive nature of Pachan Vati helps in
easing out irregularities and indigestion. It also repels flatulence, distension of abdomen, improves metabolism and much more.



Age old techniques of ayurveda ensure a safe
and effective solution for your pain.
Recommended Single Herbs