---
Description
What are the Immunity booster tactics parents try for kids? Parents keep looking out for immunity booster medicines for their children, as developing strong immunity of child during growth stage is vital. Zandu is introducing, Zandu ImmU Soft Chews – an Ayurvedic immunity booster enriched with the goodness of Amla, Tulsi, Honey and Apple. It is scientifically tested to provide 2x immunity. Zandu ImmU Soft Chews is prepared using natural ingredients for safer use and are also made available in many exciting flavors. Children with weak immunity are more prone to infections like common cold & cough hence it is pertinent to buy immunity booster products.
How to Use
2 soft chews to be taken daily or as directed by the physician
Best before 24 months from manufacturing.
About Zandu ImmU
Zandu brings you immunity-boosting soft chews that not only improves immunity but also aids in their physical & mental health. Zandu ImmU Soft Chews are prepared using natural ingredients which are safe to use. It is scientifically proven to provide 2X immunity. Zandu ImmU chew is formulated with four potent immunity-boosting ingredients – Amla, Tulsi, Honey and Apple and is available in different flavors - Mango, Strawberry and Mixed fruits.
Uses and Benefits of Ayurvedic Immunity Booster:
Boosts Immunity
Fights against common infections
Anti-allergic properties
Storage Information for Zandu ImmU Capsules
Store at room temperature, away from direct sunlight. Replace the cap tightly after every use.
Ingredients Information
Amla: Contains natural polyphenols and antioxidants that helps as an immunity booster.
Tulsi: Tulsi is a natural immunity booster having antibacterial properties which helps prevent allergies and supports healthy lung function.
Honey: Enriched with natural antioxidants to help as an immunity booster and improve digestion.
Apple: Flavonoids, polyphenols and antioxidants in Apple helps reduce chronic illness.
Zandu ImmU Soft Chews is a yummy Ayurvedic immunity booster for kids. It is enriched with the goodness of 4 natural ingredients- Amla, Tulsi, Honey and Apple to help boost immunity. Zandu ImmU Soft Chews is scientifically tested to provide 2x immunity.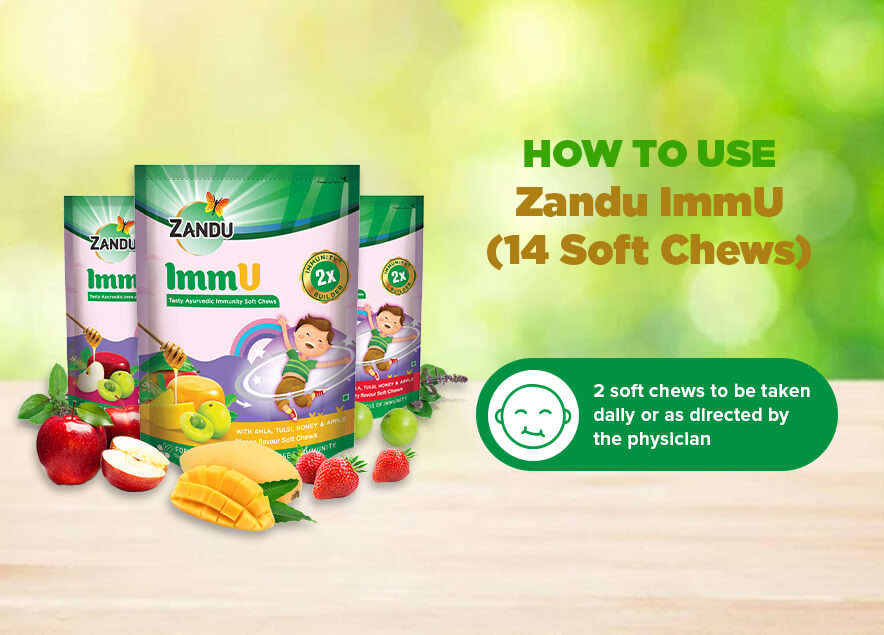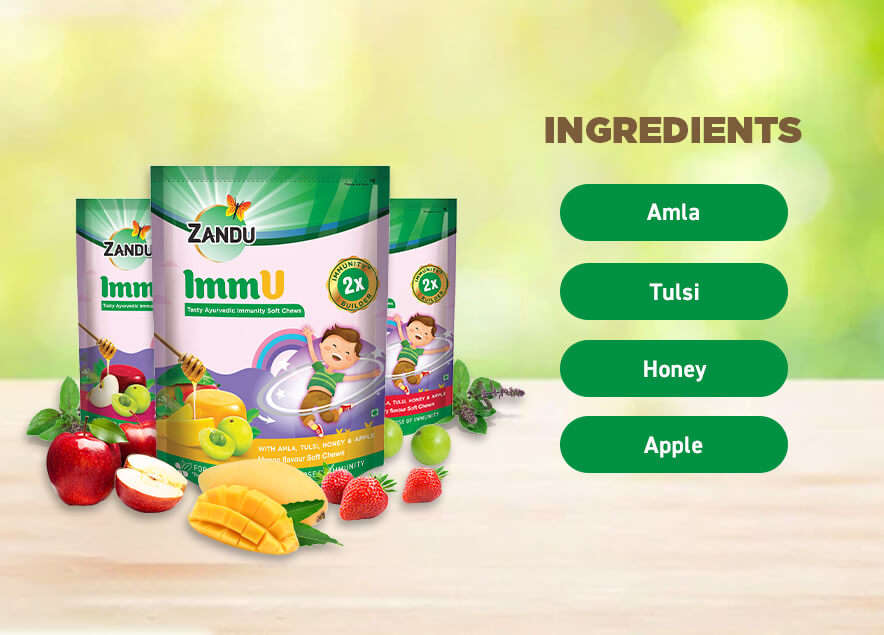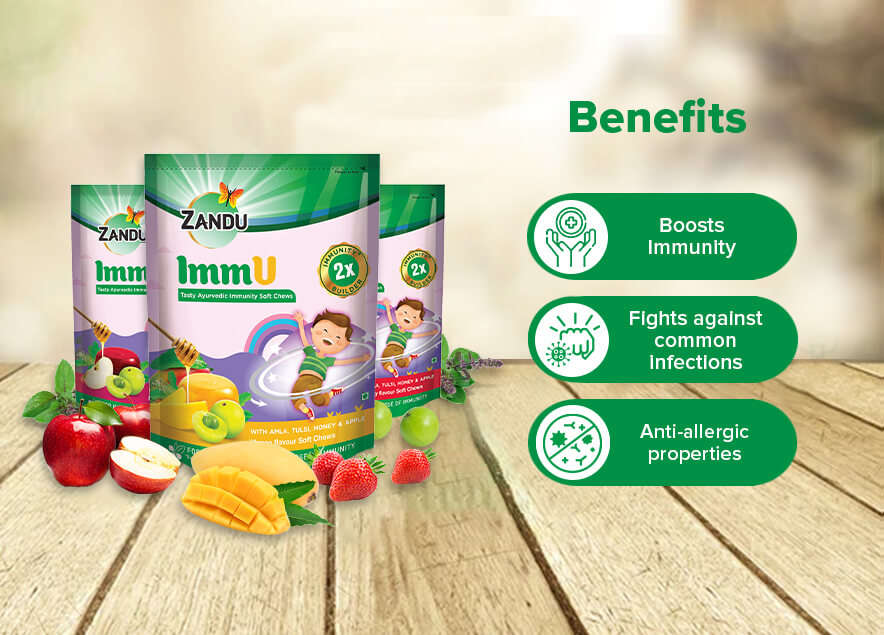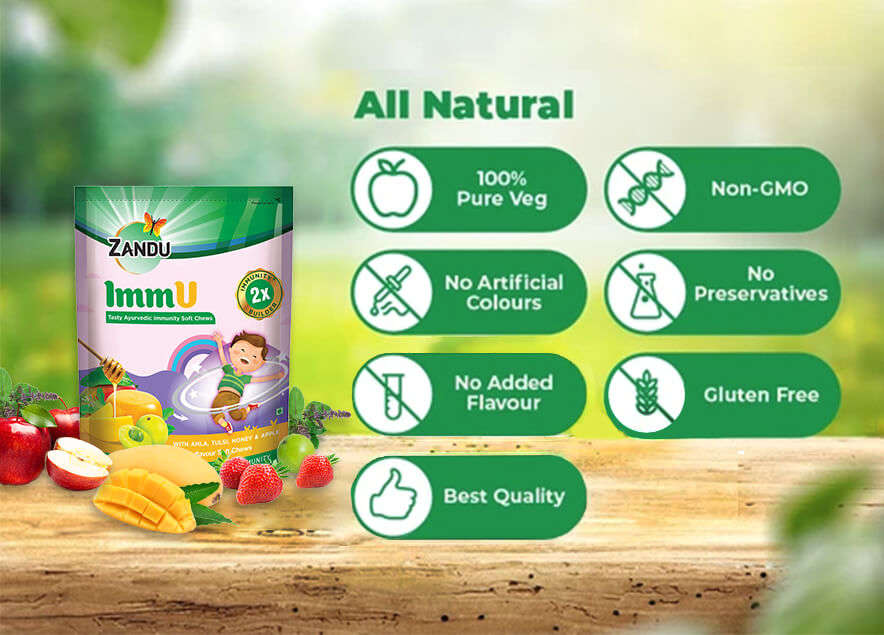 Frequently Asked Questions around Ayurvedic Immunity Booster
What is Zandu ImmU used for?
Zandu ImmU is an Ayurvedic immunity booster for kids that contains natural blend of Apples, Honey, Tulsi and Alma for providing 2x immunity.
Can my kids take Zandu ImmU every day?
Yes, daily consumption of two Zandu ImmU soft chews is recommended for better results.
How many ImmU chew should I give my kids?
Give two ImmU chews every day to your kids for best results.
Is Zandu ImmU safe for kids?
Zandu ImmU Chew contain Ayurvedic immunity booster ingredients, which are being used since long time which is safe for consumption. Safety study conducted on Zandu ImmU chew also indicates that it is safe to use in prescribed dose for kids above 4 years of age.
Other Zandu Ayurvedic Pure Herbs