Description:
Zandu Triphala Capsule is specially formulated to support gut health, enhance immunity & improve bowel wellness. The power of three main ingredients- Haritaki, Amlaki and Bibhitaki helps alleviate indigestion related problems and promotes gut health. These ingredients also help in reducing gastrointestinal distress like loss of appetite, abdominal distension, bloating and constipation. Unlike Triphala Churna, Zandu Triphala Capsule comes in easy to consume form & is more acceptable in terms of taste even in comparison to triphala tablets. To boost your immunity naturally, choose Zandu Triphala Capsule, a hassle-free solution for daily health needs enriched with all the necessary goodness of natural herbs.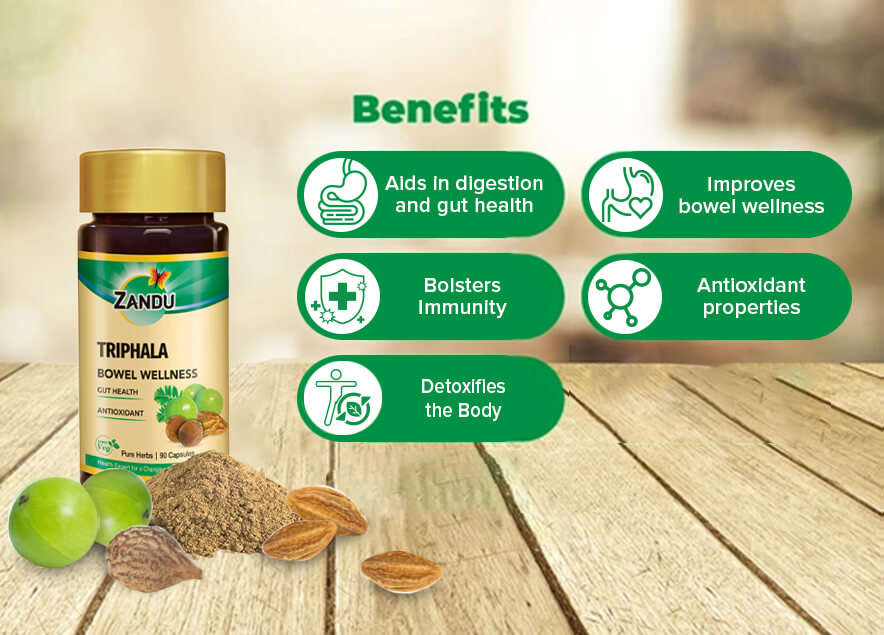 Uses and Benefits of Zandu Triphala Capsules:
Aids in digestion and gut health- Triphala contains Haritaki, Amlaki and Bibhitaki that help in improving digestion and promoting gut health.
Improves bowel wellness- Triphala acts as a mild laxative thereby, improving bowel wellness.
Bolsters Immunity- Improves immunity in our body to fight infections.
Antioxidant properties - Triphala has antioxidant properties that protects our body from detrimental effects of free radical.
Detoxifies the Body- Triphala helps to remove toxins from the body.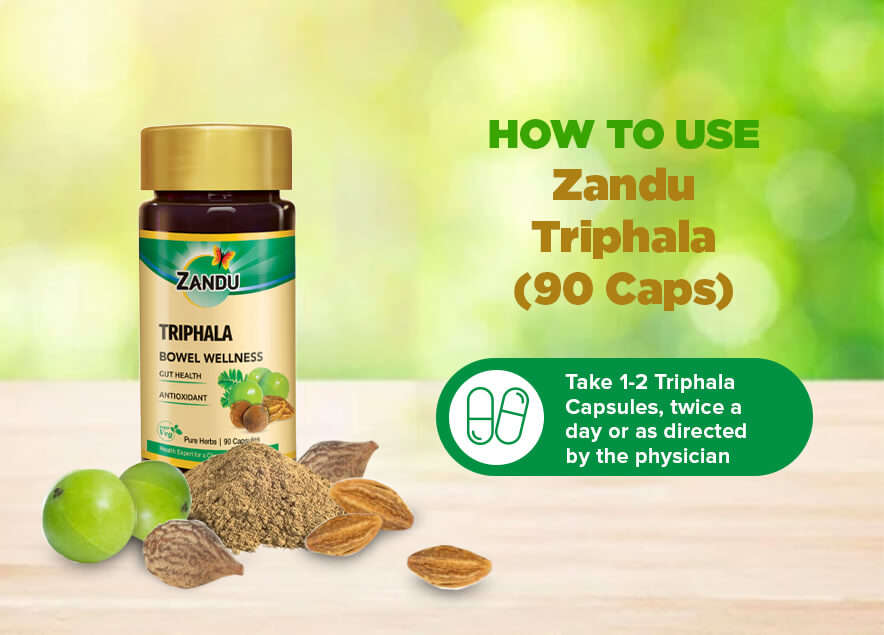 How to Use Zandu Triphala?
Take 1-2 Triphala Capsules, twice a day or as directed by the physician.

Advisory
Best before 24 months from manufacturing date

Storage Information for Zandu Triphala Capsules
Store at room temperature, away from direct sunlight. Replace the cap tightly after every use.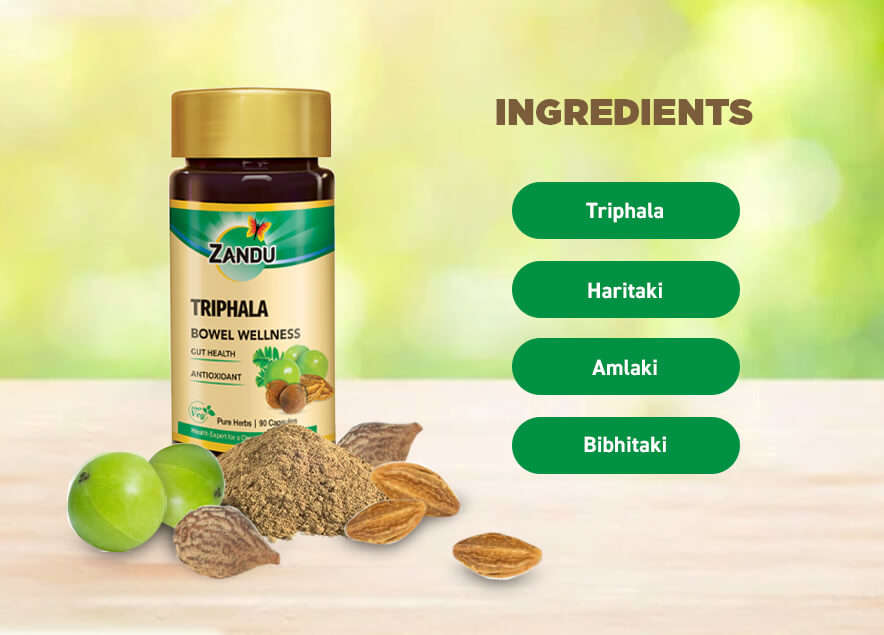 Ingredients Information
Triphala - Aids in digestion, detoxification and boosts immunity.
Haritaki - Strengthens digestive system, improves metabolism and bolsters immunity.
Amlaki - Helps in promoting liver health and enhancing immunity.
Bibhitaki – Maintains good liver health & eases bowel movements.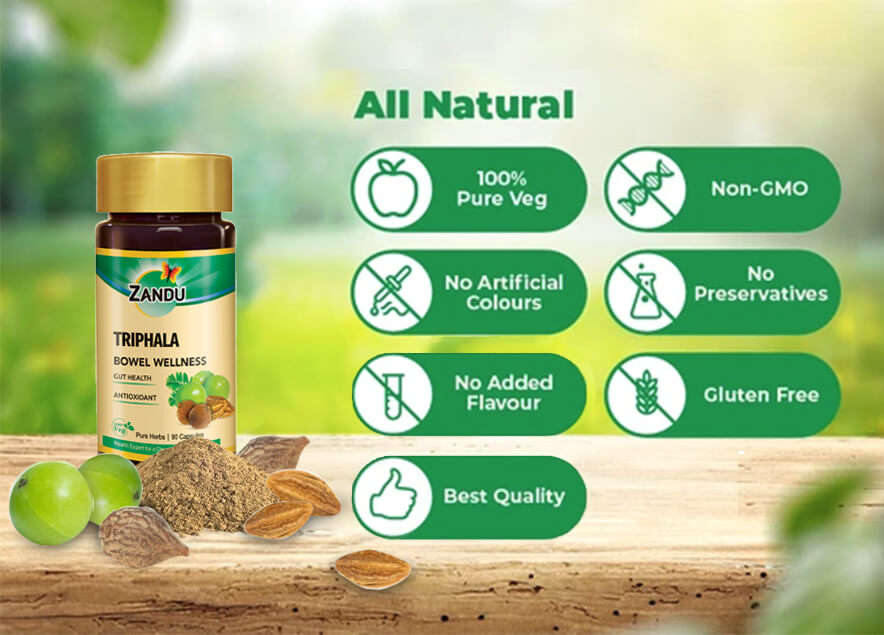 What makes Zandu Triphala Capsules special?


We follow Minimal Processing
Ayurvedic herbs are fragile and perishable. Therefore, they cannot be processed beyond a certain point. This is why we
follow minimal processing to keep their potency intact.
Pure & unadulterated
Every capsule is packed with 100% natural extracts of a single herb in its original, unaltered, natural composition
without any added flavors, sugars and preservatives.
· GMP Certified premise
All our products are manufactured at GMP-certified advanced manufacturing facilities under the careful supervision of qualified and trained staff.
Frequently Asked Questions around Zandu Triphala Capsules
What is Triphala Capsules used for?
Triphala Capsules are primarily used for alleviating digestion related problems like loss of appetite, tastelessness, abdominal distension etc. Due to the ingredients present in Triphala it can also be used for detoxifying the body, improving immunity and maintaining physical health. Besides, Triphala capsules have better taste than Triphala tablets & is convenient to consume in comparison to Triphala powder.
Can I take Triphala every day?
Yes, Daily consumption of Zandu Triphala capsule is beneficial in improving gut health and associated symptoms. It is also useful in improving skin, eye health and immunity.
How many Triphala capsules should I take?
Take 1-2 Triphala Capsules, twice a day or as recommended by the physician.
What is Triphala and its benefits?
Triphala is a renowned Ayurvedic formulation containing fruits of 3 herbs-Haritaki, Amalaki and Bibhitaki. It is found to be useful in managing digestive health and symptoms associated like mild constipation, indigestion, abdominal distension. It is also beneficial in maintaining good skin and eye health.
Can I take Triphala at night?
Yes, Zandu Triphala Capsule can be taken twice a day as per convenience.