---
Benefits
Zandu Ayush Kwath(Kadha) is a herbal formulation enriched with all the goodness of Tulsi, Dalchini, Sunthi and Krishna Marich. This age-old Ayurvedic recipe for boosting immunity makes you stronger and more immune to seasonal infections.

Dosage
You can have it once or twice daily. Take 1 teaspoon (3gm) Zandu Ayush Kwath powder and infuse it in 150 ml of boiled water and consume it like tea or a hot drink. You can add gud (jaggery)/draksha (raisins) and/or lemon juice with it for sweetness.
---

Description:
Formulated with Ayurvedic immunity boosting herbs such as Tulsi, Dalchini, Sunthi and Krishna Marich, Zandu Ayush Kwath Powder (kudineer/joshanda) can be had for its myriad health benefits. A perfect solution to keep infections and diseases at bay, regular consumption of this concoction strengthens the immune system in children and the elderly. Ayurvedic experts are of the belief that the antiviral and antibacterial properties in the ingredients used will effectively keep you healthy and infection-free always. This kadha creates an invisible shield against contagious illnesses in a natural and herbal way.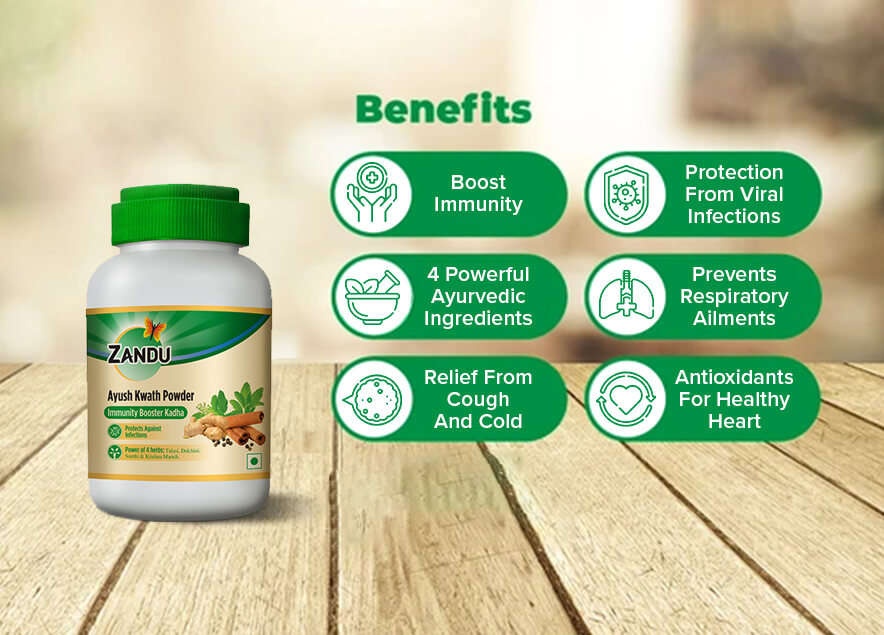 Features and benefits:
Boosts Immunity: Helps improve the immune system internally and protects the body from symptoms of infections.
Provides Protection from Infections: The antiviral and antibacterial properties in Tulsi, Dalchini, Sunthi and Krishna Marich help relieve symptoms associated with infections.
Prevents Respiratory Ailments: The antibacterial, antiviral and antifungal properties or Tulsi along with the anti-inflammatory and antioxidant properties of Sunthi will help in easing cold and cough.
Potent Antioxidant: An effective antioxidant, Dalchini help fight infections and build immunity.
100% natural and safe: Made with responsibly sourced pure Ayurvedic ingredients that are 100% natural; Free from chemicals, preservatives and flavours; Manufactured in GMP-certified facilities; no added sugar.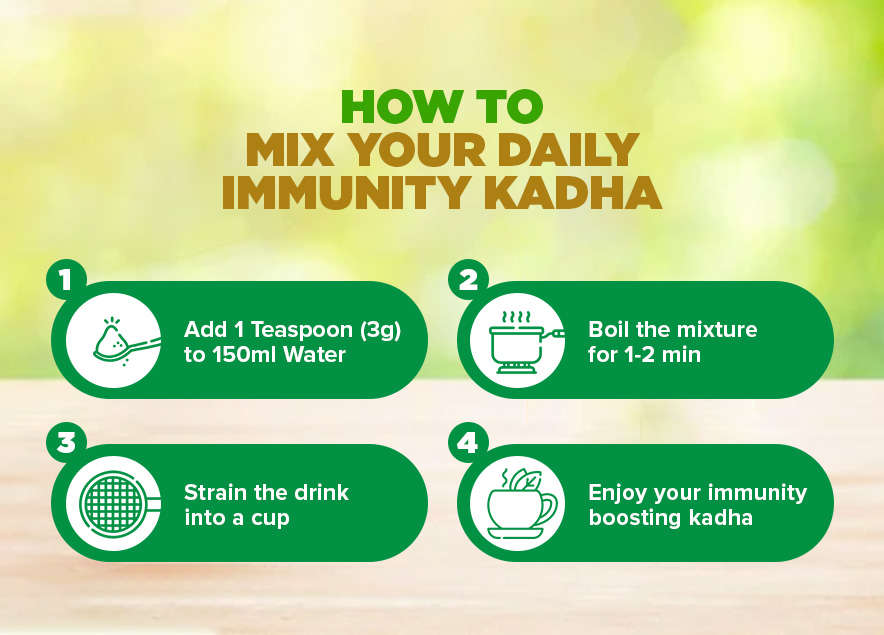 How to use:
Add 1 teaspoon (3gm) of Ayush Kwath Kadha to 150 ml water.
Boil the mixture for 1-2 mins.
Strain the drink into a cup.
Enjoy your immunity boosting Kadha.
Storage Information:
Store at room temperature and keep it protected from moisture and direct sunlight.
Secure the sachet tightly after every use.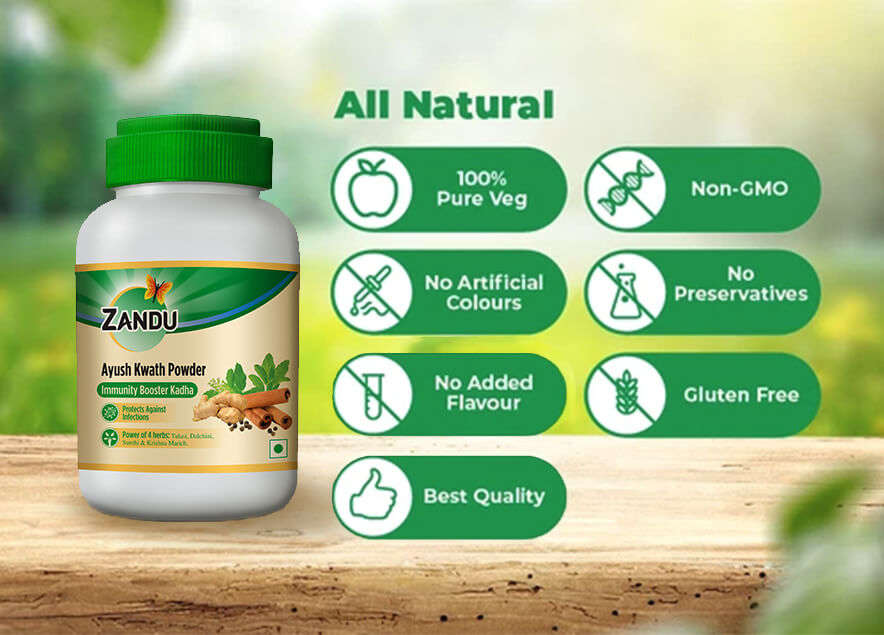 An Ayurvedic Immunity Booster made with 100% natural and vegetarian ingredients:
Made with responsibly sourced, powerful ingredients, which are Pure, Authentic and 100% Vegetarian.
Contains no added flavour or artificial colours; free of chemicals and preservatives; non-GMO; Gluten free and contains no added sugar. Made at GMP-certified facilities.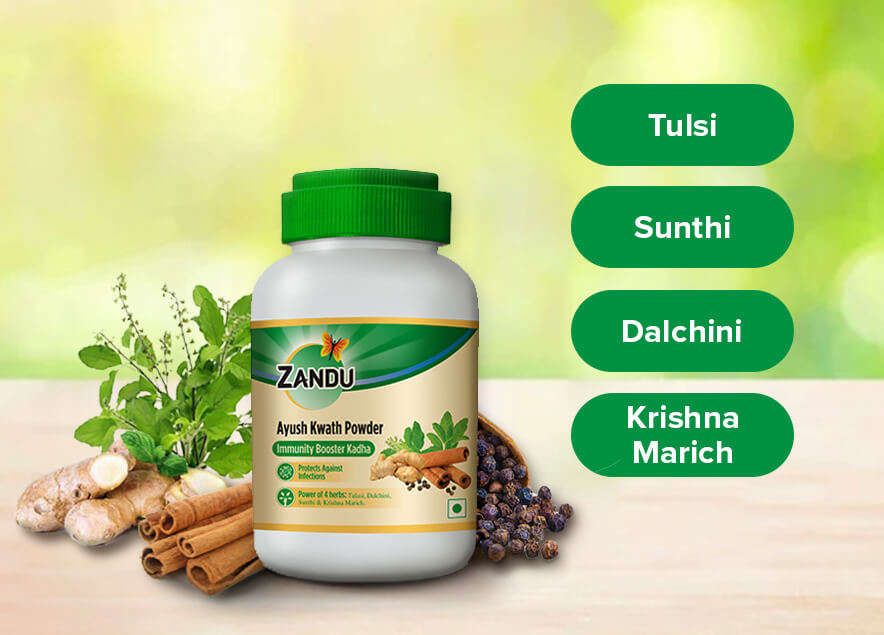 Minimal Processing:
Ayurvedic herbs are fragile and perishable. Therefore they cannot be processed beyond a certain point. This is why we follow minimal processing to keep their potency intact. Every Kwath is packed with the natural extracts of the ingredients without altering their natural composition to maintain high standard quality which happens due to over-processing and heating. This means that each Kwath retains 100% of the nutrient value of the herbs.